NEXT STORY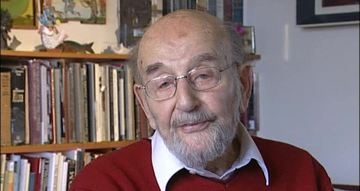 A brush with the secret police (Part 1)
Documentary film in the 1930s
Wolfgang Suschitzky
Film-maker
1
2
3
4
The interesting thing about documentary film in the '30s was that we were all amateurs, really. John Grierson, who started documentary and the concept of documentary films, surrounded himself with university graduates who were film enthusiasts, but nobody had taught them. They had read Eisenstein and Pudovkin, but there was no film school and the technicalities... they had to learn on the job as it were, and I had no idea about the grammar of film. But I knew a bit of photography and that helped of course a great deal. My colleagues were all very tolerant and I could always carry my camera with me as well, but of course, they were amateurs like myself, and one was astonished to... to hear when I told him you can take pictures without sun. You don't have to wait for the sun, and they turned out all right. So that was a useful new thing for this particular director.
Born in Austria, Wolfgang Suschitzky (1912-2016) trained as a photographer and became one of the first in his field to take portraits of animals. After coming to England he worked with Paul Rotha as the cameraman on various documentaries and films such as "No Resting Place", "Ulysses" and "Get Carter".
Title: Documentary film in the 1930s
Listeners: Misha Donat
Misha Donat is the son of Wolfgang Suschitzky. He has composed music for the theatre and the cinema (including films directed by Lindsay Anderson, and by Albert Finney). For more than 25 years he was a senior music producer for BBC Radio 3, where he planned and produced the prestigious lunchtime concerts at St John's, Smith Square, at which many of the world's leading artists appeared on a regular basis, and also instigated a Young Artists' Forum as a showcase for musicians of the coming generation. As a broadcaster himself, he has given many radio talks. Misha Donat has contributed a large number of programme notes to the Wigmore Hall, Carnegie Hall, South Bank, Aldeburgh Festival, Edinburgh Festival, Brighton Festival and other venues, and he has written CD booklets for such labels as Decca, DG, RCA, Philips and Hyperion. He has been a regular contributor to BBC Music Magazine since its inception more than 10 years ago, and has written articles for The London Review of Books, The Guardian, The Musical Times, The Listener, Opera, and other publications. He has taught at the University of California in Los Angeles, and has given lectures and seminars at Vassar College and Bard College in New York State, Johns Hopkins University (Baltimore), and in the UK at Durham University, the Barbican Centre, the Royal Festival Hall, and the Norwich Music festival. He is currently working as a producer for the Philharmonia Orchestra.
Tags: John Grierson, Vsevolod Pudovkin, Sergei Eisenstein
Duration: 1 minute, 43 seconds
Date story recorded: March 2008
Date story went live: 06 August 2009