NEXT STORY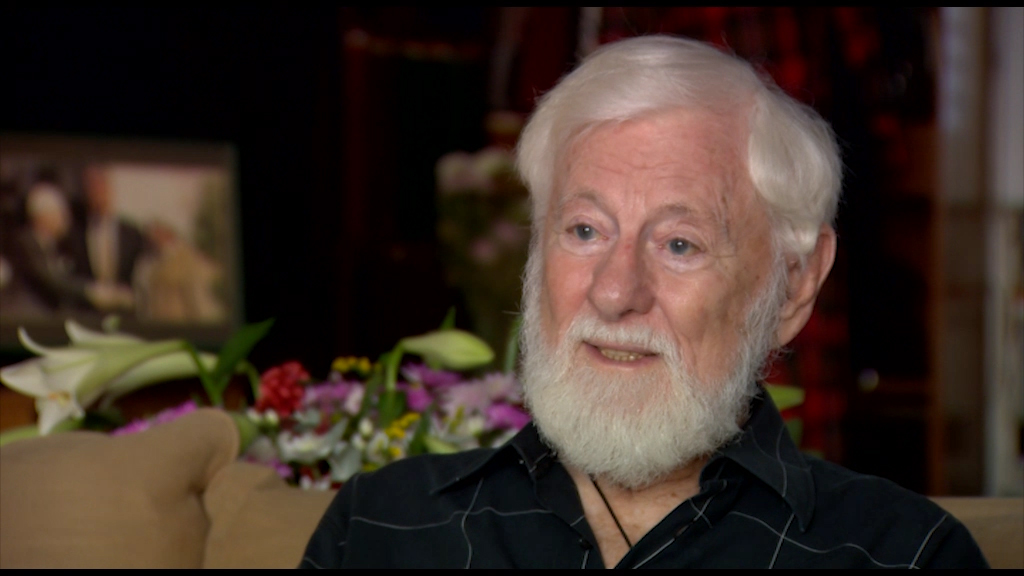 A very special wedding
Moshe Dayan does me a favour
Uri Avnery
Social activist
1
...
9
10
11
12
13
...
32
I had a bike and I suggested that we would go for a trip on Shabbat. I took her to Ein Karem, which was then still a hillside covered with forest, and there we kissed and we started to be boyfriend and girlfriend, sort of. In other words, she had other boyfriends and I had other girlfriends. And we would meet and all go out together once in a while. Until one evening when we arranged to meet after work. I worked until around midnight, so we arranged to meet at midnight. The newspaper was on Glickson Street where the Tel Aviv Cinema was later, behind the Tel Aviv Cinema. We arranged to meet at Baum Café on Dizengoff Square and at midnight I didn't come. She waited and waited, she knew I was punctual, so she went to see what was happening. She went to the newspaper. When she got there she found a large crowd gathered and she asked: 'What's happened?' And they said: 'Uri Avnery was attacked'. 'So where is he?' 'He's in an ambulance taking him to hospital'. The hospital was still Hadassah on Balfour Street. So she followed us and visited me in the hospital. This attack was organised by Moshe Dayan, my deadly enemy. They broke the fingers of both my hands, and I simply did not have the hands to do anything. Then she volunteered, Rachel, to come and live with me and to help to wash me and to make food and things like that, to feed me. And so she came for a few days and it continued how long? 40 years, 50 years, something like that. More than 40 years. How long ago was 1952? When did she die? She died four years ago, it was in 2011. From let's say 1953, 60 years. Quite a while.
והיה לי האופנוע, והצעתי לה שבשבת נעשה טיול. לקחתי אותה לעין כרם, שאז היה עוד גבעה מכוסה ביער, ושמה התנשקנו ומאז התחלנו להיות חצי חברים. כלומר, היו לה גם חברים אחרים ולי היו חברות אחרות. והיינו נפגשים ויוצאים יחד מדי פעם. עד שערב אחד קבענו פגישה אחרי העבודה. אני עבדתי עד חצות בערך, אז קבענו פגישה בחצות. המערכת הייתה ברחוב גליקסון, איפה שאחר-כך היה קולנוע תל אביב, מאחורי קולנוע תל אביב. קבענו פגישה בקפה בַּאוּם בכיכר דיזנגוף וב-12 לא באתי. אז היא חיכתה-חיכתה, היא ידעה שאני דייקן, אז היא הלכה לראות מה קורה. הלכה למערכת. לפני המערכת היא מצאה קהל גדול מצטופף ושאלה: "מה קרה?" אז אמרו: "התנפלו על אורי אבנרי". "אז איפה הוא?" "הנה אמבולנס לוקח אותו לבית החולים". בית החולים היה עדיין "הדסה" ברחוב בלפור. אז היא נסעה אחרינו וביקרה אותי בבית החולים. בהתנפלות הזאת, שאורגנה על-ידי משה דיין, אויבי בנפש, שברו את האצבעות בשתי הידיים שלי, ופשוט לא היו לי ידיים לעשות שום דבר. ואז היא התנדבה, רחל, להיכנס אלי לגור ולעזור. לרחוץ אותי ולעשות אוכל ודברים כאלה, להאכיל אותי. וככה היא נכנסה לכמה ימים וזה נמשך כמה? 40 שנה, 50 שנה, משהו כזה.
היא מתה לפני ארבע שנים, זה היה ב-2011. מנגיד 53', 60 שנה. זה זמן.
Uri Avnery (1923-2018) was an Israeli writer, journalist and founder of the Gush Shalom peace movement. As a teenager, he joined the Zionist paramilitary group, Irgun. Later, Avnery was elected to the Knesset from 1965 to 1974 and from 1979 to 1981. He was also the editor-in-chief of the weekly news magazine, 'HaOlam HaZeh' from 1950 until it closed in 1993. He famously crossed the lines during the Siege of Beirut to meet Yasser Arafat on 3 July 1982, the first time the Palestinian leader ever met with an Israeli. Avnery was the author of several books about the Israeli-Palestinian conflict, including '1948: A Soldier's Tale, the Bloody Road to Jerusalem' (2008); 'Israel's Vicious Circle' (2008); and 'My Friend, the Enemy' (1986).
Title: Moshe Dayan does me a favour
Listeners: Anat Saragusti
Anat Saragusti is a film-maker, book editor and a freelance journalist and writer. She was a senior staff member at the weekly news magazine Ha'olam Hazeh, where she was prominent in covering major events in Israel. Uri Avnery was the publisher and chief editor of the Magazine, and Saragusti worked closely with him for over a decade. With the closing of Ha'olam Hazeh in 1993, Anat Saragusti joined the group that established TV Channel 2 News Company and was appointed as its reporter in Gaza. She later became the chief editor of the evening news bulletin. Concurrently, she studied law and gained a Master's degree from Tel Aviv University.
Tags: Tel Aviv, Ein Karem, Moshe Dayan, Rachel Avnery
Duration: 3 minutes, 13 seconds
Date story recorded: October 2015
Date story went live: 11 May 2017