NEXT STORY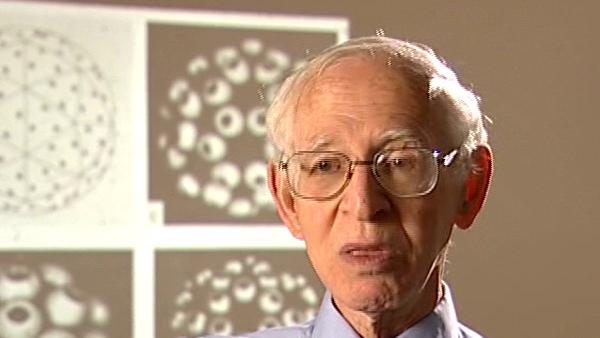 Avoiding the threat of privatisation
Confocal microscope – a great step forward
1
...
7
8
9
10
11
12
Now this is what I was talking with Mrs Thatcher. What we should have done, according to the MRC... we weren't allowed to do near market research. We were supposed to hive if off to private industry, because by being in the public sector, we were hopeless, you see, because we were lazy, lackadaisical, kind of... very doctrinaire stuff at the time. It was all part of the move to privatise our Labs. It was all happening at about the same time... well, over a period of years. So, so I also... So we enlisted Richard Durban who was a very skilful programmer to write programmes by which you could... you had to measure, look at the... what's the word? Digitise the films and put them together in three dimensions, and then you could calculate a view from any direction. That was a very good programme... and so we built completely the first working confocal microscope and we tried to find a market for it.
By then, we were now doing... this was 1986, this was fairly early on '86 or '87, in fact it was before CAT. Zeiss didn't show any interest. There was the Cambridge Instrument Company which had built on them, built scanning electron microscopes, which showed surface features, and they hummed and ha-ed, they said, 'Well, we want to go into optics', and there was a company called Bio-Rad which made medical supplies, and they supplied things for optical equipment and so on, you know, washing fluids and they provided chemicals, and they wanted to get into medical or bio-medical instrumentation, and in the end they decided to back it. So we built completely the first one, and they built... we built and then we really taught them how to build four identical copies and this is where they came into their own, because they had... they were a large company with a rather large sales force, and they took this confocal microscope to various Labs. They went to Garry Borisy, Wisconsin, who's working on a motor motility and others, and simply left them there, and the programmes that were written by Richard Durban were such that they were easy to use, they were really user-friendly, and Brad Amos went along and gave a couple of hours' tutorial or something on the use of the programmes, so within a year the Bio-Rad thing started to sell very well. And then later on... this is just one colour later, you know, the things were illuminated by... it was one wavelength, one colour, but later as other dyes were invented so that you could have different colours, you do multi colours, you could do multi labelling, multi chemical labelling, and you could look at the components. And a paper published by Hugh Pelham in Science, was the cover of Science, on the endoplasmic reticulum, this is the first time anybody had seen the endoplasmic reticulum in glorious colour, and follow it in 3D, you could follow all its invaginations and ruffles and so on. So it was a great step forward. The Lab made quite a bit of money from this and the MRC did, but now the rule of one third, one third, one third, actually only applies to small amounts of money. As you get into bigger sums of money, and this applies to the antibodies, there's a sliding scale, so the inventors and the Lab get less and less, and the MRC gets more and more, the idea being that you mustn't have, you mustn't... well, I'm not against it at all, because you can't have very great inequalities in the Lab, so though people can be really perhaps double their income, or something of that sort, it shouldn't be... so that was the... so that's part of the rewards to inventors.
Born in Lithuania, Aaron Klug (1926-2018) was a British chemist and biophysicist. He was awarded the Nobel Prize in Chemistry in 1982 for developments in electron microscopy and his work on complexes of nucleic acids and proteins. He studied crystallography at the University of Cape Town before moving to England, completing his doctorate in 1953 at Trinity College, Cambridge. In 1981, he was awarded the Louisa Gross Horwitz Prize from Columbia University. His long and influential career led to a knighthood in 1988. He was also elected President of the Royal Society, and served there from 1995-2000.
Title: Confocal microscope – a great step forward
Listeners: Ken Holmes John Finch
Kenneth Holmes was born in London in 1934 and attended schools in Chiswick. He obtained his BA at St Johns College, Cambridge. He obtained his PhD at Birkbeck College, London working on the structure of tobacco mosaic virus with Rosalind Franklin and Aaron Klug. After a post-doc at Childrens' Hospital, Boston, where he started to work on muscle structure, he joined to the newly opened Laboratory of Molecular Biology in Cambridge where he stayed for six years. He worked with Aaron Klug on virus structure and with Hugh Huxley on muscle. He then moved to Heidelberg to open the Department of Biophysics at the Max Planck Institute for Medical Research where he remained as director until his retirement. During this time he completed the structure of tobacco mosaic virus and solved the structures of a number of protein molecules including the structure of the muscle protein actin and the actin filament. Recently he has worked on the molecular mechanism of muscle contraction. He also initiated the use of synchrotron radiation as a source for X-ray diffraction and founded the EMBL outstation at DESY Hamburg. He was elected to the Royal Society in 1981 and is a member of a number of scientific academies.
John Finch is a retired member of staff of the Medical Research Council Laboratory of Molecular Biology in Cambridge, UK. He began research as a PhD student of Rosalind Franklin's at Birkbeck College, London in 1955 studying the structure of small viruses by x-ray diffraction. He came to Cambridge as part of Aaron Klug's team in 1962 and has continued with the structural study of viruses and other nucleoproteins such as chromatin, using both x-rays and electron microscopy.
Tags: Cambridge Antibody Technology, Cambridge Instrument Company, Bio-Rad, Richard Durban, Garry Borisy, Brad Amos, Hugh Pelham
Duration: 4 minutes, 23 seconds
Date story recorded: July 2005
Date story went live: 24 January 2008