NEXT STORY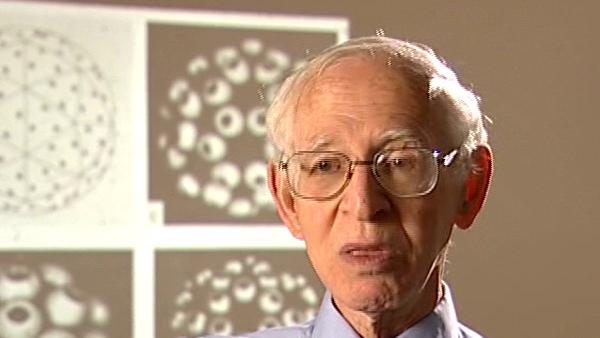 The first Human Genome Group
Will the Human Genome Project work?
1
...
8
9
10
11
12
John Sulston together with Bob Waterston, who was a post-doc in the Lab and later went to St Louis, he... they simply decided to start, and they started to sequence the whole genome. And they broke it up into pieces, and of course, by this time, Fred Sanger's sequencing had been in, and they gradually began to do it, and in the meantime, it became clear this was going to be a big... big problem. It would cost many millions of pounds, so I went to Dai Rees and said, 'We must do this.' This would be the first organism to have its genome mapped. Dai Rees managed to raise some money. I'm not sure if he got the approval of Council. I haven't been told, and I am not going to ask. But you see, I do believe in patronage. In fact, I did earlier on talk about the way to proceed is that you have to back somebody, like Hemsworth did Max, you know, and things like that. He said, 'I can't do that.' I said, 'You can set aside £2 million out of your whole budget and just use some people and take on things which an ordinary committee who's playing safe would never... would never... agree to, because it's too daring.' Will it work? We know those are the usual answers I've had in committees. Well, the answer's straightforward, we don't know until you try it, you see, which is the... but most committees don't want to be blamed. They'd rather not be blamed for failure than be praised for success, if I can put it that way. It's the risk adverse, adverse. Well, partly because of committees, but I've had the same problem with the Royal Society, but I'll talk about that later. So they began sequencing, and not waiting for all these meetings about meetings that were going on, and it was very clear that we couldn't finance this, or that it would cost more than a million pounds to do the whole C. elegans. We were now beginning to estimate what it would cost, so we actually worked out the cost per base.
[Q] Were Wellcome in on this?
Well, I... what happened is that I looked for a patron in this case, and by this time Wellcome... exactly. The Wellcome Trust had come into money, large sums of money from being a small trust. A new head called Roger Gibbs had actually spread... he bought shares in other businesses. He built up a huge... they were very, very wealthy from being a relatively small foundation, they became a big one. And so, I approached the Wellcome Foundation and really what I wanted to do was to say they should spend their new-found wealth on the human genome. And we'd got John... we'd got Jim Watson interested in this by this time and he had said that if Sulston and Waterston can get down the sequencing of the bases to less than 50 cents a base, he could persuade NIH to set up genome sequencing in the United States. So this country took the lead. And Wellcome... and so Wellcome asked Jim Watson as one of the head advisers... and so as John Sulston puts in his book, I dragged him down to London, well, I dragged him from not going to the United States which is where he wanted to go at the time, and they agreed. Bridget Ogilvy was Director of the Wellcome Foundation and welcomed the idea, and we pointed out to them that by this time John... and Alan Coulson were getting runs of 600,000 to a million bases continuous, and just as an aside, it was at this time that Craig Venter did a bacterium and got a lot of publicity for it. That was 1,500 bases, but it was already being done, John was already in the mega base. That's an aside, but that's what the public know. But John's mega base... I wrote a memoir for the Wellcome Foundation and pointed out that if you're doing... trying to find genes by traditional mapping of genes, using for diseases and using families with diseases, if you can get down to fix a mutant gene within about a million bases, then it becomes harder and harder to narrow it down by simply genetics, by looking at getting a pool of patients with a large amount of... or reducing the return. And I said, you can sequence the million. They were astounded that you could sequence the million, and see what the sequences were. And compare the sequence of that with somebody who didn't have the disease, so you'd arrive at the mutant.
Born in Lithuania, Aaron Klug (1926-2018) was a British chemist and biophysicist. He was awarded the Nobel Prize in Chemistry in 1982 for developments in electron microscopy and his work on complexes of nucleic acids and proteins. He studied crystallography at the University of Cape Town before moving to England, completing his doctorate in 1953 at Trinity College, Cambridge. In 1981, he was awarded the Louisa Gross Horwitz Prize from Columbia University. His long and influential career led to a knighthood in 1988. He was also elected President of the Royal Society, and served there from 1995-2000.
Title: Will the Human Genome Project work?
Listeners: John Finch Ken Holmes
John Finch is a retired member of staff of the Medical Research Council Laboratory of Molecular Biology in Cambridge, UK. He began research as a PhD student of Rosalind Franklin's at Birkbeck College, London in 1955 studying the structure of small viruses by x-ray diffraction. He came to Cambridge as part of Aaron Klug's team in 1962 and has continued with the structural study of viruses and other nucleoproteins such as chromatin, using both x-rays and electron microscopy.
Kenneth Holmes was born in London in 1934 and attended schools in Chiswick. He obtained his BA at St Johns College, Cambridge. He obtained his PhD at Birkbeck College, London working on the structure of tobacco mosaic virus with Rosalind Franklin and Aaron Klug. After a post-doc at Childrens' Hospital, Boston, where he started to work on muscle structure, he joined to the newly opened Laboratory of Molecular Biology in Cambridge where he stayed for six years. He worked with Aaron Klug on virus structure and with Hugh Huxley on muscle. He then moved to Heidelberg to open the Department of Biophysics at the Max Planck Institute for Medical Research where he remained as director until his retirement. During this time he completed the structure of tobacco mosaic virus and solved the structures of a number of protein molecules including the structure of the muscle protein actin and the actin filament. Recently he has worked on the molecular mechanism of muscle contraction. He also initiated the use of synchrotron radiation as a source for X-ray diffraction and founded the EMBL outstation at DESY Hamburg. He was elected to the Royal Society in 1981 and is a member of a number of scientific academies.
Tags: Wellcome Trust, Wellcome Foundation, John Sulston, Bob Waterston, Fred Sanger, Dai Rees, Roger Gibbs, James Watson
Duration: 5 minutes
Date story recorded: July 2005
Date story went live: 24 January 2008