NEXT STORY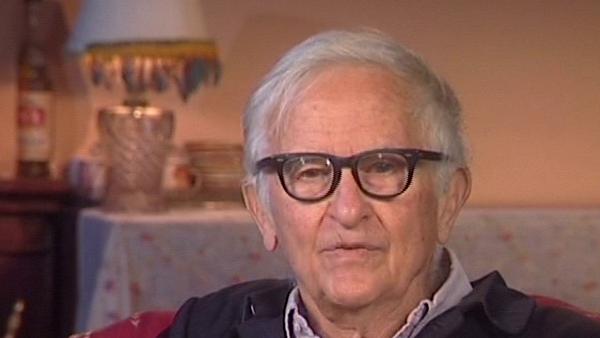 Awareness of anti-Semitism in early childhood
Albert Maysles
Film-maker
1
2
3
4
5
...
10
Well, I should talk a little bit about my mother because she was- and my father. My mother was very important to me in a special way in that she was an ardent civil libertarian and one of her big desires was that she might someday meet Eleanor Roosevelt. And I don't know how she pulled it off but she did and she spent a whole day with her. Many years later, having made my first film in mental hospitals in Russia, a film called "Psychiatry in Russia", I noticed on finishing the film that there was an article in a New York newspaper to the effect that Mrs. Roosevelt was planning to go to Russia in order to look into social services there and among other things she wanted to visit mental hospitals but she had learned that there weren't any mental hospitals in Russia. And so when I saw that I thought oh- I must call her up and tell her- no, it's not true, I'd just made this film. I don't know how I got her phone number but I'm pretty good at getting access to people and so I called her up. She was living in New York on the Upper East Side. And I told her. And she said oh- do you have the film? I said- yes. Oh, I would love to see it. So, okay, I said- I'll bring the film and the projector. And I showed her the film. And I spent the whole day with her, as my mother did. But this time it ended with her saying- well, you know I'm leaving for Russia in three weeks, I'd be glad to have you come along. Well, as those things happen, you know, I had no money, no- no camera, and so I, I couldn't go. Now, with these little video cameras, I surely would have had the means and the determination to go with her. So I missed out on that opportunity. I've missed out, actually, on several major opportunities to get into the life around me or, or to do stories in, in other countries like, for example, the time when, about ten years ago, I got a call from the Rockefeller Foundation and they said that they would like to send me to North Korea to look into making a movie. And I thought- oh, that's great. So plans were all made and the last day or so they said well, anyone else you'd like to bring along with you? We're sending you along with somebody who knows the country and can be your interpreter. I said- oh, well, thinking that my daughter Rebekah- hello- thinking that my daughter Rebekah had been studying photography, among other things, in, in High School. She's only 17 and her photographs were really very good. So I said- oh, I'd like to have a photographer. And they said who would that be? And I said- my daughter; she's a professional. And the quality of her work was professional. And how much should we pay her? So I said- well, you know, the normal fee. I guess it's $500 a day. And so she ended up making $500- that's $5,000. And she did a marvelous job. So I came up with the idea that I should spend some time on returning with- spend some time with an extended family if- just filming as I always do in a very observational fashion and if, if a child went off to see the dentist I would go with that child. If a father and son were going fishing I'd do that; or if the father was attending a Communist Party Meeting; whatever. Just to get to know first-hand and to film first-hand the life of an extended family- cousins, aunts, brothers, so forth. And they agreed to it. And I wrote out the proposal and everyone thought it was fine. Then I came back and then I thought what, am I crazy, who's going to pay for this and who's going to show it? And it just- the whole idea lapsed. And- but that's ten years ago and we would know that much more about this country that we know almost nothing of. And so I feel sorry that I didn't do it although- even telling the story that is made with an open mind and open to whatever political information might come forth- you know? Even that- or any film even, the commercial networks, ABC, CBS, NBC, you know, they wouldn't take it as is, from the way I would make it. They'd, they'd either not accept it at all or just take bits and pieces and put together their own film with their own Cronkite type of narrator. That's something that I wouldn't want to subject my material to.
Albert Maysles (1926-2015) known for his important documentaries on Muhammad Ali, Jimi Hendrix and The Beatles, pioneered the documentary style known as Direct Cinema. He helped create techniques still widely used in modern documentary production, as well as many of the techniques used in reality TV.
Title: Evasive opportunities
Listeners: Sara Maysles Tamara Tracz Rebekah Maysles
Sara Maysles, daughter of Albert Maysles, is currently doing her BA in East Asian Studies at Columbia University, and working as an Archivist of the photographs and photographic material at Maysles Films Inc., Albert's film production company. She spent ten months out of two years working with Tibetan refugees at a center in Nepal, and continues to travel back and forth between America and Asia.
Tamara Tracz is a writer and filmmaker based in London.
Rebekah Maysles, daughter of Albert Maysles, is an artist living between New York and Philadelphia. She has her own line of clothing, Blackberryrose, and co-runs the store Sodafine in Fort Greene, Brooklyn, New York, a vintage and handmade store that sells clothing, books and other products made by artists.
Tags: Russia, Psychiatry in Russia, New York, Rockefeller Foundation, North Korea, ABC, CBS, NBC, Eleanor Roosevelt
Duration: 5 minutes, 44 seconds
Date story recorded: September 2004
Date story went live: 24 January 2008