NEXT STORY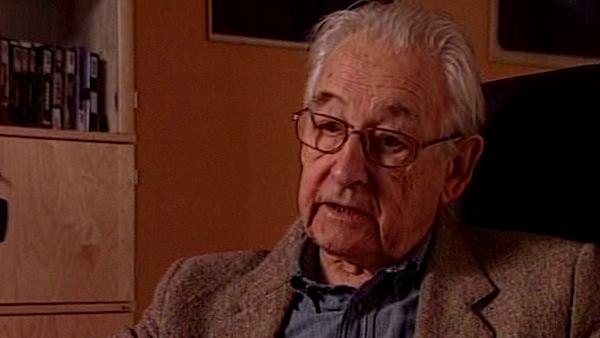 The Conductor: Searching for a performer of the lead role
The person of Iwaszkiewicz in Young Girls of Wilko
1
...
13
14
15
16
17
...
23
Myślę, że to jest film, który ma swoją siłę i swój wyraz właśnie w tym spokoju, w tym takim...w tym takim... w tej zadumie nad życiem jako takim, nad przeszłością, nad tym światem, który jest taki piękny, dookoła nas otacza, przyroda. Myślę, że to wszystko bardzo Edward dobrze sfotografował, połączył jedno z drugim – te wnętrza i dał tym postaciom kobiecym taki właśnie wyraz piękny i bardzo taki bym powiedział, no, bardzo adekwatny do tego, co napisał Iwaszkiewicz.
Do tego doszła jeszcze muzyka. Bardzo trudno było znaleźć kompozytora dla tego filmu i wtedy pomyślałem, że może by towarzyszył temu filmowi... towarzyszyła temu filmowi muzyka Szymanowskiego. Karol Szymanowski był przyjacielem, bardzo bliskim, Jarosława Iwaszkiewicza i kiedy ja postanowiłem właśnie, że pieśni kurpiowskie będą towarzyszyć filmowi, Jarosław Iwaszkiewicz wpadł w zupełne zdumienie i zachwyt i mówi: 'A jak na to wpadłeś? Właśnie wtedy, kiedy ja na piętrze pisałem opowiadanie Panny z Wilka, na dole wspaniały mój przyjaciel i kompozytor Karol Szymanowski pisał pieśni kurpiowskie!' Także mówi: 'Pisząc Panny z Wilka, słyszałem tę muzykę, którą ty dałeś do filmu'.
Ja zresztą pomyślałem jeszcze, że jest rzadka okazja, żeby wprowadzić samego autora. Pomyślałem sobie, że Jarosław Iwaszkiewicz powinien w jakiś sposób przez ten film przejść, powinien się w tym filmie pokazać. Powinno tak być, że on jako pisarz nagle patrzy na swojego bohatera, który jedzie tym samym pociągiem, porzuca dom panien z Wilka, odjeżdża gdzieś. Za oknem tu przed chwilą było lato, a tu już się robi jesień, zima, już zaczyna śnieg padać. Myślę, że to dobrze zrobiło temu filmowi taką zadumę i stary autor, który przez ten film... którego cień jakby przez ten film przechodzi był dobrym pomysłem. Tak że tak skończyła się moja przygoda z Pannami z Wilka.
I think this is a film that has its strength and expression in this peace, this meditation about life, about the past, about this world which is so beautiful, that surrounds us, nature. I think Edward filmed this very well, combining one with the other, those interiors, and he made the women beautifully expressive and just as Iwaszkiewicz described them in his story. Music was added to this. It was very hard to find a composer for this film, and that's when I thought that perhaps music by Szymanowski would suit this film. Karol Szymanowski was a very close friend of Jarosław Iwaszkiewicz, and when I decided that the Kurpie songs would accompany this film, Jarosław Iwaszkiewicz was amazed and enthralled, and said, 'How did you come up with this? At the time when I was writing Young Girls of Wilko on the first floor, down below my wonderful friend and composer Karol Szymanowski was writing the Kurpie songs! So while I was writing Young Girls of Wilko, I could hear this music that you've included in the film.' I thought, too, that we had the rare occasion to introduce the author himself. I thought that Jarosław Iwaszkiewicz ought to somehow pass through this film, he should appear in it. It ought to be that he, as the author, suddenly encounters his hero who's travelling in the same train having abandoned the home of the young girls of Wilko and is going away somewhere; outside it was summer just a moment ago and now it's already autumn, winter and it's beginning to snow. I think it was good for the film to have this meditation, and the old author whose shadow passes across this film; it was a good idea. And this is how my adventure with the Young Girls of Wilko ended.
Polish film director Andrzej Wajda (1926-2016) was a towering presence in Polish cinema for six decades. His films, showing the horror of the German occupation of Poland, won awards at Cannes and established his reputation as both story-teller and commentator on Poland's turbulent history. As well as his impressive career in TV and film, he also served on the national Senate from 1989-91.
Title: The person of Iwaszkiewicz in "Young Girls of Wilko"
Listeners: Jacek Petrycki
Cinematographer Jacek Petrycki was born in Poznań, Poland in 1948. He has worked extensively in Poland and throughout the world. His credits include, for Agniezka Holland, Provincial Actors (1979), Europe, Europe (1990), Shot in the Heart (2001) and Julie Walking Home (2002), for Krysztof Kieslowski numerous short films including Camera Buff (1980) and No End (1985). Other credits include Journey to the Sun (1998), directed by Jesim Ustaoglu, which won the Golden Camera 300 award at the International Film Camera Festival, Shooters (2000) and The Valley (1999), both directed by Dan Reed, Unforgiving (1993) and Betrayed (1995) by Clive Gordon both of which won the BAFTA for best factual photography. Jacek Petrycki is also a teacher and a filmmaker.
Tags: Young Girls of Wilko, Edward Kłosiński, Jarosław Iwaszkiewicz, Karol Szymanowski
Duration: 2 minutes, 40 seconds
Date story recorded: August 2003
Date story went live: 24 January 2008