NEXT STORY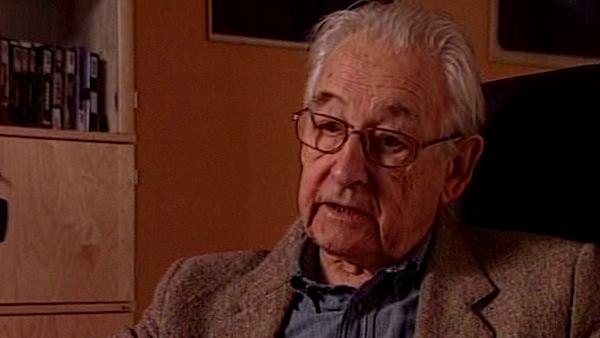 No more politics
Am I a painter? I'm a film director
1
2
3
4
5
...
23
Mnie bardzo trudno się było znaleźć się w tej sytuacji, dlatego że ja nie miałem dostatecznie prawdopodobnie silnego talentu do malowania. Ja przeliczyłem się chyba ze swoimi... ja bardzo chciałem być malarzem, ale czy mogłem być malarzem? Na to pytanie nie mogę sobie odpowiedzieć. Być może gdybym studiował dłużej, może nastapiłby i w moim życiu jakiś taki przełom, który by mnie ukształtował jako indywidualność malarską. Ale gdyby ktoś chciał dzisiaj zrobić wystawę moich prac to powiedziałby: no nie, ten człowiek nie wie czego chce. Raz maluje tak, raz maluje trochę inaczej. Próbowałem malować w duchu Wróblewskiego, no ale nic z tego nie zostało wartościowego. Nie... nic z tego nie wyniknęło takiego. Namalowałem jakieś kobiety, które są przez Niemców pędzone przed czołgami, bo taki sobie temat wybrałem do tej wystawy, którą mieliśmy zrobić w obronie pokoju. Ale dalej malowałem w Akademii tak jak się malowało w Akademii. Nie potrafiłem połączyć jednego z drugim. Nie potrafiłem się określić. I myślę, że... to jest... to jest coś takiego, jak czasem się wydarza, że po prostu dostrzegłem malarstwo Andrzeja Wróblewskiego jako to, które powinno być moim malarstwem. No ale on już to namalował. I nagle zdałem sobie sprawę, że tu nie mam więcej co szukać. Może to był powód, nawet na pewno to był powód, że porzuciłem Akademię Sztuk Pięknych i spróbowałem jeszcze raz wszystko zacząć od początku. A to mi nigdy przedtem nie przychodziło do głowy. Wydawało mi się, że to jest zupełnie oczywiste, co zresztą śmieszne, potem kiedy poszedłem z Akademii Sztuk Pięknych do Szkoły Filmowej w Łodzi, dalej malowałem. Po pierwszym roku Szkoły Filmowej myślałem, że wrócę z powrotem do Akademii. Jak zrobiłem pierwszy mój film Pokolenie, myślałem, że rzucę i wrócę jeszcze raz do malowania. Tak że ciągle mnie to prześladowało i mam dużo prac z tamtych czasów. Ale nic się nie posunęło dalej, bo się nie określiłem kim jestem jako malarz. Natomiast bardzo szybko się określiłem kim jestem jako reżyser filmowy.
It was very hard for me to find myself in this situation because I probably didn't have a pronounced enough talent to paint. I had probably overestimated my... I wanted to be a painter very much, but could I be one? I can't answer that question for myself. Perhaps if I had carried on studying for longer, some kind of breakthrough would have occurred in my life which would have shaped my artisitic individuality. But if someone wanted to prepare an exhibition today of my works they'd say, no, this person doesn't know what he wants. First he paints like this, then he paints a bit differently. I tried to paint in the spirit of Wróblewski, but nothing worthwhile remained from that time. No, nothing much came of that. I painted some women being herded by German tanks, because I chose this subject when we were preparing an exhibition in defense of peace. But in the art school I carried on painting the way everyone painted in the art school. I was incapable of combining one with the other. I was unable to define myself. And I think that it was this, it was what sometimes happens, that I simply perceived that the work of Andrzej Wróblewski should have been mine. But he had already painted it. I suddenly realised that there was nothing more for me there. Perhaps this was the reason, in fact it was definitely the reason why I dropped out of the School of Fine Arts and tried to begin again from the beginning. This had never occurred to me before. It had always seemed so obvious before, which is funny. Later when I went from the School of Fine Arts to the Film School in Łódź, I carried on painting. After my first year at the Film School, I thought of going back to art school. After I'd made my first film, The Generation, I thought of chucking it all in and going back to painting once more. So it continued to haunt me and I have lots of pieces from that time. But there was no progress because I didn't define what sort of a painter I was. However, I very quickly defined who I was as a film director.
Polish film director Andrzej Wajda (1926-2016) was a towering presence in Polish cinema for six decades. His films, showing the horror of the German occupation of Poland, won awards at Cannes and established his reputation as both story-teller and commentator on Poland's turbulent history. As well as his impressive career in TV and film, he also served on the national Senate from 1989-91.
Title: Am I a painter? I'm a film director
Listeners: Jacek Petrycki
Cinematographer Jacek Petrycki was born in Poznań, Poland in 1948. He has worked extensively in Poland and throughout the world. His credits include, for Agniezka Holland, Provincial Actors (1979), Europe, Europe (1990), Shot in the Heart (2001) and Julie Walking Home (2002), for Krysztof Kieslowski numerous short films including Camera Buff (1980) and No End (1985). Other credits include Journey to the Sun (1998), directed by Jesim Ustaoglu, which won the Golden Camera 300 award at the International Film Camera Festival, Shooters (2000) and The Valley (1999), both directed by Dan Reed, Unforgiving (1993) and Betrayed (1995) by Clive Gordon both of which won the BAFTA for best factual photography. Jacek Petrycki is also a teacher and a filmmaker.
Tags: School of Fine Arts, Łódź, A Generation, Andrzej Wróblewski
Duration: 2 minutes, 45 seconds
Date story recorded: August 2003
Date story went live: 24 January 2008