NEXT STORY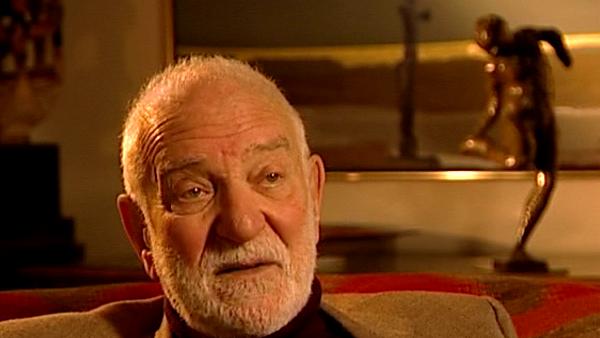 Henry Moore and David Smith: Two father figures
Learning from Henry Moore
1
2
3
4
5
6
And then working with Henry, because, I mean, when we made the "King and Queen", for example... when he made the "King and Queen"... I remember making the tiny one of the "King and Queen". And he cut them out of a flat sheet of... of wax like a tailor, like just cutting that round like a tailor and then bent the wax. And then he had some boiling water and we put... he put the thing in it, and put the head on, you know, and it was... it sort of became soft because it had been in the boiling water. It sort of began to melt the wax and so on. Watching him do all that, working beside us, it was great; it was great. And the... and the... the "Fallen Warrior", and all those things: I mean these were all done, you know, at the same time when I was in the studio. And we did some other things, too, like actually carving the "Time Life Building", which, you know... I didn't find that was so interesting because I was, you know, carving... that was enlarging too; that was doing it with an enlarging machine. I'd seen it... I'd seen the bought enlarging machine from the nineteenth century at Wheeler's Place, which is on a sort of pivot and with a length... with a long pole, and then, if you wanted... and then this side has a small arrow and this side has a big arrow so that... that you put something on a small arrow to touch a position on the small model and it makes it on the right position on the big model, but three times as much or five times as much, whatever it is. But we didn't use that; we made our own one with Henry which was like a... a sort of a wooden structure with the same idea to show where something was in space. I didn't find that so interesting, really. It was quite interesting. Or enlarging a... a little plaster of his and making it into a big figure and so on... all that. There's so much of that work in sculpture, you know, of the... the chores, the... the donkey work.
[Q] So it was actually working directly with the material that you realised was the most interesting thing for you?
Yes, but I mean I was much more interested in... in working in... in... when Henry was actually creating. I thought that was... that was terrific; I loved that. I mean when he was... when he'd say, 'We'll enlarge that', it wasn't so interesting. And we were also having... having his bronze foundry which we couldn't get... we couldn't get... we built it wrongly; it wasn't very good. It was very bad. But we were casting things there too. So I mean, I was learning a tremendous lot, and I had never learnt any of this at... at art school.
British sculptor Sir Anthony Caro (1924-2013) came to prominence in 1963 after a show at the Whitechapel Gallery. Keen to create a more direct interaction with the viewer he placed pieces directly on the ground, rather than on plinths, a technique now widely used. He held many honorary degrees and was knighted in 1987.
Title: Learning from Henry Moore
Listeners: Tim Marlow
Tim Marlow is a writer, broadcaster and art historian. He founded "Tate: The Art Magazine" in 1993 and was presenter of Radio 4 arts programme "Kaleidoscope" from 1991 to 1998, for which he won a Sony Award. He has presented art programme's on BBC 1, Channel 4 and Channel 5, including a documentary about JMW Turner, and written about art and culture for various British newspapers and magazines including "The Guardian", "The Times" and "Blueprint" He is Director of Exhibitions at the White Cube gallery in London as well as a visiting lecturer at Winchester School of Art, an examiner on the Sculpture MA there and former creative director of Sculpture at Goodwood
Tags: Henry Moore
Duration: 3 minutes, 4 seconds
Date story recorded: November 2005
Date story went live: 24 January 2008