NEXT STORY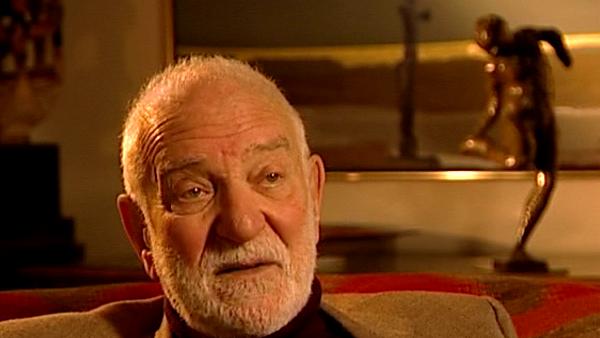 Developing as a sculptor
Henry Moore and David Smith: Two father figures
1
2
3
4
5
6
It was a cowshed we worked in. We worked in... we worked in the cowshed; there were not a lot of assistants. There was Alan Ingham and me and I think later... I think later we... there was one other chap came. But I mean basically no, it was two or three of us, that's all. And then Henry working in the cowshed and working sometimes in the little, little part of the cowshed on his own things. But it was... no, it was small in that way. The grand reputation was not there yet; it was coming but it was not there yet. We had some people, foreign people, coming and so on. We had people that... I didn't know who the hell they were. 'This is Nancy Cunard'. I didn't know who Nancy Cunard was, you know? But there were people like that who came from the '30s somewhere, I didn't know where or how or anything. It hadn't really... it wasn't big and Henry was not a... was not a... he was not the god that he became later in the world's eyes or in his own eyes.
[Q] Do you think his reputation took up...? You say in his own eyes. Did he... do you think he started to believe the myth then, later on?
Well, 20 or 30 years later, yes. I think he did. Very dangerous, these myths. I think so; I mean enough people told you that you were Michelangelo, in the end you think you're Michelangelo. I think that did happen to Henry. And I think his work deteriorated, yes, really because I... Did you see that show at Dulwich not long ago? The early work was wonderful, absolutely wonderful, and the late work is... a bit overblown and, and, and I don't go for it so much. It can happen to anybody.
[Q] Is he... was he a creative father figure for you then, in a way?
Yes, absolutely, absolutely, and so kind, so kind, such a nice person. Because the two father figures for me were him and David Smith. And David Smith was a competitor and Henry was a father, you know. Henry was... was somebody there to help you and to try and be, you know, to lead you and to help you and so on. You were always having to come up against David. Any sculptor would come up against David. I mean David would put every other sculptor in that competitive position.
[Q] But it was more competitive with you later when you became successful?
Oh no, I don't think so. He just thought what I was doing was bad. I... I didn't realise. I mean, no, I... I think that... No, Henry, when I left Henry and he came here once and he bought a little figure of mine and a head and I was thrilled. But I think that that was when it was still, you know, the figurative stuff and I didn't realise this until only a... a few months ago an Australian chap, who worked for Henry ten years after I did, told me that he.. when he was there he said to Henry you've got see Tony's Whitechapel Show.
[Q] '63?
Yes. And, and Henry went and the next day they said to Henry, what do you think of it? And Henry said window dressing. That interested me quite a lot. I mean I sensed that he didn't like it. He kind of believed that I really cared about sculpture and he believed that side of it but the way I went was so totally against his... his attitude. He said, 'Sculpture is like a fist, all these bits pressing their way out'. And I said, 'Sculpture is like cubism'. You see, I had a completely different... different direction really to him. You know, I see him, in a way, as the last Renaissance sculpture... sculptor and... and I think that, you know, in those intervening ten years, whatever it was, I had discovered cubism and discovered the possibilities for sculpture in cubism.
British sculptor Sir Anthony Caro (1924-2013) came to prominence in 1963 after a show at the Whitechapel Gallery. Keen to create a more direct interaction with the viewer he placed pieces directly on the ground, rather than on plinths, a technique now widely used. He held many honorary degrees and was knighted in 1987.
Title: Henry Moore and David Smith: Two father figures
Listeners: Tim Marlow
Tim Marlow is a writer, broadcaster and art historian. He founded "Tate: The Art Magazine" in 1993 and was presenter of Radio 4 arts programme "Kaleidoscope" from 1991 to 1998, for which he won a Sony Award. He has presented art programme's on BBC 1, Channel 4 and Channel 5, including a documentary about JMW Turner, and written about art and culture for various British newspapers and magazines including "The Guardian", "The Times" and "Blueprint" He is Director of Exhibitions at the White Cube gallery in London as well as a visiting lecturer at Winchester School of Art, an examiner on the Sculpture MA there and former creative director of Sculpture at Goodwood
Tags: Henry Moore, David Smith, Alan Ingham, Nancy Cunard, Michelangelo
Duration: 4 minutes, 45 seconds
Date story recorded: November 2005
Date story went live: 24 January 2008