NEXT STORY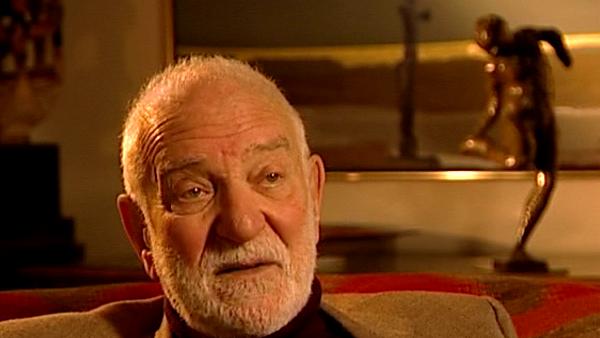 How to start a sculpture
1
2
3
4
5
6
How do you protect steel? You make a bit of sculpture, you've got to stand it outside because you haven't got room for it indoors, so you varnish it or you paint it, oh... paint it... paint it brown. You know, that's how I started: paint it brown. Why does it have to be brown? Let's paint it a different colour, try another colour, you know. That was like that... like that. And so, you know, I kept painting them for a few years; the painting's so seductive. The colour is so seductive in the end. You start enjoying the colour; colour is one of the hits you... colour always hits you first – before form anyway – and colour was... you know, was... was taking over a bit, I thought, and then the '60s were finishing, and... and those... those wonderful '60s, when everything was breaking open and we were fresh and free and throwing away all our attitudes about authority and everything. We were really... it was great. Not very realistic, but great, and not very down to earth.
And then the '70s came along and we were right down to earth again, and I couldn't go on painting them bright colours, and I had this show in America and the coloured sculptures, and they went down a treat. That show went down too well; it really... it threw me. I said, 'There must be something wrong: people are liking it too much or too many people are liking it or something. So let's make some sculpture which is a bit more horrid'. So I didn't paint them, and I made a lot of sculptures from, say, 1970 to about 2000, and what are we now? Yes, they were... they were brown; a lot of them were brown. A lot of them were just... just varnished and... and it was interesting to me, the show at the Tate. Everybody was loving those coloured sculptures; they hated them when I first made them but they were loving these coloured sculptures and they didn't like the other ones – they didn't like the more recent... They're so much less seductive; they're more... they're more contemplative in a way, I think. I might go back to colour. I mean I... I... as a matter of fact, as I told you, I'm making some sculptures which are light because they're galvanised, and putting colour on them. And I might very well... I don't mind. I'd like the idea of some coloured stuff but it isn't a... it isn't a big thing whether they're coloured or not.
[Q] Do you think it had anything to do with the fact that you were very close to painters? I mean you seem to know... you seemed to know at the time more painters of your own generation – Helen Frankenthaler, Jules Olitski, Kenneth Noland – and hang out with them more than you did sculptors.
Much more, much more. Probably... I don't think it had anything to do with it much, but I didn't look at sculpture either. I was... you know, I had not really spent a lot of time looking at old sculpture. I spent a lot of time looking at old painting.
[Q] Why?
Because sculpture, old sculpture, has... it... it would tell me a... a lesson that I don't want to learn or that I know already. It would confirm things and so on. Yes, Greek sculpture is utterly marvellous, utterly wonderful, and sort of a lot of Indian sculpture is wonderful and you can see I've got a lot of sculpture in here. But I... I think I'm... I think at... at least in the early days I got more... more food from the painters because they were doing wacky things and I could... 'How would that be if we did that in sculpture... with... sculpture wise or something?' You know. 'How could I...?' 'Is there an equivalent of that?' I mean like... like... as I told you, working in the... in the garage, it had been the equivalent to... to being unable to see the... the painting properly, being unable to, you know, get a surprise when you put it up on the wall, and... and I would say, 'You put your sculpture out and suddenly it's a new sculpture to you; you see it'. You see what you were... what you had been trying to do. You don't actually judge. When you... when you... when you behave you're not making a judgment; you're just behaving. Afterwards you can look back at the way you behaved and say, 'Oh, I did make a cock up of that', or 'I did say what I meant to say'. But you... you know, you're not acting it. I think this is the danger with... with seeing something and responding to it, in a way. You're in the middle of making judgements. I think that Blair does that, oddly enough, do you know? I think he... he's saying something, and he's almost seeing himself saying it. I never thought of that until now; maybe I'm wrong, but... you know. But I think that you just act, and I think that you just make sculpture, and then... and it has to be that way. It has to be that way; it can't... you're not making a... a... you're not making a... a... what's the word I want?
[Q] Illustration?
No. A sculpture which doesn't have... which doesn't have... It has to be the way it is, but it has to be the way it is not for... not because it looks better that way, but because that's the way it has to be. You see what I mean?
[Q] Yeah. So you're in a sense trying to lose control in some... in some senses?
You're trying to lose the control, and give the control over to the sculpture, but you're not doing it without any control. That's it, that's it. You're doing it with... the sculpture has... is taking over, somehow, plus, I mean, all that to do with what you're trying to do, of course, as well.
British sculptor Sir Anthony Caro (1924-2013) came to prominence in 1963 after a show at the Whitechapel Gallery. Keen to create a more direct interaction with the viewer he placed pieces directly on the ground, rather than on plinths, a technique now widely used. He held many honorary degrees and was knighted in 1987.
Title: My use of colour
Listeners: Tim Marlow
Tim Marlow is a writer, broadcaster and art historian. He founded "Tate: The Art Magazine" in 1993 and was presenter of Radio 4 arts programme "Kaleidoscope" from 1991 to 1998, for which he won a Sony Award. He has presented art programme's on BBC 1, Channel 4 and Channel 5, including a documentary about JMW Turner, and written about art and culture for various British newspapers and magazines including "The Guardian", "The Times" and "Blueprint" He is Director of Exhibitions at the White Cube gallery in London as well as a visiting lecturer at Winchester School of Art, an examiner on the Sculpture MA there and former creative director of Sculpture at Goodwood
Tags: Helen Frankenthaler, Jules Olitski, Kenneth Noland, Tony Blair
Duration: 7 minutes, 11 seconds
Date story recorded: November 2005
Date story went live: 24 January 2008