NEXT STORY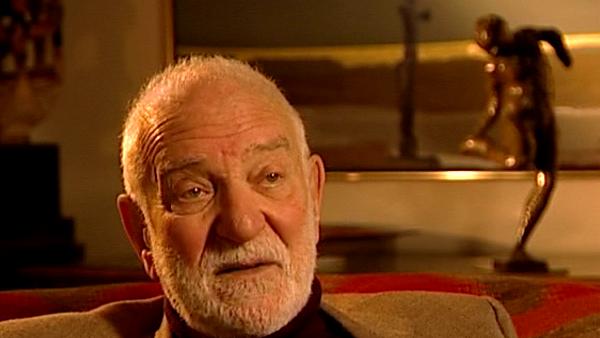 The pros and cons of my career
Teaching and other ways of finding stimulation
1
2
3
4
5
6
[Q] Did you learn as much from teaching as you imparted to your students?
More. Because they learned... they learned most of it from the... from each other. And I learned it from having... from having to try and say what I meant. 'What do you mean by that?' And students always ask you; they don't let you get away with it. They make you... they make you be clearer. They make you say what you mean, so you can be woolly as hell in your mind but you can't be woolly as hell when you're teaching. Have you found that?
[Q] Yeah, yeah. I find teaching more exhausting than anything.
It is, it is, but it's wonderfully stimulating too.
[Q] So why did you stop teaching in the end?
Well you can't go on teaching forever. I mean I taught for about twenty years, twenty-five years, I think. If it gets like a gramophone record, shut up and... and then I did another thing which was to have the... the workshops – the Triangle Workshops – which were certainly not teaching. But they were also... they were to do with other people's work and other people, you know, responding to each other and so on. So they were a sort of replacement for teaching.
[Q] What's the replacement for teaching now?
Sleeping. No, I don't know. I don't get enough stimulation; I don't. I mean this is... this is bad. I get... it's nice to... I mean, you know, like talking to... to John... John Gibbons and so on is... is always stimulating and interesting and he says things, you know? Going around shows with him, say, or with somebody else, or with Sheila. Sheila and I know each other too well and... and I've got a lot of young people working in the studio, but it's not easy to... not easy to... Who wants to hear what an old man has to say? That's not so interesting, and I'm not interested in what I have to say. I've always been stimulated by workshops, and going and working in a different material or with a different person, like going to the South of France and working with Hans Spinner, or going to America and working with paper things with, you know, what's his name? I forget. Ken Tyler, you know. All those things are interesting, or travelling is interesting. Travelling's interesting. But I don't get the day-to-day thing that I had in the... in the '60s, no. But you don't, you know. You don't, do you? Where do you get your kicks?
[Q] Surfing.
You see, there you are. It's a different thing altogether, yeah. Altogether. That's your hobby. And I say now, 'What's my hobby?' My grandchildren are my hobby.
British sculptor Sir Anthony Caro (1924-2013) came to prominence in 1963 after a show at the Whitechapel Gallery. Keen to create a more direct interaction with the viewer he placed pieces directly on the ground, rather than on plinths, a technique now widely used. He held many honorary degrees and was knighted in 1987.
Title: Teaching and other ways of finding stimulation
Listeners: Tim Marlow
Tim Marlow is a writer, broadcaster and art historian. He founded "Tate: The Art Magazine" in 1993 and was presenter of Radio 4 arts programme "Kaleidoscope" from 1991 to 1998, for which he won a Sony Award. He has presented art programme's on BBC 1, Channel 4 and Channel 5, including a documentary about JMW Turner, and written about art and culture for various British newspapers and magazines including "The Guardian", "The Times" and "Blueprint" He is Director of Exhibitions at the White Cube gallery in London as well as a visiting lecturer at Winchester School of Art, an examiner on the Sculpture MA there and former creative director of Sculpture at Goodwood
Tags: America, Hans Spinner, Len Tyler
Duration: 3 minutes, 21 seconds
Date story recorded: November 2005
Date story went live: 24 January 2008