NEXT STORY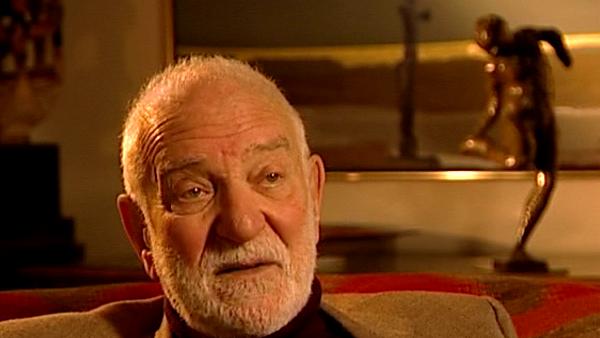 Clement Greenberg
Anxiety builds confidence
1
2
3
4
5
6
[Q] Talking about your early career, you know, we were talking about it in terms of the artist heroes or artists that you admired, and artists you wanted to react against. And I guess there comes a point when one has defined one's own creative voice where the person that you then have to react against is yourself.
Oh, you do, yeah.
[Q] Is that the dominant model, then, for your career from the late '60s to the present? Is it always yourself and the rules and the work that you've created that you feel the need to... to push against?
I think quite a lot, yes, quite a lot. Because I don't see enough sculpture which gives me trouble, which gives me... which makes me anxious and makes me feel, you know, I'm missing it... I'm missing something. People of my own age or people younger than me, I don't think I'm seeing enough challenges in there so the challenges are in my own work, yes. I'm trying to think of people who have given me a bit of a... a bit of a... rattled me a bit. I think that when Cragg first started off he rattled me a bit, you know. I think Rachel Whiteread's "House" rattled me a bit. I think the Serra Ellipses, possibly some Chillida... possibly. But I don't think they rattled me very much. No, I don't think... they're not really the way I want to go anyway.
[Q] Do you rattle yourself? Do you make some...?
I hope so. Mm?
[Q] Yeah, you hope so.
Hope so. Hope so. I'm so uncertain; I'm so anxious. What do you think of this, you know? I ask... I ask Sheila; I ask... I used to ask Clem; I used to ask Michael Fried, Ken... And I think that... that I was interested reading the Matisse life, you know, how Matisse... some Matisse stuff was rejected by his family. They said, 'That's not good enough, Dad', you know? I mean... so obviously he had that sort of anxiety. I don't think that... Picasso had never had any anxiety. Picasso knew everything he did was perfectly good, marvellous, and that is a wonderful confidence, to have that. I've never had that. I... I... is it any good, you know? I'm never sure; I'm never sure. And I want it to... to... I want it to give me a... I want... I want to be unsure; I want to be unsure. I want to be far enough out for it to be unsure.
British sculptor Sir Anthony Caro (1924-2013) came to prominence in 1963 after a show at the Whitechapel Gallery. Keen to create a more direct interaction with the viewer he placed pieces directly on the ground, rather than on plinths, a technique now widely used. He held many honorary degrees and was knighted in 1987.
Title: Anxiety builds confidence
Listeners: Tim Marlow
Tim Marlow is a writer, broadcaster and art historian. He founded "Tate: The Art Magazine" in 1993 and was presenter of Radio 4 arts programme "Kaleidoscope" from 1991 to 1998, for which he won a Sony Award. He has presented art programme's on BBC 1, Channel 4 and Channel 5, including a documentary about JMW Turner, and written about art and culture for various British newspapers and magazines including "The Guardian", "The Times" and "Blueprint" He is Director of Exhibitions at the White Cube gallery in London as well as a visiting lecturer at Winchester School of Art, an examiner on the Sculpture MA there and former creative director of Sculpture at Goodwood
Tags: Henri Matisse, Pablo Picasso, Michael Fried, Rachel Whiteread, Tony Cragg, Richard Serra, Clement Greenberg
Duration: 3 minutes, 28 seconds
Date story recorded: November 2005
Date story went live: 24 January 2008