NEXT STORY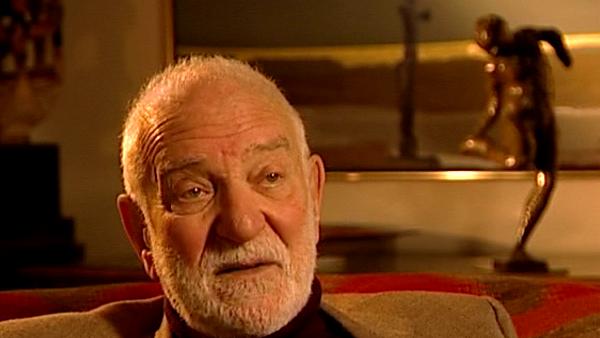 My first visit to Greece
Inspiration from paintings
1
2
3
4
5
6
[Q] Sculpture previous to the twentieth century was predominantly in the business of memorials and monuments.
Oh, it is now. It is now.
[Q] You think it's come full circle?
Oh yes.
[Q] And is that an area that you're interested in getting involved in or reinvigorating?
Not a bit, not a bit. I... I... I'm old fashioned in that I want sculpture explored; I want sculpture pure and simple. I'm... to hell with social activities and monuments and, you know, things that my brother-in-law is going to love. I... I... if he loves it, great, but that's not what it's about. What I'm trying to do is to make this sculpture better, like painting is better. I don't want to make it more available to more people.
[Q] Have you ever tried painting?
Once.
[Q] And what happened?
I hated it. Helen Frankenthaler came. I invited her to come; she wanted to make some sculpture, so I said, 'Come and make some in the studio'. So she stayed for three weeks in London and made sculptures in Camden Town with me at my... well, not with me – at my studio... made some very good ones. And she said, 'Now you've got to come and work in New York'. And I said, 'No, I'm not going to make paintings because that's Sheila's job. I... I'm a sculptor and she's a painter'. And she said, 'No, you've got to come, you've got to come to the studio'. And she was very generous and she said, 'Here's my studio, here's... my assistant is now your assistant, my paints are now your paints, my canvas your canvas and your place... my place is yours'. I thought wonderful to turn it over like that. 'So you ever come in?' 'Yeah, I'll come in; I'll come in occasionally'. That was very nice of her. I couldn't cope with it – just put a bit of blue on the canvas and then I want to move it so I had to cut it out and move it. I just collaged it; they weren't very good. I was just so uncomfortable, so much into illusion, not into reality. Really, I had to make it more real by cutting it out, but I mean it didn't work for me, no. I did it for two or three weeks – three or four weeks – and I think I've got them somewhere rolled up.
[Q] When you look at old master paintings, some of which have inspired directly and indirectly sculptures subsequently, do you... do you look at paintings in a three-dimensional way? Do you think you're always looking at them in terms of sculptural possibility?
No, not in a three-dimensional way at all, not at all. And I'm not... no, I just look at them because I enjoy it; I enjoy it mostly. And then something that you see, and you say, 'Wow, I wonder what would happen...?' That's what you say. 'I wonder what would happen if I did something similar in a sculpture, so that I had that blank thing, and I put those things on it in that way? I mean it's... I don't know what, but I wonder what would happen if...?' That's how I see it; it's not to make any sort of direct translation at all, and I've been very foolish in admitting, which I did... have done... that, you know, say, 'Oh, I was looking...' when I saw this Rembrandt, I think I should have kept my mouth shut and not told anybody, because people now talk about sort of source sculpture. 'What are you looking at now?' 'What's making you make?' You know? 'What's starting you off?' Just every... every artist that I know looks at old art and somewhere along the line what they make has had a... an echo or that sort of thing. The start was perhaps something that they saw years ago in some painting or print by Raphael or something. And they don't... they don't admit to it, you know. Usually it's just detected by the critics. I've been stupid and sort of said, 'Well, this is where it came from', or something. I don't think it came from that, but sometimes... sometimes it did, but very often not.
[Q] So do you think that people read those sculptures over literally if they know that you've looked at Rembrandt's "Descent from the Cross"?
Absolutely, absolutely, absolutely. Except that I think that Rubens and Rembrandt, "Descent from the Cross", are pretty literal; they are particularly literal and they came because I was using loose curved parts of steel and enclosing them with a geometric shape, holding them with a geometric shape. And then the idea came that I should put the geometric stuff inside the picture, inside the sculpture. That was for the cross so that, you know... and I think that seeing that, one thought almost, 'Well that is... that is a way that you could get the geometry inside instead of on the outside.' And I looked at these... Rubens was first and saw that that was exactly what he was doing in the painting, and then he was also having these extraordinary... this sheet that was held by the man's teeth... and he holds it with the Christ in the bottom. So we get this tremendous sweep in it, you know, pretty literal stuff, that. And I remember you writing about it and saying it was too literal; I should be ashamed of myself for doing that sort of thing.
[Q] I've now come full circle. I think they're amazing sculptures now. But I think it's interesting that you choose something as ambitious as that painting, which is one of the most staggering paintings in the history of art. Much, much safer to have gone for something less well-known. But I love the fact that one is taken away; it's such a physical painting and to translate it into something as physical as a sculpture seems to me an interesting thing to do now.
I don't think it really works, that type of thing, but it's a try and it's a try, you know... it's got a lot of pulls and pushes and stuff in it like that; I felt I wanted to see if I could get it in a sculpture.
British sculptor Sir Anthony Caro (1924-2013) came to prominence in 1963 after a show at the Whitechapel Gallery. Keen to create a more direct interaction with the viewer he placed pieces directly on the ground, rather than on plinths, a technique now widely used. He held many honorary degrees and was knighted in 1987.
Title: Inspiration from paintings
Listeners: Tim Marlow
Tim Marlow is a writer, broadcaster and art historian. He founded "Tate: The Art Magazine" in 1993 and was presenter of Radio 4 arts programme "Kaleidoscope" from 1991 to 1998, for which he won a Sony Award. He has presented art programme's on BBC 1, Channel 4 and Channel 5, including a documentary about JMW Turner, and written about art and culture for various British newspapers and magazines including "The Guardian", "The Times" and "Blueprint" He is Director of Exhibitions at the White Cube gallery in London as well as a visiting lecturer at Winchester School of Art, an examiner on the Sculpture MA there and former creative director of Sculpture at Goodwood
Tags: Descent from the Cross
Duration: 6 minutes, 23 seconds
Date story recorded: November 2005
Date story went live: 24 January 2008