NEXT STORY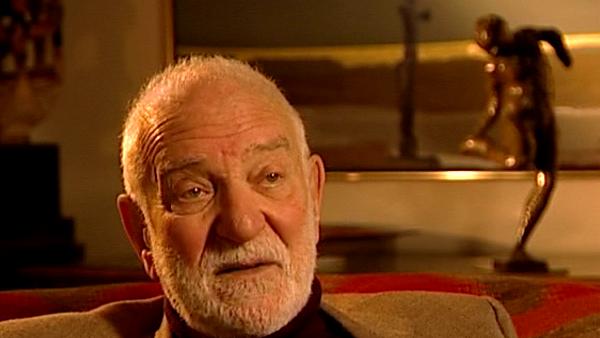 Working in ceramic clay with Hans Spinner
Travel and sculpture: Medicine Hat
1
2
3
4
5
6
No, I like going to other places but I don't think I'd go there for the art. I go there for... because something comes up and somebody says, 'Oh, there's a great guy there for clay', or 'Would you like to come here because they've got such and such sort of material', or something, you know, interesting. Or there's a person there couldn't make it; and something is interesting like that and then you find it. Then you find some... you find a new thing; you find a new way. And I think, of course, always in the end my studio is the centre for me and the place where it's really happening. I'd like to travel more but I... the right place hasn't come along.
But I mean there's an idea now: would I like to go to Medicine Hat? I love Medicine Hat. Have you ever been? Well, it really is the prairie and it's in Canada and it's a few hundred miles south of... of Edmonton – Calgary really. And it's flat, except there are holes in it, so it's been... it's been, I think, flattened by glaciers and things. It's a bit like Denmark so, instead of there being hills, there's flatness and then holes where the valleys are. So it's wonderful scenery, and the people are so... the people are marvellous. They're... they're like at the beginning, you know? I was staying with this pair and she was a brilliant paediatrician and... what did he do? I'm not sure that he wasn't a doctor too. But he was a Cree Indian but he had... he had a herd and he would send that herd out to the hills. 'What do you do when... when one of the animals gets lost?' He said, 'I get on my horse'. I thought he was being funny. He really goes on his horse and he goes and gets it. It was very, you know... I was there with... Do you know –? Did you ever meet Clay... Clay Ellis? Well, Clay Ellis was a son of a bull rider, and we got there and Clay said, 'Where shall we eat dinner?' I said, 'Well, let's eat in a real Western place'. So we go to this place and he shows me the... the menu and there's a picture of a cowgirl on the front. He said, 'That's my aunt'. And you know we... it was like that; it was very like, you know... I think Durango, which I'd been to before, was... was a sort of film version of the Wild West, but this was a real version of the Wild West. And I would love to go and work in... in Medicine Hat, but I can't see what to work in because they used to make clay... clay pipes... clay big pipes for... for stuff to go... you know, for drains and things, and I can't see... I can't see anything working. It doesn't seem the right thing for me, that, at all, those big round circles. If I could find the right thing I'd love to go and work there but it's the sort of place I'd love to go to. And I could have a good time with Clay and people; it would be great.
British sculptor Sir Anthony Caro (1924-2013) came to prominence in 1963 after a show at the Whitechapel Gallery. Keen to create a more direct interaction with the viewer he placed pieces directly on the ground, rather than on plinths, a technique now widely used. He held many honorary degrees and was knighted in 1987.
Title: Travel and sculpture: Medicine Hat
Listeners: Tim Marlow
Tim Marlow is a writer, broadcaster and art historian. He founded "Tate: The Art Magazine" in 1993 and was presenter of Radio 4 arts programme "Kaleidoscope" from 1991 to 1998, for which he won a Sony Award. He has presented art programme's on BBC 1, Channel 4 and Channel 5, including a documentary about JMW Turner, and written about art and culture for various British newspapers and magazines including "The Guardian", "The Times" and "Blueprint" He is Director of Exhibitions at the White Cube gallery in London as well as a visiting lecturer at Winchester School of Art, an examiner on the Sculpture MA there and former creative director of Sculpture at Goodwood
Tags: Medicine Hat, Canada, Edmonton, Denmark, Durango, Clay Ellis
Duration: 3 minutes, 42 seconds
Date story recorded: November 2005
Date story went live: 24 January 2008