NEXT STORY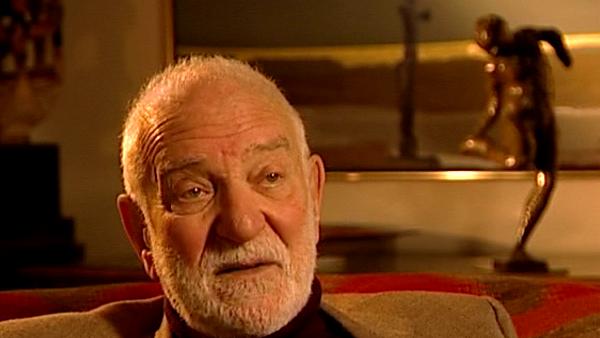 The Trojan War
Working in ceramic clay with Hans Spinner
1
2
3
4
5
6
The things that have come up so far haven't... just lately, have not been right for me, you know: the possibility of working in glass. But I can't see that I could make sculpture in glass that wasn't just decoration. I don't want to do that. Glass is so decorative, such a difficult material to... to make it work, you know.
[Q] What about your return to clay though? Tell me about that.
Oh, you mean the clay I worked with... with Hans Spinner in the South of France?
[Q] Yes.
Well, that's... that's ceramic clay and Hans is very physical, and so it's very solid and we can push things in... push our fingers in and... and do very... very fat things there, which is a completely different way of working in clay from the way that I worked at it before with Margie Hughto in Syracuse or with Paul Chaleff in Pine Plains. Paul was a potter so I tended to make pots and pot figures – pot ladies I call them. With Margie, she would... she knew how to flap the clay, which I'd never seen done before. She would, you know... it comes out like a flat pancake. Hans has done alot of grog which is cast... which is fired clay in small little globules. And he's got that inside the clay, sixty per cent of it, so it's very solid and he is able to cast... to fire things that are very, very solid. So it comes out sort of fat and strong, his stuff, and it suits me very well.
[Q] And how did you start to work with him? How did that come about?
Well, it's only that... that, you know, I talked to... to Tàpies, and I particularly talked to Chillida about it and Chillida said, 'You've got to go and work with Hans, you'll really enjoy it. You'll have a good time if you work with Hans. And Hans is very nice; he's very nice, very jolly – a fun guy who is really able to do whatever you want and, and he suggests things too. It's good to work with him.' I went there and... and I said, 'I'll stay in town'. They said, 'No, no, no, you've got to stay here'. So, okay, we had dinner; I said, 'Okay, I'll stay here'. They were so nice. And then, next day, he said to me, 'Oh, what do you want to do, Tony?' I said, 'I don't know, you start'. Nobody's ever said that to me before. And then he picked up a bit of clay and threw it down. I knew now where I was going; I could see... I could see how he worked, the sort of way he interacted with the clay, and very physical. A big weight of clay didn't bother him; he liked it. You know you could... he could work with it big like that. I didn't say that actually to Paul Chaleff but, had I said it to Paul Chaleff, you know, he would have turned something on the wheel. It's a different approach. Had I said it to Margie she would probably have taken a piece and... and rolled it out with a... with a rolling pin, you know. You learn something from the way they start, from the way they... there they... This whole thing of sculpture is not some genius doing the thing himself; it's absolute nonsense, that. It's... it's watching; it's being a... being a radio, having your antennae out, seeing what other people do, seeing what the... the material's different, seeing what the place is different, seeing the approach is different.
British sculptor Sir Anthony Caro (1924-2013) came to prominence in 1963 after a show at the Whitechapel Gallery. Keen to create a more direct interaction with the viewer he placed pieces directly on the ground, rather than on plinths, a technique now widely used. He held many honorary degrees and was knighted in 1987.
Title: Working in ceramic clay with Hans Spinner
Listeners: Tim Marlow
Tim Marlow is a writer, broadcaster and art historian. He founded "Tate: The Art Magazine" in 1993 and was presenter of Radio 4 arts programme "Kaleidoscope" from 1991 to 1998, for which he won a Sony Award. He has presented art programme's on BBC 1, Channel 4 and Channel 5, including a documentary about JMW Turner, and written about art and culture for various British newspapers and magazines including "The Guardian", "The Times" and "Blueprint" He is Director of Exhibitions at the White Cube gallery in London as well as a visiting lecturer at Winchester School of Art, an examiner on the Sculpture MA there and former creative director of Sculpture at Goodwood
Tags: Pine Plains, France, Paul Chaleff, Hans Spinner, Eduardo Chillida, Antoni Tàpies, Margie Hughto
Duration: 4 minutes
Date story recorded: November 2005
Date story went live: 24 January 2008