NEXT STORY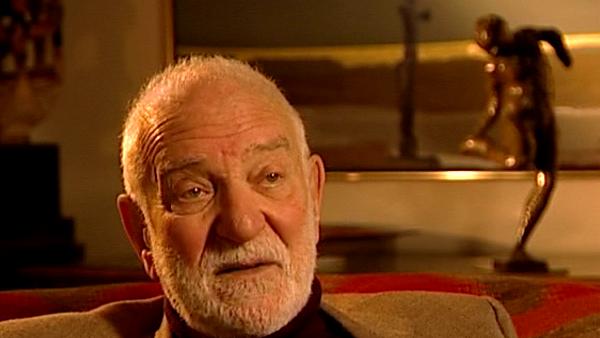 The Last Judgement
The Trojan War
1
2
3
4
5
6
[Q] Okay, so he's chucked this clay on the floor and you suddenly think, right, I know what I'm going to do with it. So... so what do you do with it? What happened?
Well, I stuck some things in it and it started to become like a... a bit like a face and no, it's not... it seems a bit obvious, that. So let's try a lot of curved things, let's throw it on to something curved now, or let's do this or let's do that. And at the end of it I didn't know what I'd done, I really didn't know what I'd done. But I liked some and the ones I didn't like, I destroyed and started again. And I don't know what I'd done. I said to Hans... I said, 'Fire them and send them to England'. And when I sent them to England, they came to England and Pat put them all out, when I wasn't there, on the floor of the studio in their boxes, and we opened them up. I said, 'Don't touch them; don't do anything, just open them'. And they were the "Trojan War". They were the "Trojan War". They said to me, 'I – we are the "Trojan War"'. They were the... they were the heroes and they were the gods. The gods needed little... little steel things so that they could run and walk, and spears and things; and the heroes usually needed some... some sort of wooden sleepers I was using. They made the "Trojan War", they made it for me. They really... that was a case where they told me. I had no intention of making figurative sculptures or anything else. It came about; that came about.
And that was the only time I've ever done that. The other times I've tended to... to come with an idea, so where I've made the... I made the "Last Judgement", I had an idea. I didn't have much of an idea, but I had an idea, and then when I came, they came back to England I started putting on... I had an old wardrobe, metal wardrobe, which was... which was bust – it wasn't square, it wasn't rectangular, it had a sort of break in it – and I worked with that with the first one. And I started to make... put them into those sort of cubicles. So that was really how they came about, and I think that when I made... I made some called "The Barbarians" and I think I was far... in that case, too... I was too much in control, so I tried to make them fit it a bit. Difficult to get it right but I think that it never happened to me before – that something forced itself on me, and I think... then I started reading at the time of the "Trojan War", I started reading the "Iliad", you know, again in a wonderful translation. And I realised how brutal they were and I realised it's a very... it's a very... it's a strong and it's a very tough story; they're very tough people, those heroes; they're not nice. They're sort of human... bad things as well as good things. And the gods too have got some bad stuff in them too.
[Q] But I love the idea of just playing with clay and then suddenly these characters emerge.
It doesn't often happen though.
[Q] Quite a... almost romantic idea.
Yes, yes, it was almost. That was very strange, it was, the first time. I didn't know what I was doing. But, you know, it's a funny thing. That clay is funny stuff. You can't mess with it; you take it and you do something with it. Now leave it alone. You can't go and say, 'It needs this, I must... I'll do that to it'. Just do it and leave it. If it doesn't work, you do it, you leave it and you break it up and start again. You push it together and start again; you start again. But if you start trying to improve clay it loses all its life, so you can't do that.
British sculptor Sir Anthony Caro (1924-2013) came to prominence in 1963 after a show at the Whitechapel Gallery. Keen to create a more direct interaction with the viewer he placed pieces directly on the ground, rather than on plinths, a technique now widely used. He held many honorary degrees and was knighted in 1987.
Title: "The Trojan War"
Listeners: Tim Marlow
Tim Marlow is a writer, broadcaster and art historian. He founded "Tate: The Art Magazine" in 1993 and was presenter of Radio 4 arts programme "Kaleidoscope" from 1991 to 1998, for which he won a Sony Award. He has presented art programme's on BBC 1, Channel 4 and Channel 5, including a documentary about JMW Turner, and written about art and culture for various British newspapers and magazines including "The Guardian", "The Times" and "Blueprint" He is Director of Exhibitions at the White Cube gallery in London as well as a visiting lecturer at Winchester School of Art, an examiner on the Sculpture MA there and former creative director of Sculpture at Goodwood
Tags: The Trojan War, Iliad, Hans Spinner
Duration: 4 minutes, 18 seconds
Date story recorded: November 2005
Date story went live: 24 January 2008