NEXT STORY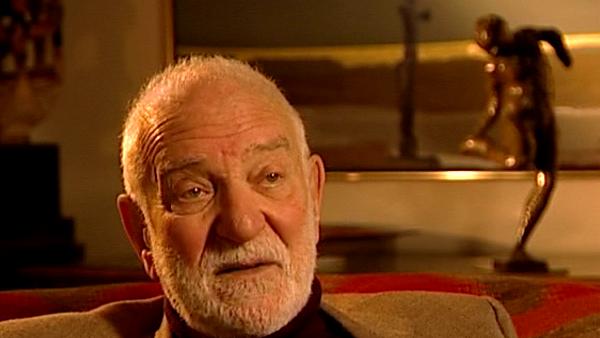 Curators and critics
The changing language of sculpture
1
2
3
4
5
6
[Q] You said that in the beginning of the 1960s that... you described sculpture as a language; that was the metaphor that was... that was flying around, particularly at St Martin's, and you talked about it expanding the language. Do you think that you...? Two questions: one, do you think you're still, broadly speaking, speaking the same language? And secondly, do you think as you were in the '60s...
Yes.
[Q] And the second question is: do you think that a lot of the younger artists who work across the board in terms of... are they, broadly speaking, speaking the same language in a slightly different way in the way that the young speak the language of their parents but with different emphasis and different phrasing and different words? Or is it a totally different language?
I think I am still speaking the old language and... and it would be impossible not to. I mean it's funny to think of Degas making a sculpture in 1917 or making paintings in 1917 at the same time as cubism. It's impossible to think of Monet at the same time as surrealism. Surrealism and Monet have nothing to do with each other at all.
[Q] But they were in the same world.
They were just about in the same world. And so I mean I think I have to keep going my own way and not worry too much. And I often think about this problem about whether they're just making the different thing, like I was making it for Henry Moore or like... you know, like always parents and children, you know, are at odds with each other because there's talking... they're talking the same language in a different way. Is it that or is it a completely different thing? And I'm inclined to think it's a completely different thing but that could be because I'm older now; it could be because I'm a parent now. I would think it's a completely different thing but whereas... whereas, you know... it's so easy to catch on to Rachel Whiteread because she is not... she is speaking the old language in a different way. You can't say that about Sarah Lucas; you can't say that about Paul McCarthy; you can't say that about...about Damien Hirst. I think they're speaking new languages. Now, what's your answer to that?
[Q] I think Damien Hirst is a painter at heart; I think that's what really... he said he wants... that's what he wants... he sees himself most strongly as. And I think that the subjects he deals with are the old subjects of mortality and death and life cycle. I think Sarah Lucas has a closer relationship to the art of the '80s, to people like Cragg and Woodrow, than maybe is often acknowledged. But her gender's very key in that and she makes a good play of it. I think that Rachel – you're absolutely right – is a kind of pre-modernist history. It goes back to Egyptian art and the art of casting. I... I think the parallel is closer to: you will hear your grandchildren speak and they will be speaking the English that you understand but, at the same time, they will have phrases and nuances that you have no idea what they're talking about.
Well, that's what you hope for. That's what you hope will happen but that is like... you know, that is like the normal cycle. The normal cycle is to reject your parents and accept your grandparents. But that's the normal cycle. I think we have come through a very big change. It's interesting to look at these new people and to be hit in the solar plexus and then to think, is it any good? It's not up to me to judge; I can't judge it, I can't judge it. That's the thing is I can't judge it. So stay out of it. Look at it and enjoy it and... and be... and be open to it, but don't think it's going to do anything for your work; it probably isn't.
British sculptor Sir Anthony Caro (1924-2013) came to prominence in 1963 after a show at the Whitechapel Gallery. Keen to create a more direct interaction with the viewer he placed pieces directly on the ground, rather than on plinths, a technique now widely used. He held many honorary degrees and was knighted in 1987.
Title: The changing language of sculpture
Listeners: Tim Marlow
Tim Marlow is a writer, broadcaster and art historian. He founded "Tate: The Art Magazine" in 1993 and was presenter of Radio 4 arts programme "Kaleidoscope" from 1991 to 1998, for which he won a Sony Award. He has presented art programme's on BBC 1, Channel 4 and Channel 5, including a documentary about JMW Turner, and written about art and culture for various British newspapers and magazines including "The Guardian", "The Times" and "Blueprint" He is Director of Exhibitions at the White Cube gallery in London as well as a visiting lecturer at Winchester School of Art, an examiner on the Sculpture MA there and former creative director of Sculpture at Goodwood
Tags: Saint Martin's, Edgar Degas, Claude Monet, Damien Hirst, Sarah Lucas, Paul McCarthy, Rachel Whiteread
Duration: 4 minutes, 25 seconds
Date story recorded: November 2005
Date story went live: 24 January 2008