NEXT STORY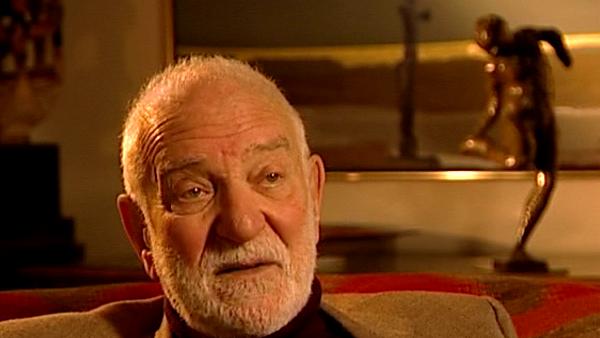 Working methods
The importance of not being bored
1
2
3
4
5
6
[Q] People in the kind of career that your father wanted you to go into reached the end of their working life. Sometimes they aimed for retirement a decade or two beforehand. Have you ever considered stopping doing it?
No, but I have said, 'Oh God, we ought to be stopped'. We ought... we oughtn't to be doing this every day. We ought to be, you know... what, being bored everyday, you know? Going in the garden everyday and pulling up a couple of weeds, and watching television for the rest of the day? No, thank you, no, no... not seriously, not seriously. I would like to... to do this until they carry me out of the studio, you know, in a box... in a metal box. No, I would like to... to keep going because it's such fun; it's a life... it's a life, and I'm quite sorry for people who do retire very early. They're retiring and what are they doing with it? I mean... but then perhaps it wasn't... not a good thing that they were into at the beginning. It was not a... an absorbing enough thing. I mean you can't be absorbed enough with... with sweeping the streets, that's a... that's a job one would like to be retired from, I think. There are a lot of jobs that one would like to be retired from, I should think. It's an awful thing though. You've only got one life to have to do something like that and... and boredom is a very... is a very bad thing. And I mean... and I think a lot of the people, the out of work people, have a really rough time because of boredom as well as... as discomfort and poverty and... and lack of food and so on. But I think... and can you think of anything more awful than sort of standing in a museum, you know, being a... being a sort of a guard in some room you don't like the work? And just standing there, and it doesn't matter whether you're not there today or tomorrow because somebody else will do it. It's... it's no good, that. You... you've got to have a better life than that, I think.
[Q] Do you think art is your entire life? I mean you're married to a painter so when you come back from the studio/office and Sheila comes back from the studio/office, you presumably discuss with each other what you've been doing that day. So it's art, art and more art.
It's an awful lot of art. It's a lot of art. And travel and the grandchildren and the world and the television or something, you know. There are other things but, you know, yes, I think art is our main thing, and your life does shrink a lot as you get older because you don't have the physical energy to do as much as you used to have. I didn't know why they were such layabouts, old people. They need a lot of sleep.
[Q] So you say that twenty years ago now, in a similar position, you'd be itching to get to the studio and now you're more patient about that?
Yes, I think, probably. Twenty years ago I was doing a lot of work in my... in my garage here at weekends and things. I would go into the garage and... and make more sculptures and so on and I probably don't now so much. And I get up later and so on, yeah.
British sculptor Sir Anthony Caro (1924-2013) came to prominence in 1963 after a show at the Whitechapel Gallery. Keen to create a more direct interaction with the viewer he placed pieces directly on the ground, rather than on plinths, a technique now widely used. He held many honorary degrees and was knighted in 1987.
Title: The importance of not being bored
Listeners: Tim Marlow
Tim Marlow is a writer, broadcaster and art historian. He founded "Tate: The Art Magazine" in 1993 and was presenter of Radio 4 arts programme "Kaleidoscope" from 1991 to 1998, for which he won a Sony Award. He has presented art programme's on BBC 1, Channel 4 and Channel 5, including a documentary about JMW Turner, and written about art and culture for various British newspapers and magazines including "The Guardian", "The Times" and "Blueprint" He is Director of Exhibitions at the White Cube gallery in London as well as a visiting lecturer at Winchester School of Art, an examiner on the Sculpture MA there and former creative director of Sculpture at Goodwood
Tags: Sheila Girling
Duration: 4 minutes, 2 seconds
Date story recorded: November 2005
Date story went live: 24 January 2008