NEXT STORY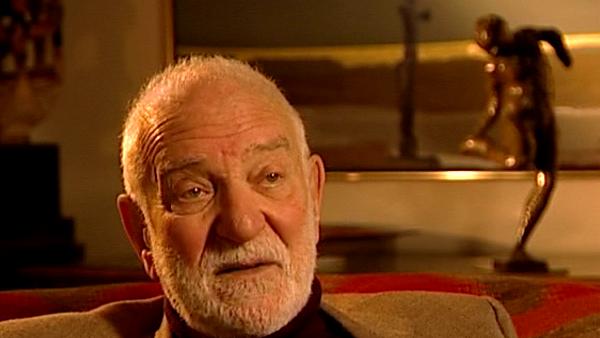 'Either a life or nothing'
Artists who have influenced me
1
2
3
4
5
6
[Q] Which people have had the strongest impact on your life? Who has had the most... the strongest impact on your life?
Live people – people now, not old-fashioned dead artists?
[Q] Any, a mixture. But let's start with the living and then let's start with the... with the dead, finish with the dead ones.
Sheila. My parents. In his time, Henry Moore. Kenneth Noland, Jules Olitski, Clement Greenberg, Michael Fried. Those are my contemporaries that I've... that have had the biggest... not my contemporaries but the ones who've been alive for me. Dead: Donatello, Picasso, Matisse... difficult. Masaccio, Bellini, Giotto, Rembrandt. Yeah, I'm just running through in my head names like Rubens and El Greco and people and they're not quite... they're not quite. They're just marvellous but they're not quite.
[Q] What was the first work of art that you remember seeing and noticing and being intrigued by?
Oh, Stanley Spencer. You know, the "Steel Workers on the Clyde" and that sort of thing. And I... the other day I found myself at Cookham and I went into the museum. He wasn't half bad, he wasn't half bad. He was... he's... he doesn't travel; he's provincial but he's not bad. Oddly enough I don't know why he's less good than Rousseau because Rousseau isn't provincial and Stanley Spencer is. And they're both very alike in some ways. What's your answer to that?
[Q] I think Rousseau is a... is more of a mystery. I think Spencer is... it's clearer. I think we're drawn to Rousseau because of the mystery; we can't work out with Rousseau whether he knows how naive he's being – whether it's an accident or whether he's actually an incredibly sophisticated man who's hiding behind something.
I really like that mystery, that idea of the word mystery because you don't want such literalness. And the English are inclined to be over literal in their paintings. I mean, you know, you see that when you see Whistler as against Monet and so on. You see it when you see this show of...
[Q] Sickert?
Sickert and Degas, yeah, you know. And you see it... or you see even somebody, not an Englishman, Tissot. There's no mystery there; it's all there and Caillebotte... it's too much there. I want... I want something I'm not sure about... I'm not sure about, you know... which is, I know, in a way, partly why Manet is such a treasure, or Monet's "Nympheas", you know.
[Q] Where did you see the Spencer when you were young, by the way? Was that in a book or you saw it in a gallery?
No, I think there was... it was at the National Gallery when there was... all the work was taken away to Wales and hidden and he had done these wartime paintings of people painting in... in... people... people making ships in the Clyde. That's what I remember.
[Q] So you were brought up during the War by your parents to London and saw this thing in the National Gallery?
Yes. Maybe it was after that and maybe it was when I was in the Navy by that time. But it was... I don't remember which year it was. But, yeah, it was shown there and it had a big impression, a big influence on me. And at that... that time I was very... you know, people like Christopher Wood were big... big... not influences so much, but they were... they were the artists that I was feeling were...were the interesting ones, the new ones.
[Q] Who was the first professional or proper, in inverted commas, artist you ever met?
Well I met... I met Charles Wheeler because he was a friend of the housemaster... my housemaster at school.
[Q] So you were a teenager then?
Yeah. And I met him and, for a little while, I think when I was about eighteen, before I went to the Navy, I worked in... in Wheeler's studio and worked and learned a bit, working with his assistant, who was called Chadwick – not Lynn Chadwick, but his name was Chadwick. And I learnt a lot from him, you know. Sorry, I learnt a little bit from him. Being in a studio was very exciting.
[Q] So was that the moment you suddenly thought, yeah, this is the life I want?
No, I think I'd pretty well decided by then, yeah.
British sculptor Sir Anthony Caro (1924-2013) came to prominence in 1963 after a show at the Whitechapel Gallery. Keen to create a more direct interaction with the viewer he placed pieces directly on the ground, rather than on plinths, a technique now widely used. He held many honorary degrees and was knighted in 1987.
Title: Artists who have influenced me
Listeners: Tim Marlow
Tim Marlow is a writer, broadcaster and art historian. He founded "Tate: The Art Magazine" in 1993 and was presenter of Radio 4 arts programme "Kaleidoscope" from 1991 to 1998, for which he won a Sony Award. He has presented art programme's on BBC 1, Channel 4 and Channel 5, including a documentary about JMW Turner, and written about art and culture for various British newspapers and magazines including "The Guardian", "The Times" and "Blueprint" He is Director of Exhibitions at the White Cube gallery in London as well as a visiting lecturer at Winchester School of Art, an examiner on the Sculpture MA there and former creative director of Sculpture at Goodwood
Tags: Steel Workers on the Clyde, Cookham, National Gallery, Nympheas, Henry Moore, Kenneth Noland, Jules Olitski, Clement Greenberg, Sheila Girling, Michael Fried, Pablo Picasso, Matisse, Donatello, Stanley Spencer, Manet, Christopher Wood
Duration: 6 minutes, 7 seconds
Date story recorded: November 2005
Date story went live: 24 January 2008