NEXT STORY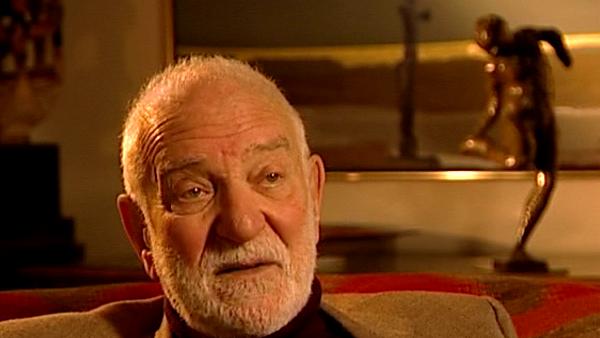 Choosing Christianity
Artists: clergymen manqués?
1
2
3
4
5
6
[Q] Who were the... the people that you remember from Cambridge? Who were your contemporaries? You know, Oxford and Cambridge, in particular, talk about different generations of people who rule the world and do things. Who... who were the alumni of Cambridge when you were there?
No, they weren't particularly anything. Eric Heaton who became the... the Principal Head of Christchurch and... and Peter Baelz who became the Dean of Durham or something, you know. But he was interesting. He was... he was, you know... he was a philosopher, and I mean they were interesting... they were very interesting. I don't know that they were famous; they were just interesting.
[Q] You said religion. A lot of people were into religion.
Yes, there were, there were.
[Q] So were you wrestling with your own personal religion at that time?
Oh, very much because I was a Jew, and I was very much wrestling with it, yes. And I... you know, I... I went to the... we did... we were not very religious in the family but we went every year to... you know, the Day of Atonement and this sort of things. And it was out there for me. It wasn't... it wasn't real enough. It was too... it was too abstracted to... the Jewish religion was too abstracted for me. I really wanted something more you could get hold of, so I was very much for being a Christian, very much for Christianity because I felt it was... it had a real something you could get hold of and something that related to my life. You know, I think my parents – my father in particular – you know, didn't... he would say, 'I have my own religion'. But he did... he did, you know... he did do the Jewish thing, but I always felt in a way that the Jewish thing was so much to do with history, ancestry, and all that and it wasn't enough to do with me.
[Q] Do you have religious beliefs now?
I don't go to any religious things. I don't, I mean, you know... if we're near the chapel at St Aldhelm's Head when we're down in the country, you know, and it's a religious day, like a Christmas, or sometimes on Sunday, Sheila said, 'Shall we go?' Yeah, I'll go. I don't enjoy it much but I go. I... but I think I believe in God. I find the... the people who... who are so strongly atheistic are unconvincing to me – not sufficiently convincing to me. But I don't think I believe in a... in... in a very religious... I don't think I believe the format thing of religion, but I mean I... yes, I... I've been asked to do this... this church in Northern France, you know, that... Have I told you about it or not? It... well, it... it was a church that... that a plane – it's near Dunkirk – and... and an English plane went into the roof of it, and the roof caught fire, and it was burned down, but not... the church was not burned down. And they replaced the roof over the whole church but in the... the only bit they redid was the nave. So the entire choir has been left as a ruin for sixty years and they've come to me... I think because they saw my "Last Judgement", and... and said... and I said, 'What do you want... what do you want?' And they said, 'Whatever you want, whatever you want'. I couldn't... because it started like that and it never finishes like that. In the end everybody gets a say in the monument historique and the Bishop and the lot, you know. So... but I'm interested to do that. I would like it to be sort of multi-denominational but I do think there's a place for people to be able to sit and think and... and reach into them... into their spiritual side of things. And anyway I think that in a way something that Ken Noland said to me: 'Aren't we all sort of, you know... clergymen manqués? Aren't all artists something like, you know?' And you once asked me. You said... you said, 'Is sculpture your religion?' And I think it is. I think it is. But it... it's because of an affirmative belief in... in good... in good. That's not God good. I mean do you know there's a wonderful essay by Iris Murdoch called "The Supremacy of Good", and it... it's... it equates God and good.
British sculptor Sir Anthony Caro (1924-2013) came to prominence in 1963 after a show at the Whitechapel Gallery. Keen to create a more direct interaction with the viewer he placed pieces directly on the ground, rather than on plinths, a technique now widely used. He held many honorary degrees and was knighted in 1987.
Title: Artists: clergymen manqués?
Listeners: Tim Marlow
Tim Marlow is a writer, broadcaster and art historian. He founded "Tate: The Art Magazine" in 1993 and was presenter of Radio 4 arts programme "Kaleidoscope" from 1991 to 1998, for which he won a Sony Award. He has presented art programme's on BBC 1, Channel 4 and Channel 5, including a documentary about JMW Turner, and written about art and culture for various British newspapers and magazines including "The Guardian", "The Times" and "Blueprint" He is Director of Exhibitions at the White Cube gallery in London as well as a visiting lecturer at Winchester School of Art, an examiner on the Sculpture MA there and former creative director of Sculpture at Goodwood
Tags: Cambridge, Oxford, The Day of Atonement, St Aldhelm's Head, Dunkirk, France, The Last Judgement, The Supremacy of Good, God, Eric Heaton, Peter Baelz, Iris Murdoch
Duration: 5 minutes, 31 seconds
Date story recorded: November 2005
Date story went live: 24 January 2008