NEXT STORY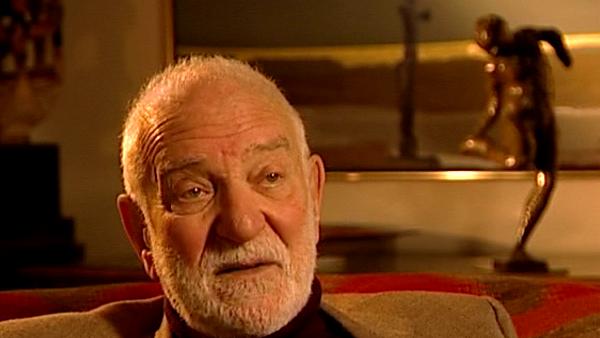 What motivates my art
1
2
3
4
5
6
[Q] I was interested that you said that Judaism was almost too abstract and remote, and that Christianity was... was in... in a way more real. And that's... that's an area that I'd like to explore with you a bit. Do you think it has anything to do with the fact that Christianity, for better or worse, has produced some of the most stupendous works of art? Judaism has a less artistic tradition; it's a wonderfully verbal and literary culture and religion. Is... is there something in that for you?
I think there is something in that, yes. Or there was. I mean in those early days I used to like Gothic and Romanesque art because it was... because of the story. There was... a story was there. Oddly enough, in the twentieth century, so many of the artists have been Jews; it's been... it's very odd. I remember Ken Noland saying to me: 'God, I wish I were a Jew', he said. 'They're... all the best artists are Jewish'. But, no, it's... I... I don't mean it's remoteness but it's abstraction really that I was thinking, you know. You… Jewish prayers are all about praising God. They're all about praising God. They're not much to do with you and your life, and I... I think I wanted that. And of course there's always this figure of Christ which is very graspable for a child or for a young person. It isn't now but it was.
[Q] Interesting there, because Christianity is... its central image is one of a crucified, sacrificed figure. It has an extraordinary negative connotation, doesn't it?
Yeah, but you know all this because of your father being a priest, wasn't he?
[Q] Yes, but it's part of my culture, I think... is that, more broadly speaking, that is the culture that...
How did it strike you? Did you... did you become very religious?
[Q] No. Although it took me... it took me years, though, to detach myself and actually see aspects of Christianity... I mean I just accepted the crucifixion as an image, I mean, as the most enduring symbol of Christianity. But it wasn't until much later that I thought this is very bizarre that this extraordinary global religion is about a defeated, violated, sacrificed, crucified image of a... of a man.
Yes, destroyed. Man destroyed. It... it... and it strikes me like that now. I mean there's one thing is the truth or the falsehood of the thing. Another thing is the need, you know. Do you... how much do you need to have something to hang on to, something to look to, you know? So when you say a prayer, is the saying it as important as whether it's received or not?
[Q] Religion and ritual, obviously, I mean, the ritual of religion is very important to people. That often is the most tangible or real thing.
Yes, yes, yes, and the coming together, yes, yes. But I... it's not a big thing for me now. But, I mean, obviously you have some thought because I... I... you know, I'm eighty-one and you start to think, you know, you're going to die before too long, and I mean I hope it could be quite a long time but, you know, so you... you know, you do think, 'Do I believe in the afterlife?' I really don't know. I think most unlikely but I don't know; I really don't know. The point really that I always say when that is... when I... when I kind of... when I respond to that question which I say to myself... which I ask myself... I find myself saying, 'No, but I believe in this life'. I don't know whether I believe in the afterlife but I believe in this life. I believe in it totally, and I believe it's got to be lived to the full all the time and we've got to try and make something of the life that we're... that we're living. The other bit's a different story, and who knows?
British sculptor Sir Anthony Caro (1924-2013) came to prominence in 1963 after a show at the Whitechapel Gallery. Keen to create a more direct interaction with the viewer he placed pieces directly on the ground, rather than on plinths, a technique now widely used. He held many honorary degrees and was knighted in 1987.
Title: Choosing Christianity
Listeners: Tim Marlow
Tim Marlow is a writer, broadcaster and art historian. He founded "Tate: The Art Magazine" in 1993 and was presenter of Radio 4 arts programme "Kaleidoscope" from 1991 to 1998, for which he won a Sony Award. He has presented art programme's on BBC 1, Channel 4 and Channel 5, including a documentary about JMW Turner, and written about art and culture for various British newspapers and magazines including "The Guardian", "The Times" and "Blueprint" He is Director of Exhibitions at the White Cube gallery in London as well as a visiting lecturer at Winchester School of Art, an examiner on the Sculpture MA there and former creative director of Sculpture at Goodwood
Tags: Kenneth Noland
Duration: 4 minutes, 40 seconds
Date story recorded: November 2005
Date story went live: 24 January 2008