NEXT STORY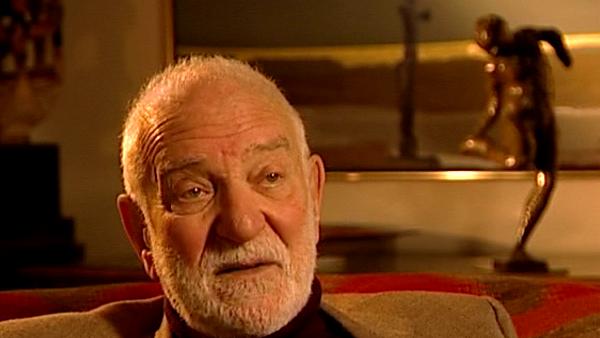 Working with Henry Moore
1
2
3
4
5
6
[Q] What was the defining character of your time at the Royal Academy Schools? Endless classical busts in the columns... the corridors?
No, not terribly. Yes, oh yes, yes, yes, all down the corridors. They're really funny. I mean, they're brown and they're horrid. They gave me a real bad view of Greek art. I mean I really got to... to loathe Greek art when I saw those, until I went to Greece where they're not like that at all, as you know. No, we used to work from the figure and there... there was sort of quite a good training like always doing a... life models, I think, from the mornings and the afternoons when you could do more or less what you liked. I met Sheila there and, you know... but that was later when I was... in the drawing school then. No, it wasn't. No, it wasn't later, because I drew a lot when I went to Henry Moore's. I drew at the Academy. I went... I used to go back to the Academy and draw and I thought it was then; it wasn't. It was before that. And we used to sit round in this sort of horseshoe-shaped thing with tiers in this room. It was absolutely like the nineteenth century; it was really like the old Academy. And we used to sit down and draw this model. Quentin Crisp was one of the models there and there was a pugilist, who... the bell used to go for the break, and he'd get up and do a boxing position. He thought, you know, he was completely... had it. But there were... the teaching was atrocious in that because I was being taught by painters and I was being taught not to express sculptural form but to express painterly turns and things. And it was only when I went to Henry that... that... and he said, 'Well, you go and draw; I'll criticise your work'. And he criticised it to try and make it more sculptural and he taught me a lot that way. But that was the drawing, and that's when I... I took Sheila's board by mistake and... and that's how we made... made contact and got to know each other. But...
[Q] Was that an accident or was that a... a clever strategy?
No, no; I was not much of a seducer. No, it was just a sheer accident and we got talking, and then we got married forever. Anyway...
[Q] It sounds like the briefest courtship in the history of art.
But... but... no, but most of the time was spent in the sculpture school and I... I was trying to... very romantic, some of the stuff I did in those days. But then, when I look back, some of it was... had a little, little inkling of architecture in it, and that sort of thing, or architectural stuff in it. But I made friends with Peter Smithson, who was in the Architectures School. I think I was always interested in the people who were... I think I had a taste for the best, and I think that I did, you know... my friends were... were good artists or good beginners, you know. They had something. And... but you go through it; you go through those years. And then I began to get interested in Greek art and so on, and I remember showing a couple of sculptures that were terracottas in a show that William Scott criticised that he... he didn't know they were both by me and he liked them both. And that was a big... a big... gave me a big lift because he was an outsider. The people inside didn't like my work. Maurice Lambert taught me, and I didn't like Maurice and he didn't like me.
[Q] What didn't they like about it? Did it not conform to certain academic principles?
I suppose it didn't conform, yeah; I suppose not. And I... it wasn't... it wasn't... the academic thing, you know, was awfully to do with dolphins and... and they were... they were pretty awful, what they did. Hardiman, who made the Haig Statue in... in Whitehall, was somebody I thought well of and I liked his statue. I thought that was good. He taught. But McMillan, who did the other fountain in Trafalgar Square, Wheeler who did one of the fountains in Trafalgar Square – they... they were the hotshots of the Academy at that time and it was really dreadful. It was... but it was Carl Milles... it was Carl Milles from Sweden, and I thought, well, they've taken it from Carl Milles; I'd better go and see real Carl Milles. So I went to Sweden with my sister, and went to Carl Milles's studio and his sort of sculpture garden. I saw all these... more dolphins than you'll ever see in your life. And that sort of thing, and fountains and things like that. So I had to get it out of my system, you know. We all have something we've got to get out of our system, bit by bit. And it was just a growing up period; it was a growing up time. I think all that was a growing up time until finally... until I left Henry Moore. And then I... then I was able to make my own sculptures.
British sculptor Sir Anthony Caro (1924-2013) came to prominence in 1963 after a show at the Whitechapel Gallery. Keen to create a more direct interaction with the viewer he placed pieces directly on the ground, rather than on plinths, a technique now widely used. He held many honorary degrees and was knighted in 1987.
Title: Royal Academy Schools
Listeners: Tim Marlow
Tim Marlow is a writer, broadcaster and art historian. He founded "Tate: The Art Magazine" in 1993 and was presenter of Radio 4 arts programme "Kaleidoscope" from 1991 to 1998, for which he won a Sony Award. He has presented art programme's on BBC 1, Channel 4 and Channel 5, including a documentary about JMW Turner, and written about art and culture for various British newspapers and magazines including "The Guardian", "The Times" and "Blueprint" He is Director of Exhibitions at the White Cube gallery in London as well as a visiting lecturer at Winchester School of Art, an examiner on the Sculpture MA there and former creative director of Sculpture at Goodwood
Tags: Whitehall, Trafalgar Square, Sweden, Haig Statue, Henry Moore, Peter Smithson, Quentin Crisp, William Scott, Maurice Lambert, Carl Milles, Sheila Girling, Alfred Frank Hardiman, William McMillan, Sir Charles Wheeler
Duration: 5 minutes, 46 seconds
Date story recorded: November 2005
Date story went live: 24 January 2008