NEXT STORY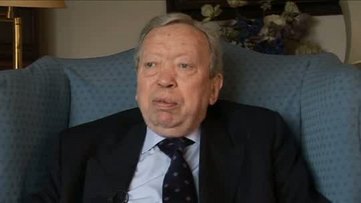 Being supported by John Freeman
Owing a lot to Alastair Hetherington
1
2
3
4
5
John Freeman was then the star of Face to Face on BBC Television, and was a very, very, sort of, famous man. But he was about to take over the New Statesman from Kingsley Martin, who'd been editor for about 30 years. And John wrote to me and said, would I like to come and join him. And he was thinking of having a full-time political column in the paper every week, and he'd like me to write it.
Well, I'd had a very firm understanding that I was going back to The Guardian, as it had now become, it was no longer the Manchester Guardian, it changed its name, I think, in August… no, it changed its name possibly earlier. August 1960, I think it changed its name. So I didn't do anything about it. I sat on the letter and I was pretty, sort of, unhappy. I didn't know whether I wanted to go back to The Guardian or there was this tempting invitation from the New Statesman. And finally, I got a rather peremptory telegram or cable from John Freeman, saying, 'Must have your answer'. And so, within, sort of, 24 hours, I made up my mind and without, I think, even consulting The Guardian or Alastair Hetherington, I said yes to John Freeman. And... although I continued being in America until April or May, I then knew it was going to come to an end and I was going to come back to London from working in Manchester.
I suppose it's true that if The Guardian had said to me, no, you can join our Westminster staff or something, I might have thought again, but I knew that that way was pretty well blocked, in that in those days people had very few political people working at Westminster. There was a political correspondent called Francis Boyd, there was a gallery reporter called Norman Shrapnel, and there was one sidekick called Edward Greenfield, who was sort of understudy for them both. And that was the size of the political staff. And none of them were about to retire, so I didn't see the way I was going to get in on that. So really, sort of, progress on The Guardian looked to me as if it was blocked. But to be fair, I didn't even consult Alastair Hetherington, the editor, who had been very good to me and taught me more about journalism, I think, than any other editor I ever worked for.
Strange, ascetic man, who used to, sort of, very generously give supper parties at this quite grand house. Well, we thought it was quite grand in those days, in Didsbury Park. He was newly married to Miranda Oliver, who was the daughter of a professor, I think. And they gave these, sort of, Saturday night supper parties, and the young reporters were asked. And we all went, sort of, full of excitement. And I can remember the first time I went, and about… it had been quite nice food. I think there'd been some sherry before supper... before dinner... not very nice sherry, and I don't think there was any wine with the meal, but you could have, I think, cider or possibly beer. But then, about sort of ten o'clock, when things were rather flagging, Alastair suddenly said, 'Now who'd like a drink?' And we all perked up no end, and said, 'Oh, lovely'. And he then retired to the kitchen and came in with a tray with six glasses of lemon squash and six glasses of orange squash. So our faces fell. But that was rather what it was like. It was high thinking and plain living. But he had been very kind to me, and he used to take me for walks on Saturday and again, you know, we'd go… sometimes pouring with rain, and we'd go past some lovely looking hostelry and I'd say, 'Look, Alastair, that's a lovely pub'. 'Oh yes, very nice', he would say, and stride on.
So he wasn't a great, sort of, hedonist, but he had been... and he was a very good editor. He was only about 38 when I arrived there, and of course he stayed editor of The Guardian until, oh, I think 1975 or something like that. He did about 19 years. Became editor in '56, at the time of Suez. And I've always thought how unfair life is, that Alastair, who'd been, by any judgement, a much more distinguished editor of The Guardian than, say, William Rees-Mogg had been of The Times. They were… Rees-Mogg a little later, but… Alastair got nothing. He went to join the BBC, they made him BBC controller of Scotland. He then fell out with Ian Trethowan, I think he was called, who was Director-General. So he ended up as station manager, Aberdeen. And he was never given a single honour. He never got even a, sort of, CBE. There's Rees-Mogg, not a very successful editor of The Times, sort of becomes Sir William, becomes Lord Rees-Mogg, made chairman of the Broadcasting Standards Committee, made Vice-Chairman of the BBC, this kind of thing. There's no justice in this world. I mean, Alastair was, in my view, a much more considerable figure than William Rees-Mogg, but one belonged to the establishment and the other didn't, and so Alastair, who ended up as, sort of, kind of part-time academic, I think, at Stirling University, really had a rather rough deal. I suppose it's true that it didn't help that he'd had this row with the BBC, that when he was taken on by the BBC, I think the idea was that if he prospered as controller of Scotland, as ex-editor of The Guardian he might well become Director-General. After all, Sir William Haley had gone the other way, and gone from being Director-General to being editor of The Times, but he'd also come out of The Guardian stable originally, having been editor of the Manchester Evening News, and I think that may have been the notion at the back of their minds.
I think that the row with the managers at the BBC didn't help. I don't quite understand what the row was about. I think it was slightly a sort of preview of the row over Scottish nationalism, that Alastair took the view that if the BBC was to survive in Scotland, then Glasgow, where the headquarters was, should be much more an autonomous state than the BBC people in London thought it should be, and that, I think, was the root of the conflict.
But I saw him a bit in retirement. Very nice man. Unfortunately, he got Alzheimer's, and the last time I saw him, when I was doing a programme about Alistair Cook for BBC radio, he was… I mean, it was very sad. He was scarcely able to speak. I said, 'Now look, I want you to say something about Alistair and the black question in America'. And he said, 'Oh, what should I say?' And I said, 'Well, all you have to do is to mention the word civil rights'. And he had great difficult in, sort of, getting this into his head, because he was far gone in Alzheimer's. So he was quite healthy. He could drive the car and that kind of thing, but the brain had gone, really, and it was very sad. And he died, I suppose, about now... what? Must be, oh I think, six, seven years ago. And he'd married again, and I think was happy, which was the main thing. But I think in the end, his second wife had to put him in a home, which, for a man of his abilities, was rather sad.
Anyway, I owe him a lot.
A distinguished British political observer, Anthony Howard (1934-2010) wrote for 'The Guardian', 'The Sunday Times' and 'The Observer' for over 40 years, during which time he has commented on the historical significance of global political issues. He was also editor of 'The Listener' and 'The New Statesman', and a reporter on both 'Newsnight' and 'Panorama'. He was awarded the CBE in 1997.
Title: Owing a lot to Alastair Hetherington
Listeners: Christopher Sykes
Christopher Sykes is a London-based television producer and director who has made a number of documentary films for BBC TV, Channel 4 and PBS.
Tags: Face to Face, New Statesman, The Guardian, The Times, BBC, Director-General, Hector Alastair Hetherington, John Horace Freeman, Basil Kingsley Martin, Francis Boyd Norman Shrapnel, Edward Greenfield, Miranda Oliver, William Rees-Mogg, James Ian Raley Trethowan, Sir William John Haley, Alistair Cooke
Duration:
Date story recorded: November - December 2008
Date story went live: 04 September 2017