NEXT STORY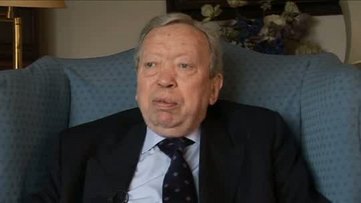 When I started out journalism was an anonymous trade
A political commentator is like being a dramatic critic
1
2
3
4
5
I suppose it's true that being a political commentator is a bit like being a dramatic critic. There are, of course, dramatic critics as such who sit in the gallery. They are the sketch writers and they are the people who actually review the performance. When I started out, if you were writing... a gallery reporter, you were meant to give a fairly faithful account of what had taken place in that day's Commons debate. That's long since ceased to be the case. People don't now carry parliamentary reports in the same way, and all the political sketch writers, as they're now called, are actually sort of pranksters and jokers who are there to write lively copy and, you know, make people smile, make them laugh. And therefore it's no longer a faithful account of what took place in the House of Commons, but it's a jolly read, and that goes for whether it's a Simon Hoggart or Quentin Letts, whoever it is. That's what they do. And they do it very effectively and very well. Being a political commentator, a columnist, is slightly different.
There you're partly engaged in the job of analysis, of, you know, you're perhaps more like a football journalist, that you're analysing the game and where the mistakes were made, and you're not just giving a report. You're saying where the weaknesses lie. And they, of course, have increased enormously in number, political columnists and commentators, in the last 20 years. I mean, there used to be probably one commentator per paper. Now there are about four a day. And I think probably the trade is overmanned. I suppose you're… you know, you are meant to have ideas of your own. I mean, I think the idea or the notion, in years gone by, that the journalist should not have views, has really gone out of the window, and now, partly because I think newspaper owners have seen that it sells papers to have a viewy columnist, whether he's Matthew Parris or whoever it may be, writing an enormous amount every week in various publications, and really basically giving his own views. Now, that would have been, when I was young, that would have been sort of quite out of court. The politicians gave views, journalists reported what politicians said. But now, some of the columnists are, you know, every bit as influential as a working politician.
A distinguished British political observer, Anthony Howard (1934-2010) wrote for 'The Guardian', 'The Sunday Times' and 'The Observer' for over 40 years, during which time he has commented on the historical significance of global political issues. He was also editor of 'The Listener' and 'The New Statesman', and a reporter on both 'Newsnight' and 'Panorama'. He was awarded the CBE in 1997.
Title: A political commentator is like being a dramatic critic
Listeners: Christopher Sykes
Christopher Sykes is a London-based television producer and director who has made a number of documentary films for BBC TV, Channel 4 and PBS.
Tags: Simon David Hoggart, Quentin Richard Stephen Letts, Matthew Francis Parris
Duration: 2 minutes, 36 seconds
Date story recorded: November - December 2008
Date story went live: 21 May 2018