NEXT STORY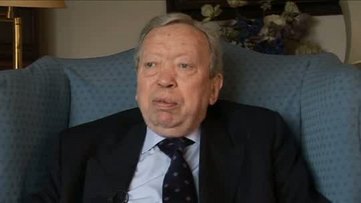 Missing the pressure of deadlines
When I started out journalism was an anonymous trade
1
2
3
4
5
I mean, Polly Toynbee is an outstanding example of a journalist who's basically concerned, I think she wouldn't take it amiss, with giving her own views, and they're trenchant views, and they're strong views, and I think she has as much influence as a cabinet minister, perhaps more than most women cabinet ministers, anyway. And it's not just her. I mean, there's a lady been writing for many years in the Daily Mail called Ann Leslie. Now Ann Leslie is very trenchant in what she has to say. Of course, nowadays, which journalists didn't have in the past, they all have the opportunity of appearing on television.

And someone like Polly seems hardly to be off the box, and Ann Leslie does a great deal of programmes like Question Time... normally have one journalist on. And all that wasn't there. I mean, it seems to me extraordinary to remember, but when I started out, journalism was an anonymous trade. If you looked at the paper, certainly in the quality market, it would say, 'By our diplomatic correspondent', 'By our political correspondent', 'By our labour correspondent'. No one got a by-line. Now we don't only have by-lines, we have sodding great features, photographs of the person who's writing the story. So it has all changed enormously. And I think one of the things that brought about that change was the belief by newspaper managements that it did them good if their own staff appeared on radio or television. And years ago, when I used to work on The World at One, I was always staggered that papers like the Financial Times would send you a list of their experts... their specialists in various fields, to encourage you to put them… that's just sound radio, puff puff radio. And now, I think some people are judged, you know, as to how successful they are by how much they actually appear on the box.
I was very struck the other day; I was looking through a list of some sort of trade paper called All Politics [sic] or something, of the 100 best-known political correspondents. And I read it with some interest. And I suddenly realised that on it didn't once appear the doyen of all political correspondents, Alan Watkins. Why? Because Watkins does very little broadcasting. On it didn't appear Bruce Anderson. Well, Bruce Anderson doesn't do much broadcasting, he wasn't on it. So now if you're going to make your name as a political journalist, you really have, I think, to have a regular spot or something, at least to be... appear on Newsnight, appear on at least News 24 [sic] on BBC, appear on Sky Television. People like Michael White appear on Sky all the time, The Guardian's Michael White, and that's what gives them their kind of public identity. And I think newspaper managements realised that, and I've often wondered about this, why did they move from anonymity to absolutely glorying by-lines, and I think it was because they thought this was a way of getting free advertising off the airwaves, and every time you say, and with me is so-and-so of such-and-such paper, and that is considered free advertising for the paper. And therefore they had no choice but to give up the whole discreet thing, and certainly, as I say, when I went to The Guardian, one by-line used to appear every day. If you wrote the leader page article, which was on the page which had the leaders on it, and had the letters down below, you actually got your by-line. It would say, by Anthony Howard. That was the only place in the paper, when I started, where a name of a journalist appeared, and the prize of writing the LPA was that you saw your name in print. Otherwise, it was always, 'By our own reporter'.
A distinguished British political observer, Anthony Howard (1934-2010) wrote for 'The Guardian', 'The Sunday Times' and 'The Observer' for over 40 years, during which time he has commented on the historical significance of global political issues. He was also editor of 'The Listener' and 'The New Statesman', and a reporter on both 'Newsnight' and 'Panorama'. He was awarded the CBE in 1997.
Title: When I started out journalism was an anonymous trade
Listeners: Christopher Sykes
Christopher Sykes is a London-based television producer and director who has made a number of documentary films for BBC TV, Channel 4 and PBS.
Tags: Daily Mail, Question Time, The World at One, Financial Times (FT), It's All Politics, Newsnight, Sky Television, BBC, The Guardian, Mary Louisa 'Polly' Toynbee, Ann Elizabeth Mary Leslie, Alan Watkins, Bruce Anderson, Michael White
Duration: 3 minutes, 35 seconds
Date story recorded: November - December 2008
Date story went live: 21 May 2018