NEXT STORY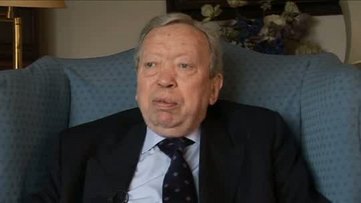 Michael Heseltine had hoped to be Prime Minister
Michael Heseltine's early business enterprises
1
2
3
4
5
Michael Heseltine I've known for more than 50 years now. And we remain great friends. Don't see him all that much, I suppose. I see him three or four times a year, that kind of thing. Usually go and stay one weekend a year at his grand house down in… it's actually Northamptonshire, but he likes to think it's in Oxfordshire. It's actually on the Northampton side of the border, Thenford House. Lovely Palladian building.
And, of course, he has a butler and he has, sort of, troupes of servants. It's all very grand. And you have to dress for dinner and all that kind of thing. But I'm very fond of Michael. He's rather like Soames Forsyte, a sort of [The] Man of Property, as one of the books of that Forsyte Saga is called. And I never knew he was going to be a successful politician. Indeed, oddly enough, he was at Oxford, and his great friend at Oxford was a man who later became a Tory MP, too, now dead, Julian Critchley. And I remember thinking at the time that Julian was more likely to be a success in politics than Michael was. He was very good-looking, dark-haired and distinguished, and they'd both been to the same school, Shrewsbury, but I thought Julian might, sort of, prosper in politics more than Michael would. But the one thing I never had any doubt about Michael, that actually is in The Isis Idol I wrote about him when I was up at Oxford, is that he was going to make a lot of money. I said, one day there'll be golden papers, and Michael Heseltine will walk along them, or some rather pompous phrase of that kind, in The Isis Idol. I always knew he was going to have success in business. Why did I know that?
Partly because one of the things that brought us together was that the Oxford Union, in our day, was really ailing. It wasn't doing at all well. And when Michael became treasurer, which was in, I think, the summer term of 1954, called at Oxford the Trinity term, he revolutionised the whole place. He brought in a whole sort of thing of half-crown lunches. He opened a... cellars for dancing, a sort of nightclub. He… membership shot up. He was a real natural entrepreneur, and I saw him do this, and he… you know, the half-crown lunches were a great success. And I think they all were bit of a steal, you know. It was sort of… I think it was a bit of old mish-mash fish that we sort of mocked up as turbot, but it wasn't turbot at all, that kind of thing. I don't know how much Michael knew about that, but I later learned from one of the chefs… or no, a steward there, that this kind of thing had gone on. But anyway, he started making money, and he turned the thing around as a business. So I thought if he can do that, he'll probably be a great success as a businessman.
Of course, his original intention was to become a chartered accountant, and he stuck with that for three or four years, but he had great difficult with the exams. And one of the things about Heseltine that isn't widely understood is he is a bit dyslexic, and he has great difficulty in reading, and therefore he always wanted everything, when he was in the government, the cabinet, to be read to him. And he wouldn't take great documentation. This held him back, I think, a bit with the accountancy exams. But he'd already started making a pile as a landlord. One of the first things he did when he came down from Oxford, where he was a partner of a man, not Clive Labovitch, who became his partner later, but a man called Ian Josephs, who ended up, I think, running a language school in Ramsgate, or something. But anyway, they were co-partners at the time. And Ian Josephs had a fairly wealthy father, and on his 21st birthday, the father said to Ian, who was Jewish, he said, 'What would you like for a present?' And Ian said, 'Dad, what I'd like is I'd like that boarding house that you've been boasting about you've bought at a knockdown price. Why can't I have that?'And I think with slightly ill grace, Josephs' père said 'Alright', but I think he was a bit miffed about it. And so Josephs became the half-owner of a big building just off Notting Hill Gate, 39 Clanricarde Gardens. And Michael came in as his partner. Michael only had, I think, £1000 that had been left him by his grandmother, or something, and that was his investment in this, which probably must have cost… in those days, it wouldn't have cost, probably, more than £5000. I don't know. But anyway, he was a sort of minor investor beside Josephs. And they made a success of this place, and they changed it into, sort of, executive apartments, and one snowy night, I always say one day I'd tell this story, a whole lot of elderly frail people were thrown out on the street, the locks were changed, and it became executive apartments.
And I lived there for a bit. He always said I was a very bad tenant, because I didn't pay the rent. I said, 'Well, I'll pay the rent when the skylight is repaired'. The skylight above my bed, on the top floor, leaked, and all the rain came down. And I said, 'Well Michael, you get the skylight repaired, and I'll start paying you rent'. He never did get the skylight repaired. And I don't think I ever did pay him a penny piece for rent, oddly enough. We were friendly, in those days, had been in the Union together and all the rest of it.
But then he proceeded from there to buy a hotel in Inverness Terrace, the New Inverness Hotel, I think, which was a much bigger enterprise. And that went pretty well. He got a lot of medical students in to decorate it, sort of just for their keep over the weekend, and that kind of thing. I always used to tease him, and say, 'Look, you say it's a hotel. It's not even like that, Michael, because there were a lot of American troops around in those days. It's just a knocking shop for GIs. That's what you've got here: a knocking shop for GIs'. He got rather annoyed by that, but I think there was some truth in what I said.
And then he proceeded from there, goodness... bless my soul. He bought half a side of a street in South Kensington... Stafford Terrace. And he by now, I think, had ceased to be in partnership with Josephs, and had become a partner of a man called Clive Labovich. And Clive Labovich came from quite a wealthy Leeds family, and they owned a firm called Darley Mills, which, sort of, made fabrics and suitings and all that kind of thing. And they had an office in Soho, which I remember going to once or twice.
A distinguished British political observer, Anthony Howard (1934-2010) wrote for 'The Guardian', 'The Sunday Times' and 'The Observer' for over 40 years, during which time he has commented on the historical significance of global political issues. He was also editor of 'The Listener' and 'The New Statesman', and a reporter on both 'Newsnight' and 'Panorama'. He was awarded the CBE in 1997.
Title: Michael Heseltine's early business enterprises
Listeners: Christopher Sykes
Christopher Sykes is a London-based television producer and director who has made a number of documentary films for BBC TV, Channel 4 and PBS.
Tags: Thenford House, Forsyte Saga, The Man of Property, The Isis Idol Oxford Union, Darley Mills, Michael Ray Dibdin Heseltine, Soames Forsyte, Julian Michael Gordon Critchley, Ian Josephs, Clive Labovitch
Duration: 6 minutes, 10 seconds
Date story recorded: November - December 2008
Date story went live: 21 May 2018