NEXT STORY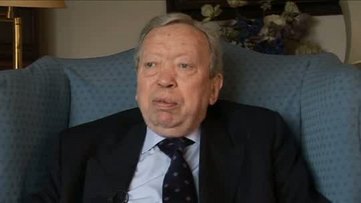 My overriding ambition to be President of the Oxford Union
Two masters at school who had enormous influence on me
1
2
3
4
5
There were two masters at school who had enormous influence on me. One was not an intellectual at all but when I went to Westminster in 1946, he was my first form master. His name was Stephen Lushington. He's still alive, aged 90+ and he taught English and he'd been… he was a very colourful figure. He'd been in the army during the war. He had occasion to wear a, kind of, scarlet sweater and his 'British warm'. He'd been Secretary of the Oxford University Dramatic Society at Oxford and he used to produce all the school plays. So even after I'd passed out of his care as a teacher because he was the director of the school plays, I saw a lot of him, and he used to produce me in all these plays. A great man. Very bad luck. Should have certainly become a headmaster. I once asked a headmaster… a later headmaster of Westminster, why Stephen never became a headmaster. And he was a rather gloomy man… called Walter Hamilton, who'd become a headmaster of Rugby, and a tremendous, sort of, power and patronage he had. And I said, 'Mr Hamilton, why did Stephen never get a headship?' 'Oh', he said, 'he would keep marrying these women'. I don't know who else he was meant to marry but he did have about four wives, it's true, and that wasn't a terribly good qualification to be a headmaster. But he was an inspired teacher, and as I say, he was not a great intellect but he knew how to teach.
The other one was an intellect, he was the senior history master at Westminster, called Charles Kealey, who was a, you know, don manqué, and he'd failed to get... which was a great disappointment to him... to get a fellowship at an Oxford college and he… so I think the first time I ever heard him, he came into the seventh form, as it was in those days, classroom, and he said, 'Well, you may wonder why I'm with you here today'. And we thought… 'Well, I'll tell you why it is. I went to dinner at Christ Church and they said, "How are you, Mr Kealey?" And I said, "Very nice, thank you". And that's why I'm here today, teaching you boys'. So he had a sense of humour and a sense of fun, but he was… he was a genuine intellectual. Unfortunately, he wasn't a great writer.
I got myself into terrible trouble. He was a great authority on Origen, the early church father, and I suddenly saw, when I was editor of the New Statesman, that a book about Origen was coming out. And so I said to the literary editor, 'Look, you probably wouldn't normally review this but do me a favour. I want this Westminster schoolmaster to review it and, you know, and it'll be a great act of kindness and an act of piety on my part. I want it done'. So… Claire Tomalin, she was, my literary editor, she said alright, 'Shall I write to him?' I said, 'It'd better come from you rather than me'. So she did and about ten days later, she came to me, holding a, sort of, a piece of exercise paper and said, 'Tony, it's hopeless. We can't use this'. And I said, 'Well, we can't possibly not use it. Sorry. Give it to me'. And so I then worked on it and tried to improve it and liven it up a bit, and I gave it to her and said, 'Put it in'. We put it in the review and with very bad feeling she did. But that was my paying my debt to Charles Kealey in a way.
No, he was… he stayed at Westminster for years, and became a housemaster, which was a surprise to a lot of people, I think, but he became quite a successful housemaster for his house, and then he became the school archivist. I mean, his whole career was at Westminster. And I've never forgiven that very fashionable headmaster, John Rae, in that Charles' great ambition was to write the school history and I think he did a synopsis or may even have done the first two chapters, and he showed them to Rae and Rae said they were hopeless. Now, I've said that his review was hopeless so maybe Rae was right but, you know, it was an act of real brutality and unkindness, and it was given to somebody else who did it pretty inadequately, in my view. And I've always held that against John Rae, and indeed when I wrote his – Charles Kealey's – obit in The Times, I especially put that in, about how Rae had said no, he couldn't be the school historian, how terribly hurt he'd been by this. Then they reproduced The Times obit with permission in The Elizabethan, the school magazine, and damn me, they'd taken out the whole of that bit about… it wasn't there. It disappeared as if it had never been. So I think that they may have had a guilty conscience, too, about it.
But he's dead now, Charles, and he did have a great influence on me. And he was probably… the trouble is, he very nearly ruined my prose style but… in those days, I was very forthright and I used to write in essays, you know, things like, 'Some have argued, blah, blah, blah, this is utter nonsense'. And he'd write in the margin: 'It may perhaps be said that this is not wholly true'. And if I'd followed him down that route, I would never have become a journalist. But… so he did try and, sort of, drain out a good deal of vigour of my prose style but that was sort of an academic talking, I suppose. But I got away without lasting harm. But he was always trying to, sort of, take things down to that kind of rather modest academic diffident level.
A distinguished British political observer, Anthony Howard (1934-2010) wrote for 'The Guardian', 'The Sunday Times' and 'The Observer' for over 40 years, during which time he has commented on the historical significance of global political issues. He was also editor of 'The Listener' and 'The New Statesman', and a reporter on both 'Newsnight' and 'Panorama'. He was awarded the CBE in 1997.
Title: Two masters at school who had enormous influence on me
Listeners: Christopher Sykes
Christopher Sykes is a London-based television producer and director who has made a number of documentary films for BBC TV, Channel 4 and PBS.
Tags: Westminster School, Rugby School, Christ Church College, Oxford University, New Statesman, The Times, The Elizabethan, Oxford University Dramatic Society, Claire Tomalin, John Rae, Stephen Lushington, Walter Hamilton, Charles Kealey, Origen of Alexandria, Origen Adamantius
Duration: 5 minutes, 19 seconds
Date story recorded: November - December 2008
Date story went live: 24 November 2009