NEXT STORY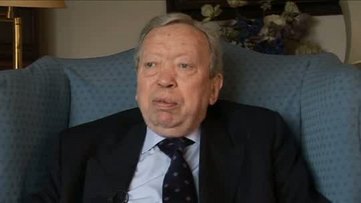 Tony Blair - a Tory in disguise?
Predicting that Tony Blair would be Prime Minister
1
2
3
4
5
Tony Blair was a parliamentary candidate at a by-election in Beaconsfield in, I think, 1982, just about the time of the Falklands Invasion. And poor boy, he lost his deposit. But oddly enough, it made him. That without that Falklands by-election which went so badly wrong and the Tories romped home, he would never have become a member of parliament in 1983. And one reason why he became a member of parliament was that after that by-election, I think probably typical of his generosity of spirit, Michael Foot wrote him a letter saying, you know, you did everything that could have been expected of you, you're not to reproach yourself, you were a wonderful candidate, blah blah blah. When he landed up in his constituency, in the constituency he was going to represent in, oh God, what's it called? Oh dear. Shows that I'm getting senile. Anyway, in Durham… oh what is it? Sedgefield. In Sedgefield in Durham, he brought the letter with him, and that letter was the really 'open sesame', in my view, to his at least getting, sort of, the ward nomination. And from the ward nomination, he went on to… because he was very lucky, in that the man who was put against him was really rather disgraceful... ex-Labour MP, who I think he beat by one vote. But anyway, getting that constituency was the absolute breakthrough. He'd always had a deal, you see, with his wife, with Cherie, that whoever got into parliament first would be the politician, the other one would continue at the bar. And there was poor Cherie fighting a hopeless seat down in Southfield [sic] in Kent or something. Clearly he'd won the race, and therefore he was going to have the career. Though she was academically and intellectually much abler than he was. I never met him during that period at all. I never went to the by-election, so I didn't know him at all until he became a member of parliament. And I don't think I knew him at all well, but one year, at the Labour Party Conference, when he was, I think, probably Home Affairs Spokesman... he wasn't on the National Executive, he didn't speak from the platform, he spoke from the floor, and he made so good a speech that I remember going up to him and saying, 'My name's Tony Howard'. He said, 'I know who you are'. I said, 'Well, I know who you are and I just want to say to you that on that form, one day, you're going to be leader of this party'. He said, 'What?' I said, 'I think you are'.
And so I always rather congratulate myself, having spotted his talent that early on. At that stage, I mean Gordon Brown was considered to be the coming star, but I thought this performance was really top-class. As I say, he was Shadow Home Affairs spokesman, I think, at the time. I used to go and see him, occasionally, when he was… yes, when he was doing Shadow Home Affairs. He once, I remember, came to lunch with me at The Garrick. The thing I remember about it was the speed with which he ate. I've never seen anybody eat so fast in my life. Before I looked up, the plate was clean, this kind of thing. He was very abstemious, though, he'd sort of have a small half-glass of wine, that was all.Talked a lot. And made it clear, and this was when John Smith was still leading the party, so it must be between '92 and '94, he made it absolutely clear that he was very impatient with John Smith and didn't think the party was doing enough. He said, 'Do you think we… I think we've got much more to do and I don't think John's doing it'. So to say that he was, sort of, a Johnny-come-lately about New Labour is nonsense... that he was already restive. And I was slightly, sort of shocked… not shocked, but surprised, anyway, at the way he spoke. 'I think this Safety First policy is no good. I mean, John just believes in one more heave. It's not the way to win'. And this is the kind of thing he was saying when he was a member of his shadow cabinet.
So I was a bit taken aback by that, in a sense, but I also thought, you know, that maybe his… you know... but I actually belonged to the one more heave school. I thought that all John Smith had to do was not to produce another shadow budget like the one that had lost the '92 election, but, you know, to stand firm and he would win the '97 election. And I didn't see anything wrong with his strategy myself, but Blair did. And I had no doubt, I think, that when John died in May 1994, that it was going to be Blair, even from day one. I didn't think it would be Gordon Brown, I think you couldn't succeed one Scotsman with another, bad luck, but there you are, it would look as if the party was a Scottish sect. You had one Scottish leader and then another Scottish leader. Blair had the good luck to... although he'd been to school in Scotland, he sounded… he passed for white. He looked as if he came from Southern England and everything, so I thought he would win it and I never had any doubt about that.
I saw a certain amount about him, with him… I saw a certain amount of him when he was leader of the opposition. Not all that much, but I suppose three or four times, I went to see him, and I remember the last time before the '97 election, I actually said when I was leaving, 'It's an odd thing, isn't it, next time I see you, you'll be Prime Minister'. He said, 'Oh don't say that, don't say that'. He was, even at that stage, nervous that something could go wrong. I said, 'It will be, it will be'. But I even then, I think it's true, that he did never believe that he would get this enormous majority in the '97 election. And the whole of that scheme with Paddy Ashdown was based on the fact that there would be a need for the Labour Party to have Liberal votes in the Commons, as it were, and that would shore the government up. Wouldn't say there wouldn't be a minority government, but you know, it would be useful to have Liberal MPs forming part of it, so that they had a workable, sizeable majority. So I think he never saw the dimension of that '97 victory coming.
A distinguished British political observer, Anthony Howard (1934-2010) wrote for 'The Guardian', 'The Sunday Times' and 'The Observer' for over 40 years, during which time he has commented on the historical significance of global political issues. He was also editor of 'The Listener' and 'The New Statesman', and a reporter on both 'Newsnight' and 'Panorama'. He was awarded the CBE in 1997.
Title: Predicting that Tony Blair would be Prime Minister
Listeners: Christopher Sykes
Christopher Sykes is a London-based television producer and director who has made a number of documentary films for BBC TV, Channel 4 and PBS.
Tags: Anthony Charles Lynton Blair, Michael Mackintosh Foot, James Gordon Brown, John Smith, Jeremy John Durham Ashdown, Paddy Ashdown
Duration: 5 minutes, 55 seconds
Date story recorded: November - December 2008
Date story went live: 21 May 2018