NEXT STORY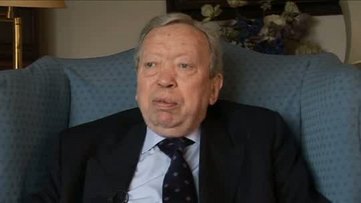 The state of Britain?
At the end, Enoch Powell was a very unhappy fellow
1
2
3
4
5
And of course, he's told us himself, and this did show great candour, that when Ted lost the election in 1974, for some reason, apparently, he'd gone to bed early. This is the story he used to tell, maybe it's true or not, but he sort of woke up to learn the news, and it might have gone on all night, anyway, because the Labour majority was tiny, four seats or something, Wilson had won that election by... and found from his Times newspaper, whatever paper he bought, that the Tories had effectively lost the election. And he said that he went up to the bathroom and he lay in the bath and he sang the Te Deum. Well, it's a very odd thing to me. Nominally, then, he was still a member of the Conservative Party. But no, he was a bit cranky, it has to be said.
And then of course the... I think the poison chalice. That having refused to stand in the '74 election and played footsie with the Labour Party over timing when he was going to make his speeches and all that, which made me very unhappy at the time, I remember. I didn't think it was [unclear], I think Joe Haines was the go-between, with that strange man called Alexander who writes for the Daily Mail, who was a great supporter of Enoch's. And they, sort of, were the point of contact about the planning and timing and all that. But a very distasteful thing to do. But then he found himself out on a limb, and so when the chance came of becoming an Ulster Unionist MP, he took it. I don't want to be rude about the Ulster Unionists today, who hardly exist as a party, or indeed necessarily rude about them then, but I think it was Churchill who said once, about somebody who said, well, I could become an Ulster Unionist. Churchill said: 'If you touch pitch, you will be defiled'. And poor Enoch. I mean, he was… there he was with these deadbeats and no-hopers in the Ulster Unionist Party. Here was a man of his tremendous abilities. They wouldn't even make him leader. A Major Molyneaux or something was leader of the party. And I think those years, Member of Parliament for South Down, was… I think they were pretty grim years.
And... he liked being back in the House of Commons, that is true, but I think that, you know, he knew that it was all over, that he had blown it. And he wasn't really even determining Ulster Unionist policy, because what he stood for was a kind of unity of the United Kingdom. He would have liked to abolish Stormont for good, have everyone represented in the Imperial Parliament, he probably called it... the old phrase. So he didn't even stand with them. He wasn't in favour of having a parliament at Stormont or this kind of thing. Didn't like it. Didn't like any of that kind of stuff. So he was basically out of sympathy with them. Then he organised one or two odd things, like all that mass resignation that took place at one stage... didn't do any good at all, just wasted a lot of time and money.
I think he was a very unhappy fellow. But of course, even more unhappy when he lost the seat in South Down, which he did eventually. And then he was like a man bereft. Oddly enough, I never really was close to Enoch, but because I used to see her socially at one or two things to do with Rab Butler and stuff, I got on well with his wife, Pamela. And it was Pamela who first said to me... I said, you know, it was after his defeat in the Commons, losing his seat... I said, 'How is Enoch?' And she said, 'He's like a man bereaved. He just doesn't know what to do', she said. I said, 'Well, couldn't they put him in the House of Lords?' She said, 'Well, I don't think Maggie Thatcher will ever do that'. And I think he wouldn't have accepted, to be fair to him. He'd been so rude about life peerages. They'd have had to come up with a hereditary peerage and offered him that. But of course, Thatcher had done that. She'd done it for Whitelaw. She'd done it for the ex-Speaker, hadn't she? Mr Speaker Thomas... Viscount Tonypandy, I think. And so she had done it before, but she wasn't going to do it for Enoch, in my view. And so he never got a peerage at all. I think that was mean. I think he should have. I mean, he was a great student of parliament. He really knew about the history of parliament. And I think not allowing him a peerage in the evening of his days was pretty mean-spirited.
Then he got ill. And the last time I saw him, he wasn't really himself at all. And I think it was a pretty sad life, really. Two nice daughters, great number of loyal friends, like John Biffen, who was always very loyal to him, and I think gave the panegyric at his funeral, which I didn't go to. And as I say, I'd known him down the years. We'd always been, I think, reasonably polite. He never wrote for me, because I wouldn't have him, but I did sort of have to deal with him as a broadcaster quite often. And I interviewed him and that kind of thing and I never had any complaints. And he was, you know, perfectly… not… affable is the last word one would use about Enoch, but he was perfectly civil. But you never really felt you'd got to know him, and I think he lived in a private world of his own.
And of course, his own story, he never really recovered from independence to India. The day that it was declared that India was going to get independence, he was said to have walked the streets of London, trying to come to terms with this terrible event that had happened.
Churchill thought he was barmy, because he reached… he was a member of the Conservative Research Department at the time, and it reached Churchill's ears that he'd suggested the British Army should go back into India and should reconquer India, and from that moment on, even Churchill, who was unhappy about Attlee's Indian policy, thought this man was nuts. And there was, I'm afraid, despite his great brainpower, there was a segment of Enoch's mental equipment that was nuts, and that's what let him down.
A distinguished British political observer, Anthony Howard (1934-2010) wrote for 'The Guardian', 'The Sunday Times' and 'The Observer' for over 40 years, during which time he has commented on the historical significance of global political issues. He was also editor of 'The Listener' and 'The New Statesman', and a reporter on both 'Newsnight' and 'Panorama'. He was awarded the CBE in 1997.
Title: At the end, Enoch Powell was a very unhappy fellow
Listeners: Christopher Sykes
Christopher Sykes is a London-based television producer and director who has made a number of documentary films for BBC TV, Channel 4 and PBS.
Tags: Te Deum, Daily Mail, Ulster Unionist Party, Stormont, South Down, Indian independence, Conservative Research Department, John Enoch Powell, Edward Richard George Heath, James Harold Wilson, Joseph Thomas William Haines, Andrew Alexander, James Henry Molyneaux, Pamela Powell, Richard Austen Butler, RAB Butler, William Stephen Ian Whitelaw, Thomas George Thomas, 1st Viscount Tonypandy, William John Biffen, Clement Richard Attlee
Duration: 6 minutes
Date story recorded: November - December 2008
Date story went live: 21 May 2018