NEXT STORY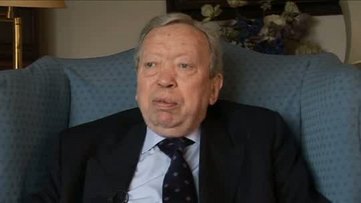 Protégés
1
2
3
4
5
I'm hopeless on the state of Britain questions. I think they're the most boring books that have been written, called The State of Britain and all the rest of it. What would I say, though?
I mean, I'd say that in many ways, we've made a lot of progress. That when I look back, you know, it is amazing that when I went to the press gallery in the House of Commons in 1958, I was only about 23 years old, one quarter of the Conservative Party, the governing party, came from the same school. One quarter of Conservative MPs were Old Etonians. We went on to have three Prime Ministers on the trot who came from the same school. We went on to have Eden, Macmillan, Douglas-Home. In succession, three Old Etonians. Now I'm not against Mr Cameron being an Old Etonian, good luck to him. But I don't think we'll ever see David Cameron succeeded by two other schoolfellows again. So, in some ways, we've made progress.
We've also made progress, I think, in terms of representation of minorities. Not good enough yet in the House of Commons. Not good enough for women, certainly not good enough for ethnic minorities, but we've made progress and things are better off than they were. Where have we slipped back? I think we've slipped back in creating a Brahmin caste, who are quite different from the rest of us. And this Brahmin caste are the people who become politicians, who go into politics. They're picked off like, say, the Dalai Lama or something, at a very tender age, go into the Conservative Research Department, go into the Trade Union Research Department, and they're about 21. And they've never done anything else in their lives. Never, ever. Now we've already got a civil service that consists of a Brahmin caste, that's how they're recruited. They're sort of recruited from the moment they leave the university, and they spend the next 40 years in Whitehall. Do you want to duplicate that with those who are meant to be the people in the front office? I can't see the point of it. It seems to me that it was better, though some people think it was very old-fashioned, that when I first became a journalist, if you went to the House of Commons, you were enormously… saw all these brigadiers on the backbenches, you saw all these, sort of, Rear Admirals. You saw businessmen, even. You saw people who were, sort of, Sheffield Master Cutler and this kind of thing. None of that exists today. There is no one in politics, really, who's come up the hard way. There is that guy who's in the cabinet... Johnson, I think... he's been a postman and became General Secretary of the Post Office Workers Union. But that's very unusual. When I first went into the press gallery, you looked down and there were quite a lot of ex-union leaders on the floor of the House of Commons. I mean, Bevan blazed the way, but after that there were Alf Robens, people like that. None of that exists anymore. Instead of which, we have a caste, a cadre, that has been sort of trained from the word go, who have never known any other life but the life of being in politics, who have no experience of the world outside, who, I think, are… and I think this is where the political class is rapidly growing apart from the general public, because it is so secluded.
And that, certainly, is one place where, at least I think have got worse rather than better. And it happened, I think, largely by accident. We've had one or two throwbacks along the way. Somebody like Michael Heseltine belongs to the old dispensation. You make your money, you become a businessman, then go into politics. People don't do that anymore. Probably he's the last one we shall see of that kind of person. They may take a job in PR, like David Cameron, with some television company or something. Basically, they've done nothing except what they know about. They become… I think this may be one of the troubles, it may go back to these special advisors that were invented. Not really until about the 19… beginning of the 1970s, I think, or thereabouts, that you got this sort of recruited young men, bright young men, who went to work for secretaries of state here and there, and they immediately got bitten by the bug, so they wanted to become secretaries of state themselves, and therefore they became, first of all, MPs. It may have gone back to that, because we didn't have special advisors, pre-sort of… I think Wilson may have had a special advisor or two as Prime Minister, but most cabinet ministers just rubbed along with their own civil servants. We've suddenly got this breed created of these people who are brought in, and they're once they're inside, they never leave the tent afterwards. So they've had, probably, something to do with the development of this strange political caste that we've seen in this country, which we never used to have, and is now, I think, stronger than it's ever been.
So what else would I say about the state of the nation? Not much. I mean, I think that probably, as far as the media are concerned, we've probably had the best years. I think newspapers are almost bound to die. And I think that we've certainly had the best years as far as television is concerned, that the break-up, even, of the whole regional structure of ITV, I think, history will say was a great mistake. And how long the license fee can keep going for the BBC? God knows, but I wouldn't think it would be forever. So I think we're, in media terms, we are on the cusp of big, big changes.
Other things? Decline, I suppose. People would say the decline of morality. I'm not sure about that. Certainly decline of churchgoing, there's certainly that's something that's changed in my lifetime, quite considerably. Otherwise, I don't think I've got any great message for the nation. I'm against apocalyptic utterances, on the whole. Maybe I've been too apocalypic about this and that over the state of the nation, but I think you always have to remember that life goes on. Life does not, sort of, change in dramatic sequences, that when people say that the world changed in 9/11, balls. It didn't. So think that melodramatic statements of that kind don't do any good, and on the whole, things… it's amazing how little things change. That may be depressing for those with sort of a radical turn of mind, but it is, I think, true that there aren't that many, sort of, Soviet revolutions and stuff that take place, and I suspect that we're wrong in thinking that we are living in our own generation in the end of history. Nonsense titles of that kind is not how life works.
A distinguished British political observer, Anthony Howard (1934-2010) wrote for 'The Guardian', 'The Sunday Times' and 'The Observer' for over 40 years, during which time he has commented on the historical significance of global political issues. He was also editor of 'The Listener' and 'The New Statesman', and a reporter on both 'Newsnight' and 'Panorama'. He was awarded the CBE in 1997.
Title: The state of Britain?
Listeners: Christopher Sykes
Christopher Sykes is a London-based television producer and director who has made a number of documentary films for BBC TV, Channel 4 and PBS.
Tags: Eton, Old Etonians, Labour Research Department, Brahmin caste, Dalai Lama, Conservative Research Department, Post Office Workers Union, Robert Anthony Eden, Maurice Harold Macmillan, Alexander Frederick Douglas-Home, David William Donald Cameron, Alan Johnson, Aneurin Bevan, Nye Bevan, James Harold Wilson
Duration: 6 minutes, 39 seconds
Date story recorded: November - December 2008
Date story went live: 21 May 2018