NEXT STORY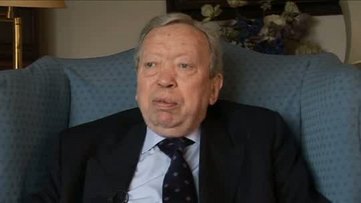 My appearance on Desert Island Discs was disappointing
Martin Amis was the golden boy from the start
1
2
3
4
5
Martin always complains that in the two years he worked for me, he wasn't able to do any kind of creative writing of his own, because I took… made such an excessive demand on his energies. He says that on one occasion when he more or less said he wouldn't do something, which I was very cross about… I can't remember what phrase he used. He said that he was… you know, he would exhaust his talents if he did this. I said, exhaust his talents? I went around and I told other people on the staff all day. 'What the hell does he mean, exhaust his talents?' I can now see what he did mean. But no, he was clearly… I mean, I didn't like… I liked The Rachel Papers, which was his first novel. I didn't like Dead Babies at all. And I think Success was published when he was working for me, which wasn't one of his best books. But it was okay. And I think that he must have written it beforehand.
But he did become literary editor and it was a full-time demanding job. He had not just to do the books, but he did the arts as well, it was the sort of theatre critics, the film critic, the radio critic, the television critic, all that came under him, as well as the… and he had an assistant, of course, Julian Barnes, who I don't think was writing in those days at all. But Martin clearly… the trouble with Martin was that he was already a star. Twinkle, twinkle, little star, I used to say sometimes. It used to annoy him, because he's rather small, but he was very definitely the star of his generation, as it were, and this meant that he, sort of, had… you know, of course, he went about very much conscious of the Amis name. And there was one idea I had for a competition once, just to tease him, I said, 'Why don't we do a competition saying unfortunate titles? One of them could be "My Struggle" by Martin Amis'.
And I think he didn't… he didn't like the idea that he'd somehow… but I think it was true, although of course his brother and sister, his sister now dead, poor dear, but they didn't have anything like the success that Martin had had. But he was already a kind of legend. And greatly helped by, sort of, all the rumour about what a ladies' man he was and this kind of stuff. He… I mean, considering how spoiled he'd been... I think he had been spoiled, it was amazing that he was as modest as he was. And I think that he was biddable, on the whole. We used to have one or two rows that I thought that he overindulged Clive James, who was allowed to sort of meander in meadow after meadow, page after page, writing about something he didn't know very much about, in my view, like America, which I thought I knew more about than Clive did. And we had one or two collisions of that kind, but not many. And on the whole, he was a mostly amiable and congenial colleague to have, but he didn't last long under my successor, Bruce Page. He very soon fell out with him, so it wasn't just that he would with anyone. And he left, I think, sort of within a year that I gave up being editor, Martin left being literary editor, because he didn't like the new regime.
But he was obviously, I mean, the golden boy from the start, and was very talented. And I think was probably… had been spoiled a bit, not necessarily by his parents, his mum and dad, but by all sorts of literary editors and stuff, who sort of doted on him. Even… I mean, the reason why he came to work for me was that John Gross, who'd been literary editor when I first became editor, or was appointed by me, went on to be editor of The TLS. John absolutely worshipped him, and I think that was bad for Martin. He could do anything he liked. Write rather disgusting pieces, sort of sexy things calling Coming in Handy, and that kind of thing, which was all about masturbation, and I would never have had that and I don't know how I let John get away with it.
A distinguished British political observer, Anthony Howard (1934-2010) wrote for 'The Guardian', 'The Sunday Times' and 'The Observer' for over 40 years, during which time he has commented on the historical significance of global political issues. He was also editor of 'The Listener' and 'The New Statesman', and a reporter on both 'Newsnight' and 'Panorama'. He was awarded the CBE in 1997.
Title: Martin Amis was the golden boy from the start
Listeners: Christopher Sykes
Christopher Sykes is a London-based television producer and director who has made a number of documentary films for BBC TV, Channel 4 and PBS.
Tags: The Rachel Papers, Dead Babies, Success, The Times Literary Supplement, TLS, Martin Louis Amis, Julian Patrick Barnes, Vivian Leopold James, Clive James, Bruce Page, John Gross
Duration: 4 minutes, 9 seconds
Date story recorded: November - December 2008
Date story went live: 21 May 2018