NEXT STORY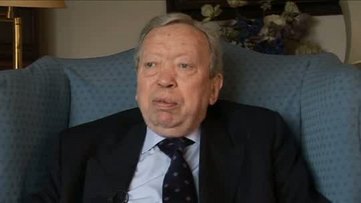 Turning down a job offer from Lord Beaverbrook
Humiliation of the British defeat at Suez
1
2
3
4
5
I think that they thought I was a bit of, sort of, intellectual and that kind of thing and sort of wanted to knock me into shape. And I didn't do at all well. I was never, sort of, given the Sword of Honour or anything like that but I managed to pass out at the end of July, in fact just about the week that Nasser nationalised the Suez Canal in 1956. And we were given a sort of month's leave, or quite a long leave, I think, after leaving Eaton Hall, before joining your battalion, which was, you know, what you'd been chosen to go and serve in. And I'd pulled a fast one there a bit, which I think rather annoyed… he wasn't called Edgerton-Wharburton, he was called Stackpoole or something like that, the platoon commander. And I remember he was astonished. He said, 'Howard, they've asked you to join the Royal Fusiliers! I wouldn't have done that', he said. What he didn't know was that a very nice woman friend of mine, who'd been a very nice patroness to me, was a… she was much older, of course, a woman of about 60... she was a friend of Major General Rome, who was the honorary colonel of the Royal Fusiliers. And so she'd pulled strings on my behalf to get me put into this regiment, rather grander than the East Surrey. It's not, of course, as grand as the Guards or anything like that but certainly grander than the regiment I'd come from. And that's how I got in.
But I, then, when that leave came to an end, went to the Tower of London, which was the depot for the Royal Fusiliers, reported there. Rather grand life, in that there you were, living in the Tower, in the officer's mess. You… I rather brought horror on myself because I hadn't got a hat, I didn't believe in hats, and therefore you weren't allowed to go out in civvies unless you wore a hat. And therefore I had always to go out with my, sort of, military cap on and uniform because I hadn't got a civilian hat. I think, in the end, I bought myself a horrible cap, which is not what they had in mind. They had a bowler hat in mind, I think, or a trilby or something but I had this horrible green cap and that allowed me to go out in civilian dress. And then really, by the end of September, I think, I was yanked down to Dover to join the battalion, which was already on orders to sail for the Mediterranean and all its equipment was riding off some bay in Wales, waiting to be, sort of, transported to Cyprus or something. And I had about, I suppose, three weeks there, a perfectly normal life, and then suddenly, after one night when I'd gone down with a couple of other subalterns to a restaurant in Dover, we came back to find the place alive with lights and move and anger and lorries and stuff, and the order had come for us to go down the next morning to Southampton to join a troopship and sail out to Port Said. We didn't know it was going to Port Said at the time but sailed for the Mediterranean anyway. And on this troopship, which was the New Australia, which was an immigrant liner to Australia for those £10, you know, immigrant passages they had in those days. I think there were, in a cabin that was meant to have four bunks in it, there were eight of us. And so four had to sleep on the floor and four slept in bunks and it was terribly overcrowded. And I suppose we were mildly excited, although I do remember that it was very rough in the Bay of Biscay and everyone got very seasick but after that it was alright in the Mediterranean. We churned our way through the Mediterranean until we got to Malta, and I thought that's where we're going to get off, we'll stop at Malta. I'm sure it's going to be alright. But we sailed by Malta, and therefore it was then either is it going to be Cyprus or where's it going to be...? And eventually, after we'd gone, I suppose, about a day's sale after Malta, we were told we were headed for Port Said, where the fighting had already begun, such as it was.
But when we arrived, the fighting was all over, which was on Armistice Day, November 11th, 1956. And there was a certain amount, of course, sniping going on in Port Said itself. We spent the first night, I remember, bivouacked on the beach, as it were, and that was because, I don't know quite why, but we moved the next day into a maternity hospital in Port Said, which became the, sort of, headquarters of the Royal Fusiliers. And after about four weeks patrolling there, we went up to El Cap, which was the front line, where… it's as far down the Suez Canal as the British and the French had got, and there we just sort of stayed looking... gazing across at the Egyptians, about a, sort of, 600 yards away across the desert sand. And on our left-hand side, by the Sweet Water Canal, were the French Foreign Legion, who behaved in a very irresponsible way and kept going every night to snatch an Egyptian from their lines. And I was very much against it. I thought it would start a Third World War if they don't look out.
But then we all had to come back by... was it Christmas we were back? With our tails between our legs because obviously the United Nations and the American government had said, 'Stop this nonsense', and it was a great humiliation. And within a month, Eden was gone as Prime Minister, and it was, I suppose, the last puny little roar of the British lion, which ended up in sounding like a mouse. And I did feel… I remember coming back on the boat, on the ship, I really did feel for the regular army officers. They'd gone out so gun-ho, and coming back, they really felt the humiliation of it. And I can hear it now. When we got to Dover Marine on... it must have been the December 22nd, before Christmas, we'd marched out with a, sort of, band playing and that kind of thing, and here was this humiliation of a return to Connaught Barracks, Dover, and there was a small child standing on the platform, I heard it say distinctly (a she I think), she said, 'What? Were you kicked out or something?' Well, I don't know if any field officers heard it but that was the, sort of, last humiliation: 'What? Were you kicked out or something?'
A distinguished British political observer, Anthony Howard (1934-2010) wrote for 'The Guardian', 'The Sunday Times' and 'The Observer' for over 40 years, during which time he has commented on the historical significance of global political issues. He was also editor of 'The Listener' and 'The New Statesman', and a reporter on both 'Newsnight' and 'Panorama'. He was awarded the CBE in 1997.
Title: Humiliation of the British defeat at Suez
Listeners: Christopher Sykes
Christopher Sykes is a London-based television producer and director who has made a number of documentary films for BBC TV, Channel 4 and PBS.
Tags: National Service, British Army, Suez Canal, Royal Fusiliers, Tower of London, Dover, Port Said, El Cap, French Foreign Legion, New Australia, Sweet Water Canal, Connaught Barracks, Robert Anthony Eden, Gamal Abdel Nasser Hussein
Duration: 6 minutes, 4 seconds
Date story recorded: November - December 2008
Date story went live: 24 November 2009