NEXT STORY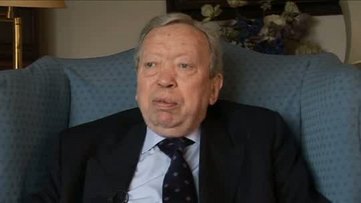 Owing a lot to Alastair Hetherington
Feeling homesick while on the Harkness Fellowship
1
2
3
4
5
I had been unsettled, there's no doubt about it, and so because of the, sort of, intervention from Beaverbrook, I was no longer really content with my lot there, and I think as late as about November, I actually wrote a letter to the editor of The Guardian or then the Manchester Guardian in those days, it was, called Alastair Hetherington and I said, 'Could I have a job on The Guardian?' And he wrote back a slightly guarded reply but he said, 'Well, come up and see us'. And so I went up to Manchester and thinking I was going to see the great man, Alastair Hetherington. When I got there, the news editor, a very nice man called Harry Whewell said, 'I'm terribly sorry, the editor's been called away on important business and therefore isn't able to see you but he's asked me to interview you'. So that was fine. And we went quite well with the interview but I'd sent some cuttings up and at the end of the interview, Harry said, 'Well, you better have these back', and he reached in his drawer and handed the cuttings over. What he hadn't realised is that attached to the cuttings was a note by Alastair Hetherington saying, 'I'm afraid when this young man arrives I shall be over the hills and far away'. No important business at all, just taking a day off walking in the Lake District. Anyway, 'I do not much care for the tone of many of these pieces. He strikes me as being rather supercilious'. So all this was handed over to me, along with the cuttings and I went back to London saying, 'Well, that's that. I'm not going to do very well out of that'.
But to my surprise, about a... I suppose, a week or ten days later, Hetherington rang me up, I think, and said, 'Look, I'm going to be in London at the Manchester Guardian London office on next Tuesday. Would you be able to come and see me there?' So I said, 'Sure'. So I went to see him in the then offices above the post office in Fleet Street and he was very agreeable and didn't say anything. Then he wrote me a letter, saying, 'We're prepared to offer you a job at £20 a week as a reporter in Manchester, covering politics outside Westminster', which meant by-elections, that kind of thing, and sort of trade union conferences. Anyway, it was a, sort of, 33.3% cut in what I was earning. So I was earning 1500 from Reynold's but I didn't have any hesitation.
And I took the job, and I think on the 1st January 1959, drove up in my little Ford Anglia car which I had, all the way from Epsom where my dad lived, mum lived to Manchester and went to live first of all in digs there, then I got a flat. And I had a very happy... very happy 18 months, that's all it was, covering the 1959 election, among other things and going around, you know, the last really old-fashioned election campaign in a sense with big mass public meetings addressed by people like Nye Bevan and this kind of thing. And I did some of the West Country doing the Liberals and Jeremy Thorpe and Mark Bonham Carter and people like that down in Devon. And it was very jolly. And the reporters' room on Croft Street was really an extraordinary mixture in those days. It had people like me, who hadn't actually come straight from university because I had done the year on Reynold's but I counted as a kind of graduate recruit. It had Michael Frayn, who'd come straight from Cambridge, went on to be a famous playwright. It had Michael Parkinson who was, again, not a graduate recruit at all, but had left school at 15 and come up a much harder way, through papers in Yorkshire and the Barnsley Chronicle and that kind of thing. And, of course, it had a whole corps of old sweats, who covered things like the town hall and that kind of thing. So it was a mixture of, sort of, young and academic and, sort of, I suppose a bit snooty, who'd been to, sort of… well, certainly been to Oxbridge and these people who had really worked in all their life in journalism. But we, I think, merged and gelled quite well. And as I say, I greatly enjoyed it and I think I would have stayed there if Hetherington, the editor, who was very kind to me and encouraged me a lot, hadn't said to me, 'Look, have you ever thought of going to America because there's these things called Harkness Fellowships? And I had one when I was about your age and they're very well worth doing. Why don't you put in for one of those?' And I said, 'Well, you know…', and he said, 'No, no, I think you ought to do it. I think it'll be a very good experience for you'.
So I did put in for Harkness and he, I think, was my referee and to my slight surprise, after an interview first of all in the Midland Hotel, Manchester with some kind of plenipotentiary of the Harkness Foundation, and then a full interview in London with the kind of Harkness board, they awarded me a fellowship in journalism for the year 1960 to 61. One of the reasons, I think, why I was attracted to it was that I knew there was a presidential election going on, Kennedy against Nixon and this kind of thing. And it was a very generous fellowship in that they not only paid you quite well but not anything like as well as I was earning from The Guardian. I had another string to my bow at that time, too. But, you know, it was better than most of those fellowship things.
And they gave you four months with a motorcar in which you were meant to drive around the United States, which Alistair Cooke had done back in the 1930s. You did that a lot. I went to the South, I remember, and drove all through the, sort of, deep south in those days and learned much more than you'd ever learn from being in New York or in Washington or anything like that. But I think… I don't know whether it was a mistake or not because I did find it very frustrating in that I'd been… I was lucky. On The Guardian, in the latter days, I had actually been producing a television programme, as well, called ABC of the North, for ABC Television. And that, sort of, you know, had... it was only a 20 minute local news programme really. And before that, I'd had a column in the Sunday Pictorial, then run by… I think called the International Publishing Corporation. And Hugh Cudlipp had hired me and, you know, from the Sunday Pictorial I earned double what I was earning from The Guardian. No, three times. I earned £60 a week from the Sunday Pic, £20 a week from The Guardian. And I think then, when I got the ABC programme, I got £50 a week. So I was doing quite well for those days, with, you know, £5000 a year... in those days, a lot of money. So it was a slight comedown being on this Harkness Fellowship, but I wasn't to know it at the time but it was absolutely invaluable to me because although I'd written it off slightly as experience and I'd been excited by the election and Kennedy winning against Nixon and all the rest of it, I hadn't really enjoyed it all that much. You're very much on your own and I shared a flat for a time, or an apartment, in New York, with a man called Andrew Sinclair, who went on to write a number of novels and stuff but he and I didn't get on all that well. We still see each other occasionally, but it wasn't, sort of, a most buddy-buddy relationship. And I got a little bit, I think, sort of, homesick. And so in… about that Christmas, after the election, Christmas 1960, just before Kennedy came in, the Inauguration Day on January 20th, 1961, I got out of the blue a letter, originally, from John Freeman.
A distinguished British political observer, Anthony Howard (1934-2010) wrote for 'The Guardian', 'The Sunday Times' and 'The Observer' for over 40 years, during which time he has commented on the historical significance of global political issues. He was also editor of 'The Listener' and 'The New Statesman', and a reporter on both 'Newsnight' and 'Panorama'. He was awarded the CBE in 1997.
Title: Feeling homesick while on the Harkness Fellowship
Listeners: Christopher Sykes
Christopher Sykes is a London-based television producer and director who has made a number of documentary films for BBC TV, Channel 4 and PBS.
Tags: The Guardian, Manchester Guardian, Barnsley Chronicle, Harkness Fellowship, Sunday Pictorial, ABC of the North, Hector Alastair Hetherington, Harry Whewell, Aneurin Bevan, Nye Bevan, John Jeremy Thorpe, John Fitzgerald Kennedy, Mark Raymond Bonham Carter, Richard Milhous Nixon, Alistair Cooke, Hubert 'Hugh' Kinsman Cudlipp, Andrew Annandale Sinclair, John Horace Freeman, Michael Frayn, Michael Parkinson
Duration: 7 minutes, 27 seconds
Date story recorded: November - December 2008
Date story went live: 24 November 2009