NEXT STORY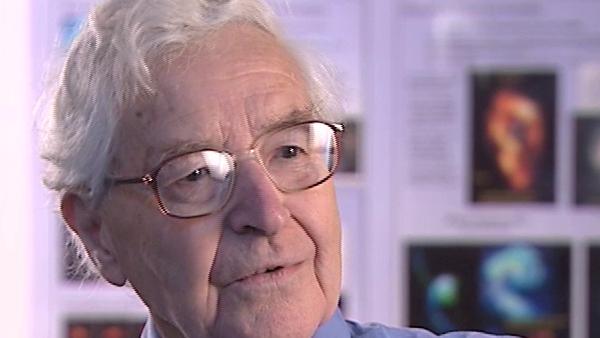 Working on Martin Ryle's telescope
1
2
3
4
We were, of course, linked totally to the development of computers. When Martin Ryle started to develop his aperture synthesis techniques, when that really began, which was… goes back to about 1952, the only computer that we had here in Cambridge was something called EDSAC and that had a memory of 2k which really, by modern standards, is quite… quite ridiculous. And when we began, computing languages just simply were not there, there wasn't a computing language. And there were just 20 commands which you could use when you were controlling EDSAC and mostly they were stupid things like add and subtract and multiply, and not much else. And in the group itself there were a lot of technical and engineering people, but nobody who could actually do the computing because the experience wasn't there. And I was one of the first people to be asked to get involved in this. You wouldn't think so now, but I was one of the computing experts, if you go right back to about 1953 or '54. The synthesis, as you know, demands Fourier analysis or Fourier synthesis. You have… you have… you take your measurements with antennas in different positions and put it all together in the computer. You add up the data that you've taken sequentially to produce what you would get if you had all those instruments simultaneously present. And this was Martin's aperture synthesis work for which he was awarded the Nobel Prize, the fact that you could synthesise, using computing, the effect of a huge instrument that you couldn't possibly build because it would involve much too much hardware and be far too expensive. And, in any case, you can't build a radio reflector a mile across because it would darken the Cambridge skies and you wouldn't be allowed to do it, and anyway it would cost billions. But building small pieces that you can move around and add up electronically the data that you get from them was his major contribution. And I was saying in the early days this required the group itself to be able to process the data and the earliest data was obtained with punch paper tape, tickertape, as… as I think it was better known in those… those days, simply five-holed paper tape, and present that to the computer which would then… which would then add it all up. The equipment would sample what was coming in from… from the radio telescope at intervals of whatever it was, 5 seconds or… or 1 second, depending… depending on the survey, and… and you would produce this paper tape. And that then had to be taken to the maths lab and you then queued up with other people who were doing their own research, and presented this tape to the computer. And it sucked it in through an optical reader, and I spent quite a lot of time doing that and writing some of the simplest aperture synthesis programs. In fact, alongside Martin Ryle's synthesis was a radio telescope built by Graham Smith for a low frequency survey, the first 38 megahertz T survey, and that's to say it's a one-dimensional synthesis, you build a very long antenna east-west and have a mobile unit that you can move in a north-south direction. And it was moved to 32 different positions and when you've done all that work you have to do what you call a Fourier synthesis addition of all this data to produce what the complete instruments would give you simultaneously. And I wrote the first computer program for that, a 32 element Fourier transform and this was a little tape I was very proud of, this… this control tape, which you fed into the computer. And that just simply added up the data in the… in the right way. But, as you know, I'm not a born computing person and I'm not a mathematician, I'm a physicist. I didn't want to do that for too long and computing eventually became a job for experts and we began to take on our own computing staff and… and do it that way. But what Martin Ryle was building was… he was able to build larger radio telescopes as computers were able to handle more complicated and more quantities of data. And the two fields actually went… went more or less hand in hand.
Antony Hewish (1924-2021) was a pioneer of radio astronomy known for his study of intergalactic weather patterns and his development of giant telescopes. He was awarded the Nobel Prize for Physics in 1974, together with fellow radio-astronomer Sir Martin Ryle, for his decisive role in the groundbreaking discovery of pulsars. He also received the Eddington Medal of the Royal Astronomical Society in 1969.
Title: Working with computers
Listeners: Dave Green
Dave Green is a radio astronomer at the Cavendish Laboratory in Cambridge. As an undergraduate at Cambridge his first university physics lecture course was given by Professor Hewish. Subsequently he completed his PhD at the Cavendish Laboratory when Professor Hewish was head of the radio astronomy group, and after postdoctoral research in Canada he returned to the Cavendish, where he is now a Senior Lecturer. He is a Teaching Fellow at Churchill College. His research interests include supernova remnants and the extended remains of supernova explosions.
Duration: 5 minutes, 34 seconds
Date story recorded: August 2008
Date story went live: 25 June 2009