NEXT STORY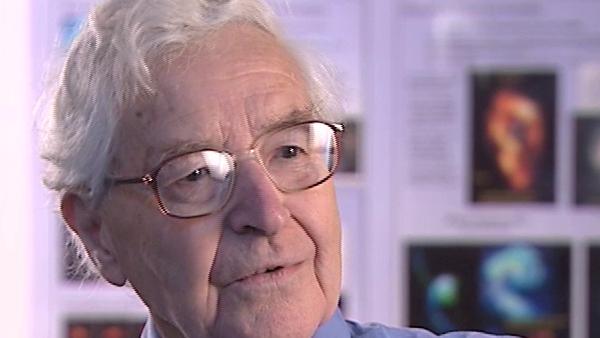 Scintillataion, quasars and pulsars
Tracking the solar atmosphere
1
2
3
4
That was work which kept me pretty well occupied, building my own antennas and using other people's antennas to measure the angular broadening of sources as they passed behind the Sun, because that gave the information on the solar corona, which in those days, as I think I said, was only observable by radio astronomy every day. The… if you're an optical astronomer studying the solar corona you'd have to wait for a total eclipse and then you've got two minutes at best to do your observations, and it's all rather difficult.
With radio astronomy we could… we could investigate the solar atmosphere continuously, as it were, as radio sources tracked across the sky and went behind the Sun and, over the years – and we're now talking about the late, something like 1955, '54 to '56 – I was tracking the Sun, tracking the solar atmosphere further and further from the Sun by using the interferometers that I'd built, a larger and larger baseline, and I was detecting the solar atmosphere out to about one half the distance from the Sun to the Earth.
And this meant building my own… my own simple antennas because the radio sources I was using for this work were reasonably intense, things like the Crab Nebula, and if you set up interferometers you can just measure how these sources get broadened by the scattering as the radiation comes through the solar plasma. And that was before the discovery of the… of the solar wind, and… and the solar wind measurements which… which I have just sketched very… very briefly. So that… that took me from… I… I think, my… my PhD on to… on to about the late… the late 1950s.
Antony Hewish (1924-2021) was a pioneer of radio astronomy known for his study of intergalactic weather patterns and his development of giant telescopes. He was awarded the Nobel Prize for Physics in 1974, together with fellow radio-astronomer Sir Martin Ryle, for his decisive role in the groundbreaking discovery of pulsars. He also received the Eddington Medal of the Royal Astronomical Society in 1969.
Title: Tracking the solar atmosphere
Listeners: Dave Green
Dave Green is a radio astronomer at the Cavendish Laboratory in Cambridge. As an undergraduate at Cambridge his first university physics lecture course was given by Professor Hewish. Subsequently he completed his PhD at the Cavendish Laboratory when Professor Hewish was head of the radio astronomy group, and after postdoctoral research in Canada he returned to the Cavendish, where he is now a Senior Lecturer. He is a Teaching Fellow at Churchill College. His research interests include supernova remnants and the extended remains of supernova explosions.
Tags: Sun
Duration: 2 minutes, 16 seconds
Date story recorded: August 2008
Date story went live: 25 June 2009