NEXT STORY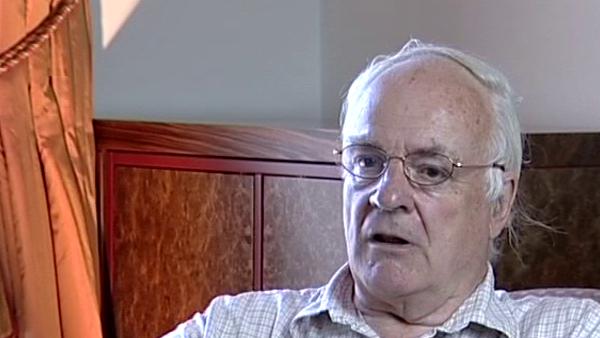 The student-mentor relationship
Avrion Mitchison
Scientist
1
...
8
9
10
11
12
I love sharing ideas. I think the biggest treat in science is to share an idea and that's not something which disappears with age, I get- it grows with age I think, actually. I love talking to a young scientist and say, well, as a matter of fact I have read your last paper quite carefully and doesn't that suggest this or that, and they then begin to disclose further aims. So I think a lot of sharing is not really to do with- with high principles, it's more to do with person-to-person interactions and what you get pleasure out of- and the biggest pleasure for my- me is interacting with other scientists, I love that. Of course I love my wife and I love my children and I love my grandchildren and all that, but it still is not quite at the same level as being able to discuss a new idea with one of our- with one of my mates.
Have you ever been hurt by giving away an idea or a reagent or-
No, no, no, and I don't believe people who say that they have been. Time and time again people have said well, you know I don't want to talk about that because it is somehow in the pipeline, and then you wheedle out of them what they're going on about, and then it turns out that the competition which they fear is- it is competition in a way- but they are all- people very seldom have exactly the same idea about what to do, I think.
Most people tend to be a little concerned about being scooped- have you ever been concerned?
I don't think so, no. I honestly don't think- well I don't know, maybe I have or maybe I suppressed it, but what I am sure about is that the- the- the sadness of being scooped is not commensurate at all with the pleasure of intellectual intercourse.
Avrion Mitchison, the British zoologist, is currently Professor Emeritus at University College London and is best known for his work demonstrating the role of lymphocytes in tumour rejection and for the separate and cooperative roles of T- and B-lymphocytes in this and other processes.
Title: Sharing ideas
Listeners: Martin Raff
Martin Raff is a Canadian-born neurologist and research biologist who has made important contributions to immunology and cell development. He has a special interest in apoptosis, the phenomenon of cell death.
Listen to
Martin Raff
at Web of Stories
Duration: 2 minutes, 38 seconds
Date story recorded: June 2004
Date story went live: 29 September 2010