NEXT STORY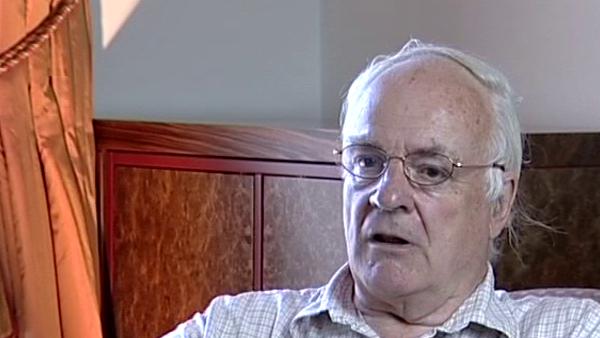 Oxford: theatre and being in love
Avrion Mitchison
Scientist
1
2
3
4
5
6
...
12
I don't know exactly what his relationship was with Magdalen College. He was a Fellow there. First of all I think he was a Prize Fellow, but then, by the time I knew him, he was full Fellow. He didn't teach in college. He did tutorial work for- no doubt for students in Magdalen but that wasn't enough. The whole class of biologists was quite small, it was about 20 or so. He would've taught from one or two other colleges and did- did tutorial work. So he would've been probably teaching these one to one tutorials, I guess six hours a week, perhaps, and that's quite a bit. That's a lot. And, he, in his own autobiography, has written very, very warmly about Magdalen College, about how it taught him not to be afraid of any subject that he felt that by the time you'd been hanging around in Magdalen College for a while, you could tackle any intellectual problem. I think perhaps except mathematics, I think. But outside that, that was- could do. And when I followed in his footsteps later on and became, not a Tutorial Fellow but a Prize Fellow in Magdalen, which is a limited tenure thing for three years, all that was still true. Magdalen had an enormously distinguished collection of Dons. It had C. S. Lewis, it had A. J. P. Taylor, it had Gilbert Ryle, it had others, Tom Stevens the classics Don. They were- they were noisy and a somewhat closed group. No- not much time for women. A. J. P. Taylor was having a rotten time with his wife at the time, who was having it off with that Welsh poet, and- but by and large, there was a- I wouldn't say exactly a homosexual atmosphere there, but slightly homosexual, and the whole of Oxford had a pervasively somewhat misogynous, somewhat homosexual atmosphere to it. And that was no doubt why later on I got on so very well with- with Tony Richardson.
Avrion Mitchison, the British zoologist, is currently Professor Emeritus at University College London and is best known for his work demonstrating the role of lymphocytes in tumour rejection and for the separate and cooperative roles of T- and B-lymphocytes in this and other processes.
Title: Magdalen College, Oxford
Listeners: Martin Raff
Martin Raff is a Canadian-born neurologist and research biologist who has made important contributions to immunology and cell development. He has a special interest in apoptosis, the phenomenon of cell death.
Listen to
Martin Raff
at Web of Stories
Duration: 2 minutes, 26 seconds
Date story recorded: June 2004
Date story went live: 24 January 2008