NEXT STORY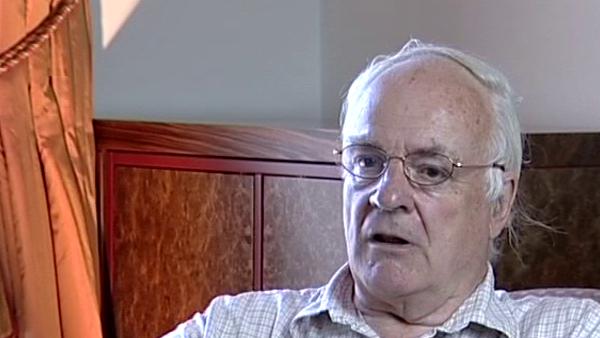 Staying on at Oxford and making cages for mice
Travelling in America with Tony Richardson
Avrion Mitchison
Scientist
1
2
3
4
5
6
...
12
Part of having- part of the lovely terms on which the Commonwealth Fund Fellowship was awarded was that you had to spend- can't remember what it was- three months travelling across America, so- and I certainly wanted company doing that, so I asked Tony if he'd like to come and he said yes. So that was great. I also asked Alton Pickens, who was an artist in the distinguished Arts Faculty in Indiana University to come too, and he and Tony eventually got on very badly and I don't know whether that was a threesome which should have been a twosome quarrelling, or whether it was that Alton Pickens was pretty much an unreconstructed Marxist, so what he had to say about everything was a bit, had got a bit predictable, whereas Tony's speciality was being completely unpredictable, you know. The sights of Reno, Nevada glowed on the horizon and all Tony- then it turns out that Tony had been absolutely longing to gamble, so off he set off into the casino to gamble while Alton and I, I think, were behaving like stuffy old chumps in a motel. And so we went across America and we went to California, and then we went down to Mexico and we reached Mexico City, and I hope I was staying friendly with both of them but those two were really making trouble. But Tony was a brilliant person to travel with because he knew what was interesting and exciting in his world in different places. When we were in California we had to visit Charles Eames and his wife and sit in- both of the, I mean serially in both of the wonderful chairs, and Charles Eames and his wife- I can't remember who took responsibility- showed us the film that they'd made about communication, and it was about, you know, it had the waves beating on the Pacific shore, communicating the news and the weather in the middle of the Pacific, and then I don't know what else, it probably had these chairs in it as well, modern architecture. Anyway, that was- what a treat, what a privilege to visit like that. And then as we went down to Mexico City, Tony knew the art to see there and that art was- was of course, it was- was- was the art of the- I don't remember exactly what they are, what are the great Mexican painters of the 1920s and 1930s- were all, called themselves communists or called themselves socialists, I don't quite remember - but he had, you know, the right take on that, so again, that was enormous fun, and I think he managed to dig up some contacts who were sort of show us around, so that was all very nice. What else can I say? We came home- I got, when I got married, once or twice Lorna and I called on Tony, but I think, well I am sure that actually in retrospect, that Tony was a bit in love with me, so having a third chap there was a bit off, and when we visited him sometimes he was on his own and sometimes he was with his wife, living in St Peter's Square, and the relationship was- had changed and, alas, I drifted apart, we drifted apart. I am proud to say that Tony's autobiography has nothing but nice things to say about me though they are not very- they're not very lengthy, I'm a pretty minor figure in his life. He was a much bigger figure in my life- through him I learnt about the theatre, I became interested in the theatre, and that stayed with me absolutely.
Avrion Mitchison, the British zoologist, is currently Professor Emeritus at University College London and is best known for his work demonstrating the role of lymphocytes in tumour rejection and for the separate and cooperative roles of T- and B-lymphocytes in this and other processes.
Title: Travelling in America with Tony Richardson
Listeners: Martin Raff
Martin Raff is a Canadian-born neurologist and research biologist who has made important contributions to immunology and cell development. He has a special interest in apoptosis, the phenomenon of cell death.
Listen to
Martin Raff
at Web of Stories
Duration: 4 minutes, 8 seconds
Date story recorded: June 2004
Date story went live: 24 January 2008