NEXT STORY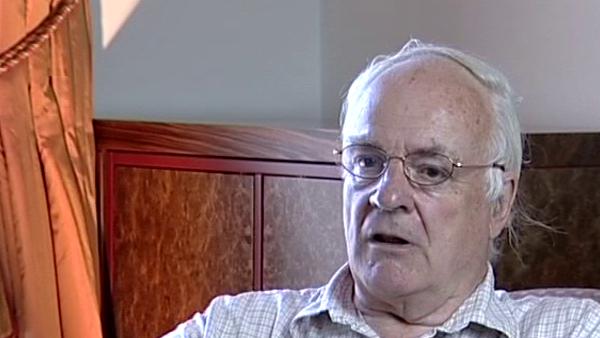 Work at UCL: research into F liver protein
Science, politics and religion
Avrion Mitchison
Scientist
1
...
6
7
8
9
10
...
12
I think they- science has to set part of the agenda, I think that is the most important thing that science can do. And obviously, in the world as it is at present, the Middle East is a part- place where science has relatively little to offer. I think the- the great problems of the day are in climate change and its consequences, and that if politicians find themselves unable to listen to the scientific community and they prefer to listen to the oil lobby, then humanity is in trouble. And what about religion and science, do you feel that scientists have a responsibility to fight irrationalism wherever they find it, including religion? Yes, but I- I think the contribution of religion to irrationalism is small. I think, as a scientist, I think that the question of the day is about the Muslim religion, isn't it, and that's a question which we are all interested in, and my opinion- somewhat second hand from other people whose opinions I respect- is that Muslim- the Muslim religion is not irrational, nor is it anti-Christian, nor is it a religion of combat with- with other faiths. The Mullahs are another matter. There are Mullahs, who choose to interpret their religion in a way which I consider outrageous, particularly in respect of the position of women in the world. But I could say exactly the same thing about Christians religion also. There are Christian sects whose practitioners, whose preachers I have no patience with at all, but that does not apply to Christianity. But what about stem cells and the role of religion in slowing progress- The Pro Life lobby? Yes. Should scientists respond to that kind of thing? Well, at the risk of chauvinism, I think the UK has handled it pretty well, and the reason it has handled it pretty well, in my opinion, is because it's relied so largely on the advice of Anne McLaren whom we talked about earlier, and she has done- she's done wonderful science, but surely the most important thing that she has done is to keep thinking- the ideas about- the ideas of the Pro Life lobby, under some sort of- exclude them from- from the responsible public. It is a different matter in Europe than America because the Pro Life lobby in America is so much stronger. Do you see a paradox that America, that is the most religious of countries, are yet the most enthusiastic about science and technology in terms of investment and thoughts for the future and so on? Yes. Yes, I suppose America suffers from the special value it has placed on liberty, and liberty is taken to include the ownership of guns and by some people, the use of those guns to fire them at people who are running birth control clinics or abortion clinics. I think- I think liberty in its extreme has terrible consequences.
Avrion Mitchison, the British zoologist, is currently Professor Emeritus at University College London and is best known for his work demonstrating the role of lymphocytes in tumour rejection and for the separate and cooperative roles of T- and B-lymphocytes in this and other processes.
Title: Science, politics and religion
Listeners: Martin Raff
Martin Raff is a Canadian-born neurologist and research biologist who has made important contributions to immunology and cell development. He has a special interest in apoptosis, the phenomenon of cell death.
Listen to
Martin Raff
at Web of Stories
Duration: 4 minutes, 45 seconds
Date story recorded: June 2004
Date story went live: 24 January 2008