NEXT STORY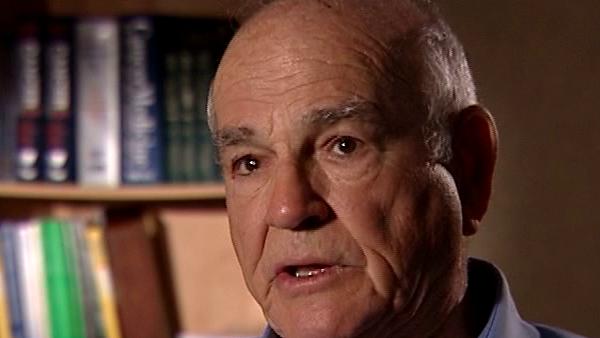 Focusing on variation
Different ethnic groups' reactions to disease exposure in Suriname
Baruch Blumberg
Physician
1
2
3
4
5
...
8
What I learned there, what was really impressive was how differently people responded to... to exposure to disease. So, we were studying filariasis, both there and back in the main town, in Moengo. And we found a big difference in the prevalence of the filaria in the... in the blood, this... this asymptomatic carrier state, between the people of African descent, who had come as slaves and... and moved into the... into the towns, and then the Indonesians, the people from what was... from Java mostly, and also there was a few Chinese, very few, and four or five... there were only about half a dozen Europeans in the community. And that really sort of... it bore... it bore a strange similarity to the hepatitis business, where you had this carrier state, big differences dependent on, you know, huge geographic differences and in this little town of Moengo we had people living in more or less the same environment but came from totally different ethnic backgrounds and maintained a lot of their ethnic practices, food and all that. So it was a really kind of test tube. But that... that hit me, this idea that people, that were such big differences in response. And even within a population, you know, some of them got infected and others didn't. So that was a... that was... that got into the back part of my mind someplace and...
[Q] And how did the difference manifest, you know, the blood samples?
The difference was obvious from the per cent of people of African origin who were carriers, compared to those of Indonesian or Chinese or White or European. And so there would be a difference between 15% and 2%, of multi, you know, many-fold differences and they were living in the same place, mind you. They had difference practices, but they lived in company... in company accommodation and they all had medical exams before they came up, they...all their entire medical care was provided, so it was something we could study, and they were very co-operative, very helpful bunch. So that was, that really impressed me.
American research physician Baruch Blumberg (1925-2011) was co-recipient of the Nobel Prize in Physiology or Medicine in 1976 along with D Carleton Gajdusek for their work on the origins and spread of infectious viral diseases that led to the discovery of the hepatitis B virus. Blumberg's work covered many areas including clinical research, epidemiology, virology, genetics and anthropology.
Title: Different ethnic groups' reactions to disease exposure in Suriname
Listeners: Rebecca Blanchard
Dr Rebecca Blanchard is Director of Clinical Pharmacology at Merck & Co., Inc. in Upper Gwynedd, Pennsylvania. Her education includes a BSc in Pharmacy from Albany College of Pharmacy and a PhD in Pharmaceutical Chemistry from the University of Utah in Salt Lake City. While at Utah, she studied in the laboratories of Dr Raymond Galinsky and Dr Michael Franklin with an emphasis on drug metabolism pathways. After receiving her PhD, Dr Blanchard completed postdoctoral studies with Dr Richard Weinshilboum at the Mayo Clinic with a focus on human pharmacogenetics. While at Mayo, she cloned the human sulfotransferase gene SULT1A1 and identified and functionally characterized common genetic polymorphisms in the SULT1A1 gene. From 1998 to 2004 Dr Blanchard was an Assistant Professor at Fox Chase Cancer Center in Philadelphia. In 2005 she joined the Clinical Pharmacology Department at Merck & Co., Inc. where her work today continues in the early and late development of several novel drugs. At Merck, she has contributed as Clinical Pharmacology Representative on CGRP, Renin, Losartan, Lurasidone and TRPV1 programs and serves as chair of the TRPV1 development team. Dr Blanchard is also Co-chair of the Neurology Pharmacogenomics Working Group at Merck. Nationally, she has served the American Society of Clinical Pharmacology and Therapeutics on the Strategic Task Force and the Board of Directors. Dr Blanchard has also served on NIH study sections, and several Foundation Scientific Advisory Boards.
Tags: Moengo
Duration: 2 minutes, 38 seconds
Date story recorded: September 2007
Date story went live: 28 September 2009