NEXT STORY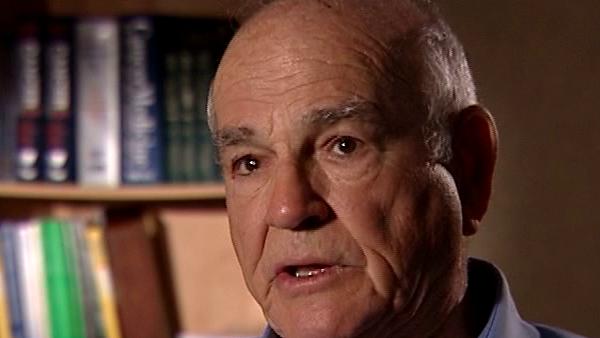 Working with Tony Allison
Studying hyaluronic acid at Oxford
Baruch Blumberg
Physician
1
2
3
4
5
...
8
We went down to the slaughterhouse in Oxford - they had one then - and we extracted joint fluid from a... a steer about to be made edible, and I worked on that for the next two years, two plus years and I ended up with... you know, most of the things I did... didn't consume a lot of the material, it was non-destructive, you know, optical techniques. So, you start off with a few cc of this icy clear liquid and you end up with maybe, you know, half a cc, and a bunch of numbers, but nothing much has happened to the... to the clear fluid itself. But nevertheless, that was a really good experience and one of the... one of the things I learned from... it was... it was a big contribution to my understanding of the science. First of all, Sandy had this idea that you do science in a way for its own sake. He was very interested in applications and had a very practical turn of mind. But he also had an appreciation for this, I... I think it's a kind of British style, in how you go about it. And also this idea of a lot of thinking before you design an experiment and a lot of talk about scientific process. Much of it wasn't formal in any sense, but it kind of... it kind of was part of the atmosphere in the lab and then kind of an attachment to the past in biology, you know, the big debate between Wilberforce and Darwin took place at the university museum right there. Polymorphisms, which I became interested in when I was there, sort of started, the contemporary view and looking at polymorphic phenotypes in those days, began in the Department of... or in a way began, in the Department of Zoology there, by Dr... with Dr Ford, Professor Ford.
But in any case, so I worked on this hyaluronic acid stuff for a long time and the thesis worked out pretty well. But one of the things that I learned is... is that enzymes, proteins and then subsequently genes, have multiple functions and they're just not the one that it was named after. There's... there's a funny phenomenon, you know, you have an enzyme, and you named after its substrate, which turns out to be the first substrate you work on, it turns out it's not the only one. And the... and the study that I was doing was based on the notion that if we used papain that it would only attack protein in this carbohydrate protein molecule and the issue was, was the protein essential for the physical characteristics, the non-linear viscosity and so forth of the hyaluronic acid protein complex? So we used papain and the argument was, okay, you take papain, get rid of the protein and see what happens. Well, what happens is it changes its physical characteristics considerably. Later, it was determined that papain actually has an affect on the carbohydrate chain as well, and that was, how shall I put it, negated the argument for the experiment. Well, it turns out despite the fact that it could have attacked the... the carbohydrate, it did not. And the protein is essential for the... but now it's a... it's a big field, hyaluronic acid, it's a major medication.
American research physician Baruch Blumberg (1925-2011) was co-recipient of the Nobel Prize in Physiology or Medicine in 1976 along with D Carleton Gajdusek for their work on the origins and spread of infectious viral diseases that led to the discovery of the hepatitis B virus. Blumberg's work covered many areas including clinical research, epidemiology, virology, genetics and anthropology.
Title: Studying hyaluronic acid at Oxford
Listeners: Rebecca Blanchard
Dr Rebecca Blanchard is Director of Clinical Pharmacology at Merck & Co., Inc. in Upper Gwynedd, Pennsylvania. Her education includes a BSc in Pharmacy from Albany College of Pharmacy and a PhD in Pharmaceutical Chemistry from the University of Utah in Salt Lake City. While at Utah, she studied in the laboratories of Dr Raymond Galinsky and Dr Michael Franklin with an emphasis on drug metabolism pathways. After receiving her PhD, Dr Blanchard completed postdoctoral studies with Dr Richard Weinshilboum at the Mayo Clinic with a focus on human pharmacogenetics. While at Mayo, she cloned the human sulfotransferase gene SULT1A1 and identified and functionally characterized common genetic polymorphisms in the SULT1A1 gene. From 1998 to 2004 Dr Blanchard was an Assistant Professor at Fox Chase Cancer Center in Philadelphia. In 2005 she joined the Clinical Pharmacology Department at Merck & Co., Inc. where her work today continues in the early and late development of several novel drugs. At Merck, she has contributed as Clinical Pharmacology Representative on CGRP, Renin, Losartan, Lurasidone and TRPV1 programs and serves as chair of the TRPV1 development team. Dr Blanchard is also Co-chair of the Neurology Pharmacogenomics Working Group at Merck. Nationally, she has served the American Society of Clinical Pharmacology and Therapeutics on the Strategic Task Force and the Board of Directors. Dr Blanchard has also served on NIH study sections, and several Foundation Scientific Advisory Boards.
Tags: Alexander Ogston
Duration: 3 minutes, 53 seconds
Date story recorded: September 2007
Date story went live: 28 September 2009