NEXT STORY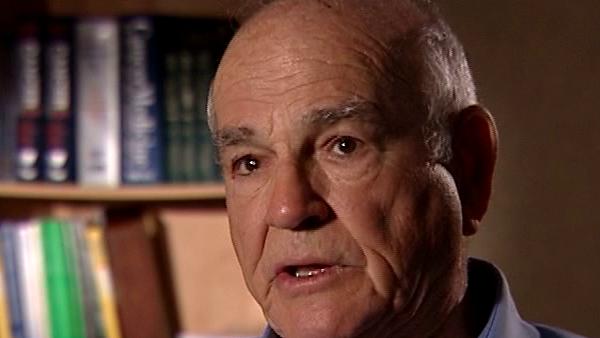 How to avoid an argument
Testing the Marshall Islanders for Australia antigen
Baruch Blumberg
Physician
1
2
3
4
5
...
8
I had taken part in a… in a medical study on the people who had been exposed to radiation on the island of the Atoll of Rongelap in the… in the Marshall Islands and that was about 120 miles downwind of Bikini and the… they exploded a… a nuclear device as part of a test program, a nuclear test program that was done in the... what was the US [sic] Trust Territory, the Pacific Islands, and this bomb was far bigger than they anticipated and also they didn't predict the weather patterns and they should have known because that's the prevailing wind. But in any case about 60 or 70 Marshall Islanders were subject to this fallout, and they were removed from the island and put in temporary accommodation, very difficult. The whole business was a sort of a scandal — don't know if that's really the right word, certainly very unfortunate — but from then on, they did medical examinations of them each year so I went on the fifth medical exam, which… they'd been returned to the, to the atoll, Rongelap Atoll by then, so I spent a few weeks with a… an examining party. Well, over the… they collected blood essentially every year and so I tested those for this Australia antigen, and in one case there was a person who didn't have it, then he developed the antigen and then developed the antibody and we learned that he'd had a transfusion. So that was another indicator and added to that was this observation of the Down syndrome patient. So what happens, you know, you… you get an idea, a kind of concept, but often it's… it's kind of built on a sort of background of information. You know, there's a bunch of things that kind of add up and then suddenly there's a sort of realization and it's a realization that makes you act and makes you do something and I… I think in retrospect that observing that one of our own patients, somebody we knew quite well, and as a matter of fact we kept in touch with him for years afterwards, and his… and his mother who died a few years ago; that had a big psychological impact. Okay, so we tested that, we found that — well, then we thought one of the best, one of the most important things to do now, was to confirm, you know, to have people confirm it and it doesn't do any good or it doesn't do as much good for us to do it over and over again. In the meanwhile, a colleague of mine in… in Japan had made very similar observations to ours. I'd been to Japan in the 1960s, 1964, 1965 possibly. We'd spoken about this work about the Australia antigen. He sent his reagents to us, we exchanged them and it turned out it was the same thing, so that was an immediate confirmation from Professor Okochi.
American research physician Baruch Blumberg (1925-2011) was co-recipient of the Nobel Prize in Physiology or Medicine in 1976 along with D Carleton Gajdusek for their work on the origins and spread of infectious viral diseases that led to the discovery of the hepatitis B virus. Blumberg's work covered many areas including clinical research, epidemiology, virology, genetics and anthropology.
Title: Testing the Marshall Islanders for Australia antigen
Listeners: Rebecca Blanchard
Dr Rebecca Blanchard is Director of Clinical Pharmacology at Merck & Co., Inc. in Upper Gwynedd, Pennsylvania. Her education includes a BSc in Pharmacy from Albany College of Pharmacy and a PhD in Pharmaceutical Chemistry from the University of Utah in Salt Lake City. While at Utah, she studied in the laboratories of Dr Raymond Galinsky and Dr Michael Franklin with an emphasis on drug metabolism pathways. After receiving her PhD, Dr Blanchard completed postdoctoral studies with Dr Richard Weinshilboum at the Mayo Clinic with a focus on human pharmacogenetics. While at Mayo, she cloned the human sulfotransferase gene SULT1A1 and identified and functionally characterized common genetic polymorphisms in the SULT1A1 gene. From 1998 to 2004 Dr Blanchard was an Assistant Professor at Fox Chase Cancer Center in Philadelphia. In 2005 she joined the Clinical Pharmacology Department at Merck & Co., Inc. where her work today continues in the early and late development of several novel drugs. At Merck, she has contributed as Clinical Pharmacology Representative on CGRP, Renin, Losartan, Lurasidone and TRPV1 programs and serves as chair of the TRPV1 development team. Dr Blanchard is also Co-chair of the Neurology Pharmacogenomics Working Group at Merck. Nationally, she has served the American Society of Clinical Pharmacology and Therapeutics on the Strategic Task Force and the Board of Directors. Dr Blanchard has also served on NIH study sections, and several Foundation Scientific Advisory Boards.
Tags: Marshall Islands
Duration: 3 minutes, 9 seconds
Date story recorded: September 2007
Date story went live: 28 September 2009