NEXT STORY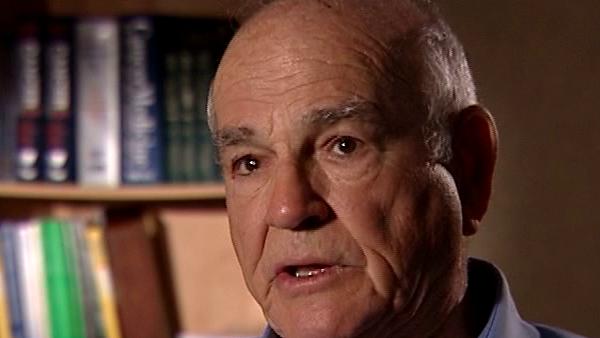 Looking for a therapy for hepatitis
Investigating the spread of hepatitis in China
Baruch Blumberg
Physician
1
2
3
4
5
6
...
8
Back in 1973, '74 maybe, the... the Chinese were still pretty isolated and they didn't come to meetings very often but occasionally did, and I saw a paper at a cancer meeting and, that held... was held in Italy—I didn't attend the meeting but I read the abstracts—and they reported on hundreds of thousands of cases of cancer of the liver. Well, based on studies we'd done on... on Chinese here that we'd collected in the United States actually, from Chinese living here, we knew there was a very high prevalence in China, one of the highest in the world, and it didn't take, you know, a lot of thinking to put those two things together, and I recognized that the most important thing I could do in terms of public health was to go to China. Actually I was kind of, you know, I was very interested in going there anyhow, you know, just that it was a place that was kind of covert then. They were... they had visitors but they were sort of hand-picked, you know. So I wrote to the, well, there was a... there was a sort of semi-government organization here. It was the committee for encouraging academic connections with China and the United States. It was a kind of low-key operation and that sent academics, medical people from time to time, so I contacted them and they were encouraging. They said, well, you know, keep trying and see what happens. Well, you know, I'd get a response, but no... no invitation to come. Well, then in 1976, I was awarded the Nobel prize. A month later I get, I received an invitation to come to China with my wife actually, and to, you know, visit various places as a guest of the Chinese Medical Association, ostensibly a non-governmental organization. Well, I did go but Jean decided not to come because it was going to be a long time and I was afraid they might... travel might be uncomfortable, and so forth. It wasn't actually. It was pretty comfortable. So I went there and I spent a month, spoke to several thousand people and I still will see Chinese colleagues. They say, I remember you spoke in Beijing and you spoke about the hepatitis stuff, and you... they'd... my host would say, 'You only spoke three hours, two hours'. People would sit there for three hours, listening to a talk.
Well, it was... it was, I had a... a, I had escorts, you know, I... I had a scientific colleague who was a very bright chap, Dr Sun was his name, who had worked on hepatitis and he'd been a victim of the Cultural Revolution. He'd been a academic professor in Beijing, was working on nuclear magnetic resonance, you know, pretty highfalutin stuff. Cultural Revolution comes along, he's out of there. He's out in Qilan province, you know, this kind of somewhat wild place in the western part of the country chasing snake bites, as he said. And the other... the other escort I had was a political escort who'd been in the Red Guard, who'd, you know, victimized people like Professor Sun.
[Q] Yes, that must have been an interesting threesome there.
Oh, it was, yes. But... but I, before I left, you know, I... I read Chairman Mao's, you know, had The Red Book, it was... you know, college kids here read and I had a couple of his other publications that I got from the state department on, you know, Chairman Mao on war, Chairman Mao's hundred sayings, you know, and I kind of read through those before I got there, so when this escort was telling me various things, I would say, 'Well, as Chairman Mao said on the occasion of the meeting of the 23rd Soviet...'.
[Q] Wonderful diplomacy.
But... so, you know, I told you we were interested in insects and the other insect we studied was bed bugs. We had the only African bed bug colony in America. We... we thought that it was better to work with than mosquitoes. The reason I decided on that was I went to visit Bill Wills once in... in the insectarium in... in Harrisburg and they had kind of multiple screens, you know, to keep the mosquitoes confined into the cage and... and they were in a sort of conventional room but there were these several layers of screens and we walked into the, you know, from the hall into the room outside the screens, and I noticed some mosquitoes. I said, 'Bill, what are those?' He said, 'Oh they get out occasionally', so I said, 'Wait a minute...'. So we decided to work with bed bugs because bed bugs you can put a little moat around them and they... and they're high... high infectious rates.
[Q] Really?
Oh yeah, you collect bed bugs from the beds of, who's usual occupant is a... is a carrier of hepatitis B; half of them are infected. At least by the measures we use. Nobody... nobody's followed up on this. At least I haven't followed the field, but as far as I know I don't think it's been followed up on but that's an incredible infection rate. The... the mosquito infection rate... they had a field infection rate of one in a hundred. A hundred mosquitoes, one of them was infected. That's like in north of East Gambia, which are from malaria. It's... it's horrible. But as far as... nobody knows whether they really transmit it. I... I still think they may. But in any case, we went into this village and it was one of these barefoot doctor clinics and they had a kind of poster up there with different insects that spread things and I'd been talking to Dr Sun about the work we'd done in bed bugs and mosquitoes and he was a little skeptical—with good reason, you know, we're the only ones that worked on it as far as I know. No, I think my colleague, Fred Prince did, too. But in any case, so they had a poster there and it showed, you know, mosquitoes and flies and mice and rats and... and rats and... and then bed bugs, so I asked the person in charge of the clinic, I said, 'Well, what do those insects spread?'. She said, 'Well, the rats, you know, spread plague and the flies spread, you know, salmonella and bacterial infections, and mosquitoes spread dengue and they spread filaria and they spread malaria and the bed bugs spread hepatitis'. So I turned to my escort, 'See, you go to the people and they give you the answer'.
[Q] That's right. That's a great story.
But in any case that was... that was a terrific and... and it really had an impact on... on the progress of the work. I mean I, how do you know about that but it's just that people have told me that and then... and then I... I put them in touch with Merck. You know, it took a little time, but they finally worked out a technology exchange program with China and they built factories. Merck built factories there, or helped them build. You know, that was when they had... they had a very far-seeing president at that time.
American research physician Baruch Blumberg (1925-2011) was co-recipient of the Nobel Prize in Physiology or Medicine in 1976 along with D Carleton Gajdusek for their work on the origins and spread of infectious viral diseases that led to the discovery of the hepatitis B virus. Blumberg's work covered many areas including clinical research, epidemiology, virology, genetics and anthropology.
Title: Investigating the spread of hepatitis in China
Listeners: Rebecca Blanchard
Dr Rebecca Blanchard is Director of Clinical Pharmacology at Merck & Co., Inc. in Upper Gwynedd, Pennsylvania. Her education includes a BSc in Pharmacy from Albany College of Pharmacy and a PhD in Pharmaceutical Chemistry from the University of Utah in Salt Lake City. While at Utah, she studied in the laboratories of Dr Raymond Galinsky and Dr Michael Franklin with an emphasis on drug metabolism pathways. After receiving her PhD, Dr Blanchard completed postdoctoral studies with Dr Richard Weinshilboum at the Mayo Clinic with a focus on human pharmacogenetics. While at Mayo, she cloned the human sulfotransferase gene SULT1A1 and identified and functionally characterized common genetic polymorphisms in the SULT1A1 gene. From 1998 to 2004 Dr Blanchard was an Assistant Professor at Fox Chase Cancer Center in Philadelphia. In 2005 she joined the Clinical Pharmacology Department at Merck & Co., Inc. where her work today continues in the early and late development of several novel drugs. At Merck, she has contributed as Clinical Pharmacology Representative on CGRP, Renin, Losartan, Lurasidone and TRPV1 programs and serves as chair of the TRPV1 development team. Dr Blanchard is also Co-chair of the Neurology Pharmacogenomics Working Group at Merck. Nationally, she has served the American Society of Clinical Pharmacology and Therapeutics on the Strategic Task Force and the Board of Directors. Dr Blanchard has also served on NIH study sections, and several Foundation Scientific Advisory Boards.
Tags: China, Chinese Medical Association, Beijing, Chairman Mao Tse-Tung
Duration: 7 minutes, 53 seconds
Date story recorded: September 2007
Date story went live: 28 September 2009