NEXT STORY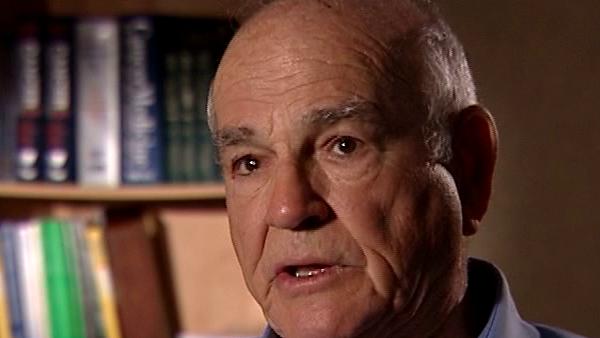 Medical school and house staff training at Bellevue Hospital
How I decided to go to medical school
Baruch Blumberg
Physician
1
2
3
4
5
...
8
I had studied physics and math as an undergraduate and I also had a… a lot of bio… chemistry, not much biochemistry; biochemistry wasn't a major subject in the 1940s. I'd… I had… done physics and then when I… then I went into the navy and had about a year or so when I wasn't doing anything academic, which was pretty nice in a way. Very often in contemporary education, particularly medical education, you know, you get on this road and… and you… don't get off, you know, until the end, and then you don't get off because you're immersed in, you know, the life of medicine and the hospital. But that year being away from it, particularly being at sea some of the time, and… and kind of living a… a non-academic life, I think it was a very reflective time. Because you were busy doing other things and you had occasional times to think about what you were going to do, but at that age, everybody, you know, I'd sort of forgotten what it's like, but I can see my grandchildren now, beginning to go through this torment, you know, how they're going to spend their lives. What are they, you know, what… are they going to take the right course, do the right thing? So I didn't know quite what to do after I got out of the navy. I… I had this feeling I really wasn't all that good at physics or math, it took me a long time to work it out. I think part of the reason I did it is… is I had an uncle who was a very prominent mathematician, Uncle Henry, and he… he had… his thesis in 1911 was on partial differential equations. Now that's about when partial differential equations begin. But then he… he went on to, his work was in the theory of real numbers and I was amazed recently when I typed his name into the web, and his papers are still referred to, and there's a… there's a Blumberg space and a Blumberg equation and these are papers in the, you know, 2004, 2005 so although he died 50 years ago, he still sort of lives on in… in his… the papers that he wrote. I had a fair amount of math, and so did my son. I got into about the first three lines and that's about as far as I could go, it was very abstract stuff. But in any case, although he was a kind of model, that turns out that that wasn't what I was supposed to do. So I went through actually a lot of kind of emotional turmoil, I was out of the navy and didn't quite know what, you know, you didn't quite know where you were going, but I had decided that I would do a year, another year, of graduate work, but this time at Columbia University in math and physics. Then one evening, apparently just out of the blue, I spoke to… my father spoke to me. We, I would say, we… we communicated reasonably well but I was a… I'm a child of the Depression, you know, we… we were, you know, fairly well off back in the 1920s, early '30s, but then the Depression really hit us as… as it did everyone and there was a marked change in the prosperity of the family. And my father had a, you know, as many parents did at that time, had a difficult time just keeping the family intact and feeling safe. I must say, in retrospect, we always... I always felt very secure, but that was probably a delusion. Now he was… he was a lawyer and practiced business law of various kinds, but there was much, much and much... there was less business and less work for him. But it was a great… it was hard, economically difficult and I think that was part of the reason that he was distracted and did not spend as much time, I think, as he might have otherwise. But in any case, I think he knew me pretty well because, as I said, out of the blue he suggested, he said, 'Well, I think you should go to medical school'. Now I… I really hadn't given much thought to that, or perhaps any, and I said, 'Okay'. So I applied to medical school which was very difficult to enter at medical school at that time; the… a lot of people coming back from the military, they'd sort of finished high school or college or whatever, and… and they were applying to go medical school. There was a limited number of medical schools, they hadn't increased at all in… in 10 years or so, so there was…it was very competitive. Well, I remember I went to my first interview, you know, still wearing my uniform and, because you… you were allowed to wear uniform for a month or two months after you were discharged, and, you know, I… I had this sense of confidence. So I was admitted to a small medical school upstate New York that was connected with the college I had gone to, to Union College. But then… but then I… I had a friend, a girlfriend actually, who was going to Columbia University, College of Physicians and Surgeons, which was a real kind of research medical school, research university, and she convinced me that I should apply there. So I did, and... but I didn't know anything about medicine, you know, I had… I had only been in… in a hospital once and that was I had some injury and had to get something sewn up. Oh, I had been in the hospital - I had my appendix out when I was in the navy, that was not an emergency appendectomy. And the… so I had never... I didn't know anything about hospitals, or know… know very much about doctors either. So I got a job as a orderly in the operating room at… at Pennsylvania, no, sorry at Columbia University, at Presbyterian Hospital it was. And that was great fun, I remember it sort of opened up my eyes to what was going on and I kind of liked the excitement of it, you know, there was, surgery is something that's pretty dynamic, something is happening all the time. Surgeons don't just, well they do think of course, but they also have to act, and you know things in the operating's bustling... operating room is bustling, and people come and they go and the anesthesiologist is nattering away, you know, talking to the surgeons, conversation in the operating rooms is usually, how should I put it, not exciting, you know, usually kind of mundane. But… but I really enjoyed that. Well I finally was admitted... I was possibly the last student admitted to our class, as, you know, I was admitted just a few weeks before term started and started medical school in 1947.
American research physician Baruch Blumberg (1925-2011) was co-recipient of the Nobel Prize in Physiology or Medicine in 1976 along with D Carleton Gajdusek for their work on the origins and spread of infectious viral diseases that led to the discovery of the hepatitis B virus. Blumberg's work covered many areas including clinical research, epidemiology, virology, genetics and anthropology.
Title: How I decided to go to medical school
Listeners: Rebecca Blanchard
Dr Rebecca Blanchard is Director of Clinical Pharmacology at Merck & Co., Inc. in Upper Gwynedd, Pennsylvania. Her education includes a BSc in Pharmacy from Albany College of Pharmacy and a PhD in Pharmaceutical Chemistry from the University of Utah in Salt Lake City. While at Utah, she studied in the laboratories of Dr Raymond Galinsky and Dr Michael Franklin with an emphasis on drug metabolism pathways. After receiving her PhD, Dr Blanchard completed postdoctoral studies with Dr Richard Weinshilboum at the Mayo Clinic with a focus on human pharmacogenetics. While at Mayo, she cloned the human sulfotransferase gene SULT1A1 and identified and functionally characterized common genetic polymorphisms in the SULT1A1 gene. From 1998 to 2004 Dr Blanchard was an Assistant Professor at Fox Chase Cancer Center in Philadelphia. In 2005 she joined the Clinical Pharmacology Department at Merck & Co., Inc. where her work today continues in the early and late development of several novel drugs. At Merck, she has contributed as Clinical Pharmacology Representative on CGRP, Renin, Losartan, Lurasidone and TRPV1 programs and serves as chair of the TRPV1 development team. Dr Blanchard is also Co-chair of the Neurology Pharmacogenomics Working Group at Merck. Nationally, she has served the American Society of Clinical Pharmacology and Therapeutics on the Strategic Task Force and the Board of Directors. Dr Blanchard has also served on NIH study sections, and several Foundation Scientific Advisory Boards.
Tags: Columbia University Presbyterian Hospital
Duration: 7 minutes, 49 seconds
Date story recorded: September 2007
Date story went live: 28 September 2009