NEXT STORY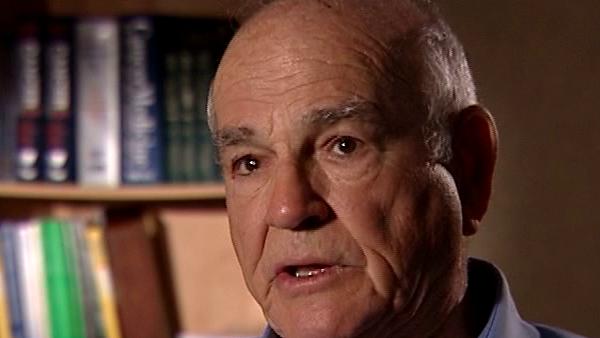 Life as Master of Balliol College, Oxford
Becoming Master of Balliol College, Oxford
Baruch Blumberg
Physician
1
2
3
4
5
6
...
8
I think a large part of the consequences of winning the prize is that I... I was offered these unusual jobs. Well, let me see, I was, I guess I was about 64 or something... 63... 63 years old, and more or less out of the blue, I was asked if I would stand as a candidate to be the Master of Balliol College in Oxford. Well, I'd been a student there and I talked about that earlier in the... in the conversation, sort of conversation, you know, that we're having, and... and I always liked... liked it, we went back, Jean and I were there, I was a... was a Visiting Fellow at Oxford on two occasions for a... for a year, both times on sabbaticals, you know, kids had part of their education there. And... and then the... the Master was retiring earlier than had been anticipated and I was asked if I'd... if my name could be put forward and I agreed to do so. Then I was elected as the Master. Now, that is a total transformation from what I was doing. So we, you know, moved all... put all the furniture in a 40-foot trailer, shipped it over to England, and we were there for about five years. It's hard to think of a bigger or greater contrast.
Now, actually, I was able to maintain some scientific work when I was there and I... I collaborated, or associated myself, with the Department of Biochemistry and particularly... in particular with Raymond Dwek who was the director of the Institute of Glycobiology, or the Glycobiology Institute at Oxford, which he had founded, which he... he made... invented the name glycobiology, and I... we've retained a close friendship and scientific collaboration, we published I don't know how many papers together, and that started when I was there. But my main function was... was running the college, you know, and it had some... some interesting consequences in things that I did. Well, first of all, the college is probably the oldest college in Oxford — although that's debated — and we date our origins from 1263 and we... the... and we... our founders were John Balliol and his wife, Dervorguilla of Galloway, who — Galloway, Scotland... Calloway, Scotland — and she... she was related to the Scottish royal family. She was related to Alexander III and her son became a King of Scotland. He also had the same name as John and he was John Balliol too. So there was, back in the Middle Ages, there's confusion that the King of Scotland had actually been the founder, but as a connection we have very strong Scottish... as a consequence, we have strong Scottish connections. And the college, you know, had some real estate on the corner of Broad Street in Oxford where it still is, you know, at the same place, none of the original buildings. And so the job description was that I was responsible for the academic... academic, educational and religious life of... of the students and... and the faculty.
American research physician Baruch Blumberg (1925-2011) was co-recipient of the Nobel Prize in Physiology or Medicine in 1976 along with D Carleton Gajdusek for their work on the origins and spread of infectious viral diseases that led to the discovery of the hepatitis B virus. Blumberg's work covered many areas including clinical research, epidemiology, virology, genetics and anthropology.
Title: Becoming Master of Balliol College, Oxford
Listeners: Rebecca Blanchard
Dr Rebecca Blanchard is Director of Clinical Pharmacology at Merck & Co., Inc. in Upper Gwynedd, Pennsylvania. Her education includes a BSc in Pharmacy from Albany College of Pharmacy and a PhD in Pharmaceutical Chemistry from the University of Utah in Salt Lake City. While at Utah, she studied in the laboratories of Dr Raymond Galinsky and Dr Michael Franklin with an emphasis on drug metabolism pathways. After receiving her PhD, Dr Blanchard completed postdoctoral studies with Dr Richard Weinshilboum at the Mayo Clinic with a focus on human pharmacogenetics. While at Mayo, she cloned the human sulfotransferase gene SULT1A1 and identified and functionally characterized common genetic polymorphisms in the SULT1A1 gene. From 1998 to 2004 Dr Blanchard was an Assistant Professor at Fox Chase Cancer Center in Philadelphia. In 2005 she joined the Clinical Pharmacology Department at Merck & Co., Inc. where her work today continues in the early and late development of several novel drugs. At Merck, she has contributed as Clinical Pharmacology Representative on CGRP, Renin, Losartan, Lurasidone and TRPV1 programs and serves as chair of the TRPV1 development team. Dr Blanchard is also Co-chair of the Neurology Pharmacogenomics Working Group at Merck. Nationally, she has served the American Society of Clinical Pharmacology and Therapeutics on the Strategic Task Force and the Board of Directors. Dr Blanchard has also served on NIH study sections, and several Foundation Scientific Advisory Boards.
Tags: Balliol College, University of Oxford, Glycobiology Institute at Oxford, Raymond Dwek, John Balliol
Duration: 4 minutes
Date story recorded: September 2007
Date story went live: 28 September 2009