NEXT STORY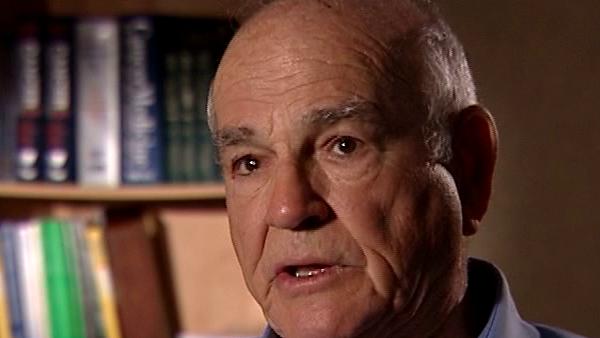 The importance of planning
Medical school and house staff training at Bellevue Hospital
Baruch Blumberg
Physician
1
2
3
4
5
...
8
I loved medical school. It was… it was hard work, you know, intense, but first of all I was quite accustomed to hard academic work, because the elementary school that I had gone to had real demands, and we… we went to school like six hours, eight hours a day, I think, seven hours a day; and then the high schools were very intense, and then midshipman school was… was really intense. That's… that's probably the most intense learning experience I ever had, because in four months we were supposed to master the stuff that they learned at Annapolis in four years, plus it was on… hands-on experience. So I, well, you know, the hard work wasn't… wasn't an issue. I found it difficult to focus on things sometimes because my mind was very often wandering to other stuff, but I… but I enjoyed it and I did… I did, you know pretty well in medical school: top third maybe, top quarter possibly. In a… in a medical school there are some really bright cats, very smart bunch and a good part of my class went into academic medicine: places like Columbia University, Yale, Harvard, Western Reserve, New York University. They, at that time, they supplied a very large percentage of the educators to the newly expanding medical school and to newly formed medical schools, so that was a… that was a rich experience. Then I… then you have to have a house staff training and I elected to have my two years of my house staff training at… at Bellevue Hospital in New York City. Now again, that is one bustling place. I… I remember when I was there, some of the people, you know, sort of old… old boys or pupils that had been there in the past, would come back and were sitting around telling about what a wonderful experience it was, and I couldn't understand what they were talking about! Because we worked, I mean, the… when you worked… when you worked half day, that was 12 hours, you know, a full day was 24 hours, and that often meant that you were actually awake and doing things for 24 hours. Not a great idea. But there weren't, if we didn't do it, you know, if the doctors weren't there, there… there wouldn't have been anybody in a sense, because the city wasn't, they didn't have the funds to hire many more physicians. So it was a… it was a pretty intense experience, but I liked it. We had… we had great kind of morale. Our hospital was never closed, even if all the beds, all the official beds were filled, we were required to take any sick person in the City of New York who showed… who showed up there. We would actually put beds in the hallways. We had in some cases, I'm… I'm not even sure I believe this, I think we had double-decker beds! But it was… it was always very crowded, very active, and you had a great deal of responsibility. And very often if there was a case came in that was pretty desperate, and if you decided that you were going to make that your case and take the responsibility for it, you very often had to do… you had to do all the blood tests, we had to cross-match the blood for transfusions, we… we had to take the patients down to X-ray to be… to be X-rayed, we had to do the… the blood work in the morning, do the blood counts and all that. It was… it was an intense amount of work, but it was… it was a very good experience. And one of the things I learned in, both in medical school and… and during this house staff training, was that… was history taking. That was… that was — about 75 -- 80 percent of a medical diagnosis is based on a history; you can… a good part of the time you can make a decision based on what to do next, based on the history. And we were drilled into that. In a funny way I still use that a lot. You know if I meet somebody casually, I… I find myself slipping into this history-taking format, you know, I kind of get a chronological picture about, you know, about what they've done and… and people of course, are always interested in talking about themselves, this interview being a good example of that. So that was… that was, and then the other thing you learned in medical school, in medicine, that I think's been very valuable, and that is that you… you can make decisions with incomplete knowledge. You never know everything and you have to know when you've had enough knowledge to do something. Because medicine is… is an applied science, you know, it's an applied science, an applied art, and there has to be action, you can't just think about something. After you've thought about something, you actually have to do something. Even if the decision is, you say, okay we're not going to do anything now, that's a decision. But… so thought is always followed… is always followed by action.
American research physician Baruch Blumberg (1925-2011) was co-recipient of the Nobel Prize in Physiology or Medicine in 1976 along with D Carleton Gajdusek for their work on the origins and spread of infectious viral diseases that led to the discovery of the hepatitis B virus. Blumberg's work covered many areas including clinical research, epidemiology, virology, genetics and anthropology.
Title: Medical school and house staff training at Bellevue Hospital
Listeners: Rebecca Blanchard
Dr Rebecca Blanchard is Director of Clinical Pharmacology at Merck & Co., Inc. in Upper Gwynedd, Pennsylvania. Her education includes a BSc in Pharmacy from Albany College of Pharmacy and a PhD in Pharmaceutical Chemistry from the University of Utah in Salt Lake City. While at Utah, she studied in the laboratories of Dr Raymond Galinsky and Dr Michael Franklin with an emphasis on drug metabolism pathways. After receiving her PhD, Dr Blanchard completed postdoctoral studies with Dr Richard Weinshilboum at the Mayo Clinic with a focus on human pharmacogenetics. While at Mayo, she cloned the human sulfotransferase gene SULT1A1 and identified and functionally characterized common genetic polymorphisms in the SULT1A1 gene. From 1998 to 2004 Dr Blanchard was an Assistant Professor at Fox Chase Cancer Center in Philadelphia. In 2005 she joined the Clinical Pharmacology Department at Merck & Co., Inc. where her work today continues in the early and late development of several novel drugs. At Merck, she has contributed as Clinical Pharmacology Representative on CGRP, Renin, Losartan, Lurasidone and TRPV1 programs and serves as chair of the TRPV1 development team. Dr Blanchard is also Co-chair of the Neurology Pharmacogenomics Working Group at Merck. Nationally, she has served the American Society of Clinical Pharmacology and Therapeutics on the Strategic Task Force and the Board of Directors. Dr Blanchard has also served on NIH study sections, and several Foundation Scientific Advisory Boards.
Tags: Bellevue Hospital New York
Duration: 5 minutes, 44 seconds
Date story recorded: September 2007
Date story went live: 28 September 2009