NEXT STORY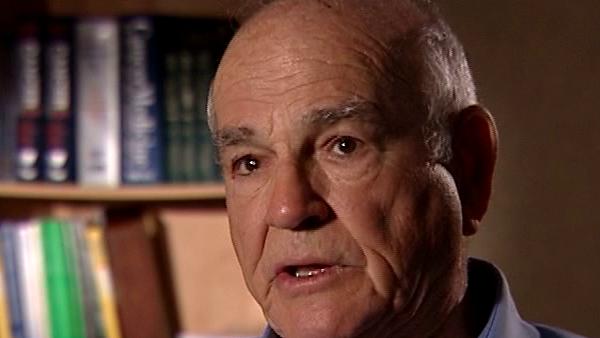 The Lewis and Clark Fund for Exploration and Field Research
The American Philosophical Society
Baruch Blumberg
Physician
1
...
4
5
6
7
8
That's on our turf, so to speak, you know, I only live two or three blocks away, so I've known it for a long time. And I was… I was elected a member in the 1980s, I think, you know, I've been a member for quite a long time. But I, you know, I've been busy, pretty busy doing other things, and although I have a great admiration for people who take a role in organized scientific association — I think it's very important, you know, the maintenance of these things — I've never kind of aspired to be an officer of, you know, the Genetics Society or the Human Genetics, so although I was involved when it was early set up, I… I'm not terribly good at committee meetings, you know, I tend to get restless sitting down, and, you know, a lot of it's not… but nevertheless, it's important. But, the Philosophical Society is, you know, a very unusual organization. It was founded pretty much by Benjamin Franklin and… and many of his friends, and our date of formation is usually given as 1763. 17… yeah, '43… '43, okay. And it… it's had a long history, but it's survived. Well, in the... just after the Revolution in the early Federal period, the Commonwealth of Pennsylvania deeded us a footprint of our clubhouse, in the late 1780s, early 1790s, I believe, and we're still there. You know, the building's still there. It's right next to Independence Hall. That was the Pennsylvania legislature, and we're right next to the... what was the Pennsylvanian Supreme Court. And we have been there ever since. And we've acquired several other buildings; we have a library that's right across the street. And that was the location of the Library Company of Philadelphia, also founded by Benjamin Franklin. And they moved to another location, a very grand building down on Broad Street, and then subsequently elsewhere. But we… we are tenants of the Park Service, on that piece of property and we built a replica, a façade; there's a replica of the Library Company building. And it's a wonderful library; we have a fantastic archive — Thomas Jefferson's draft of the Declaration of Independence, that, sort of poetic, founding paper of ours. That was our… that was, kind of, our vision statement for the country, you know, that set off the broad objectives. And the Constitution was our, kind of, rule-based, legal-based document. We own that; we have a lot of Benjamin Franklin's papers. We have the largest collection of Darwin papers, outside of Cambridge, England… we have a lot of stuff from early explorers.
Actually, one of the things, well then, every so often they elect officers; they're usually, in a funny way, non-contested. There's a nominating committee and they kind of look at who's around. You know, who's had... has interest in the club, and who has, you know, and very often, you know, the average age of members is 76. It's not getting much younger. We've increased our number of women; we have, considerably, over time… time, and it was never... one of our earlier members was… was a woman. She was a friend of Benjamin Franklin's and was nominated by him. And she... her name was Princess Dashkova, and she was the President of the, sort of, Academy of Sciences of Russia, under, at the time of Catherine the Great. She was a political ally of Catherine the Great, so she was given this prestigious post. But apparently, she was a very intelligent, very bright woman. And Franklin met her when he lived in Paris, met her once, but he was so impressed that he, you know, nominated her by mail, by post, and she was elected. So she was our first woman member in the 18th century. We didn't have another one for 60 years. But, in any case, that's changed now. But we, what we do, is we have meetings which are really wonderful; I mean the meetings, and they're heterogeneous; there's science, a lot of stuff on law, history, art.
American research physician Baruch Blumberg (1925-2011) was co-recipient of the Nobel Prize in Physiology or Medicine in 1976 along with D Carleton Gajdusek for their work on the origins and spread of infectious viral diseases that led to the discovery of the hepatitis B virus. Blumberg's work covered many areas including clinical research, epidemiology, virology, genetics and anthropology.
Title: The American Philosophical Society
Listeners: Rebecca Blanchard
Dr Rebecca Blanchard is Director of Clinical Pharmacology at Merck & Co., Inc. in Upper Gwynedd, Pennsylvania. Her education includes a BSc in Pharmacy from Albany College of Pharmacy and a PhD in Pharmaceutical Chemistry from the University of Utah in Salt Lake City. While at Utah, she studied in the laboratories of Dr Raymond Galinsky and Dr Michael Franklin with an emphasis on drug metabolism pathways. After receiving her PhD, Dr Blanchard completed postdoctoral studies with Dr Richard Weinshilboum at the Mayo Clinic with a focus on human pharmacogenetics. While at Mayo, she cloned the human sulfotransferase gene SULT1A1 and identified and functionally characterized common genetic polymorphisms in the SULT1A1 gene. From 1998 to 2004 Dr Blanchard was an Assistant Professor at Fox Chase Cancer Center in Philadelphia. In 2005 she joined the Clinical Pharmacology Department at Merck & Co., Inc. where her work today continues in the early and late development of several novel drugs. At Merck, she has contributed as Clinical Pharmacology Representative on CGRP, Renin, Losartan, Lurasidone and TRPV1 programs and serves as chair of the TRPV1 development team. Dr Blanchard is also Co-chair of the Neurology Pharmacogenomics Working Group at Merck. Nationally, she has served the American Society of Clinical Pharmacology and Therapeutics on the Strategic Task Force and the Board of Directors. Dr Blanchard has also served on NIH study sections, and several Foundation Scientific Advisory Boards.
Tags: American Philosophical Society, Commonwealth of Pennsylvania, Library Company of Philadelphia, Declaration of Independence, Benjamin Franklin, Thomas Jefferson, Princess Dashkova
Duration: 5 minutes, 2 seconds
Date story recorded: September 2007
Date story went live: 28 September 2009