NEXT STORY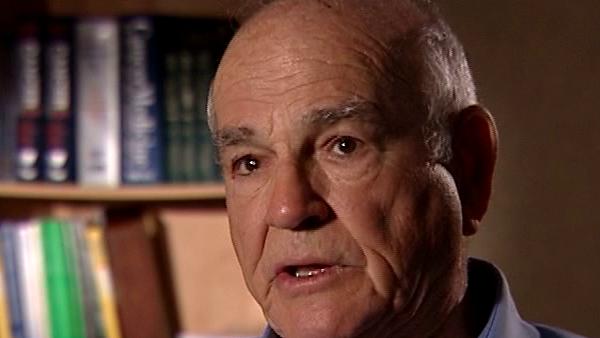 Sailing to America: riding out a storm
Preparing to sail across the Atlantic
Baruch Blumberg
Physician
1
2
3
4
5
...
8
I'd liked going to sea, you know, enjoyed the… the small amount I had in the navy, and I was… I was pretty good on the ship, not great, but not bad either. Well, the first year I was at medical school, I met a… a Dutch doctor who had… had spent the war in Indonesia, in what was then the Netherlands's East Indies and then in Holland he was a, you might even call him a romantic figure. He'd been captured during the German invasion of the Netherlands, escaped from the train that was taking him to a POW camp, it was bombed and he escaped, went back, joined the underground; was a main… he was a radio amateur and he was sending messages to the British. He was at the… the unsuccessful paratroop landing at Arnhem, you know. He… there was the advance through Holland and… and Belgium, they wanted to kind of skip ahead of the frontline and they dropped paratroopers in a… in a place called Arnhem in Holland and… and they were decimated. Well, my friend went there, cared for the British wounded and was… wasn't captured by the Germans. So he was a really interesting man. Then he went back in the army and he was… he was in the… fighting in Indonesia during this really chaotic period. But in any case, he had a big sailing yacht in… in Holland. It was in Amsterdam. I think it belonged to his wife actually, and he wanted to sail it to the United States. They were going to emmigrate and he wanted to bring this ocean-going racer actually to the United States. So he advertised that, or he already told some of the students, he said if you want to help me crew the ship back across the Atlantic, you're welcome. So I decided I would do that without explaining that to my parents who I knew would be very concerned if I did. So I went over there and we… the ship, the yacht - The Green Lion it was called, Groene Leeuw - was really ill-prepared for an Atlantic trip, we subsequently learned. It had been, during the war it had been holed up some place, they tried to hide it from the Germans, and it really wasn't in great repair. But in any case, we started off, sprung a leak sailing from Amsterdam to Rotterdam, that was nearly the end of the trip, we were bloody awash by the time we got into Rotterdam. Well, we… that was patched up and then we started off across the English Channel. It took us five days to cross the Channel, because, you know, what happens in the Channel sometimes, particularly in the summer, you get… you get south-west winds and you are literally beating against them the whole way. So… it was… then we got into the Bay of Biscay, and we were beset by calms for 10 days, it took us 10 days to get there, usually you can sail across there in a couple of days, you know. Then we get to… to Galicia, you know, Northern Spain, and - it's the piece just before Portugal - and we put into a little small port there to wait for some weather, you know, so we could sail. And we did get it. We… we took off into the teeth of a really big storm.
American research physician Baruch Blumberg (1925-2011) was co-recipient of the Nobel Prize in Physiology or Medicine in 1976 along with D Carleton Gajdusek for their work on the origins and spread of infectious viral diseases that led to the discovery of the hepatitis B virus. Blumberg's work covered many areas including clinical research, epidemiology, virology, genetics and anthropology.
Title: Preparing to sail across the Atlantic
Listeners: Rebecca Blanchard
Dr Rebecca Blanchard is Director of Clinical Pharmacology at Merck & Co., Inc. in Upper Gwynedd, Pennsylvania. Her education includes a BSc in Pharmacy from Albany College of Pharmacy and a PhD in Pharmaceutical Chemistry from the University of Utah in Salt Lake City. While at Utah, she studied in the laboratories of Dr Raymond Galinsky and Dr Michael Franklin with an emphasis on drug metabolism pathways. After receiving her PhD, Dr Blanchard completed postdoctoral studies with Dr Richard Weinshilboum at the Mayo Clinic with a focus on human pharmacogenetics. While at Mayo, she cloned the human sulfotransferase gene SULT1A1 and identified and functionally characterized common genetic polymorphisms in the SULT1A1 gene. From 1998 to 2004 Dr Blanchard was an Assistant Professor at Fox Chase Cancer Center in Philadelphia. In 2005 she joined the Clinical Pharmacology Department at Merck & Co., Inc. where her work today continues in the early and late development of several novel drugs. At Merck, she has contributed as Clinical Pharmacology Representative on CGRP, Renin, Losartan, Lurasidone and TRPV1 programs and serves as chair of the TRPV1 development team. Dr Blanchard is also Co-chair of the Neurology Pharmacogenomics Working Group at Merck. Nationally, she has served the American Society of Clinical Pharmacology and Therapeutics on the Strategic Task Force and the Board of Directors. Dr Blanchard has also served on NIH study sections, and several Foundation Scientific Advisory Boards.
Tags: Arnhem, Holland, English Cannel, Bay of Biscay, Galicia, Atlantic
Duration: 4 minutes, 4 seconds
Date story recorded: September 2007
Date story went live: 28 September 2009