NEXT STORY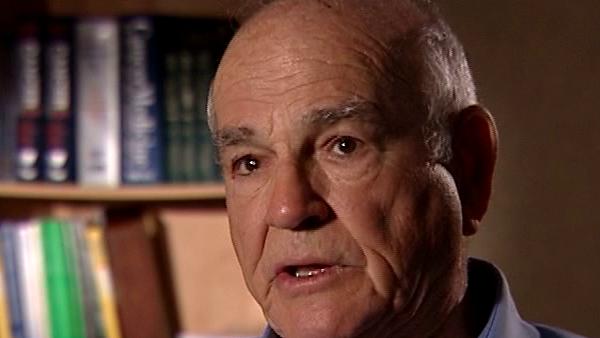 The pros and cons of individualized patient therapy
Taking medication prophylactically
Baruch Blumberg
Physician
1
...
4
5
6
7
8
Some of the things I'm trying to… ideas I'm trying to get across, one of them, we've talked of already, about trying to understand the… the complex dimensions of an infection, and… and stop thinking about it just as pathogen, because that's only part of the story. You know, 90% of the micro-organisms in the world aren't pathogenic. You know, soil organisms for the most part aren't - a whole bunch of them. And then the organisms we're interested in, they're viruses that infect archaea, that infect extreme virus... bacteria. They never see humans, you know, they never did. There weren't any humans when they… when they flourished, you might say. So again, to look at this in a kind of context of population dynamics, and what the consequences... see, there are consequences — not consequences that would prevent the use of the vaccine, but consequences you would have, you want to know about, if you can.
But the other thing is that there's now been several studies that if you decrease the amount of viral load, even if you still are infected, but the… but the loads are quite low, there's a marked decrease in the risk of getting cancer of the liver, or… or chronic liver disease, which is death, you know, you at least see a death, you're dying from it. So, that means you don't need a very good drug. Or you can use drugs in very low dosage, because what you want to achieve is not total eradication of the virus, which is going to be very difficult in many cases, anyhow. You know, it's… it's integrated. The genome is integrated. How are you going to…you have to kill all those cells, which, you know, is feasible, but it's… it's pretty harsh. And in some cases, you know, essentially all the liver cells are infected. So you don't want to get rid of the liver. But if you say, well, okay, let's just decrease load, even in asymptomatic people, and then you can decrease their probability of getting cancer. Well, that means that it's beginning to get something like treating hypertension, or, you know, people, as they get older, and contemporary societies with advanced medical systems, or advanced medicine, they… they're taking all kinds of drugs for… for non-diseases, you know, things they haven't had. They've never had any symptoms. And if… and if the thing, if the measure is effective, they never will have a symptom. For example, hypertension. You know, people who have hypertension, they don't have symptoms for the most part; you have to measure it. And then you start taking really powerful drugs, you know, and it's very hard to get the right level, and you know, the right adjustment, the right combo. And there's been a hell of a lot of research, fortunately, much of it successful, to get pretty good treatment. Or diabetes, you know, very often, people, if they're diagnosed early, before they really have much in the way of symptoms, and they're given the appropriate doses of… of insulin, and the proper care, you know, then they'll never get symptoms. And… and with hope, they won't develop the complications. If you treat the diabetes, at the risk of complications, you know, the sequelae, blindness and certain other horrible things, kidney disease, that won't happen. The same goes, you know, everybody's taking drugs for cholesterol. Well, if you, unless somebody measured your blood, you wouldn't know you had… okay, but you do know that there's a high risk of early death, earlier death. Okay, so we're taking a whole bunch of drugs for the things that we never had symptoms for. So, this will be something like that. You know, you get diagnosed, you get tested, and you're found to be a carrier, and then you can be treated to prevent cancer, chronic liver disease is the hope. Now there is data that… that supports that.
American research physician Baruch Blumberg (1925-2011) was co-recipient of the Nobel Prize in Physiology or Medicine in 1976 along with D Carleton Gajdusek for their work on the origins and spread of infectious viral diseases that led to the discovery of the hepatitis B virus. Blumberg's work covered many areas including clinical research, epidemiology, virology, genetics and anthropology.
Title: Taking medication prophylactically
Listeners: Rebecca Blanchard
Dr Rebecca Blanchard is Director of Clinical Pharmacology at Merck & Co., Inc. in Upper Gwynedd, Pennsylvania. Her education includes a BSc in Pharmacy from Albany College of Pharmacy and a PhD in Pharmaceutical Chemistry from the University of Utah in Salt Lake City. While at Utah, she studied in the laboratories of Dr Raymond Galinsky and Dr Michael Franklin with an emphasis on drug metabolism pathways. After receiving her PhD, Dr Blanchard completed postdoctoral studies with Dr Richard Weinshilboum at the Mayo Clinic with a focus on human pharmacogenetics. While at Mayo, she cloned the human sulfotransferase gene SULT1A1 and identified and functionally characterized common genetic polymorphisms in the SULT1A1 gene. From 1998 to 2004 Dr Blanchard was an Assistant Professor at Fox Chase Cancer Center in Philadelphia. In 2005 she joined the Clinical Pharmacology Department at Merck & Co., Inc. where her work today continues in the early and late development of several novel drugs. At Merck, she has contributed as Clinical Pharmacology Representative on CGRP, Renin, Losartan, Lurasidone and TRPV1 programs and serves as chair of the TRPV1 development team. Dr Blanchard is also Co-chair of the Neurology Pharmacogenomics Working Group at Merck. Nationally, she has served the American Society of Clinical Pharmacology and Therapeutics on the Strategic Task Force and the Board of Directors. Dr Blanchard has also served on NIH study sections, and several Foundation Scientific Advisory Boards.
Tags: infection, pathogen, viral load, liver, non-disease, symptoms, hypertension, diabetes, cholesterol, cancer, prophylaxis
Duration: 4 minutes, 23 seconds
Date story recorded: September 2007
Date story went live: 28 September 2009