NEXT STORY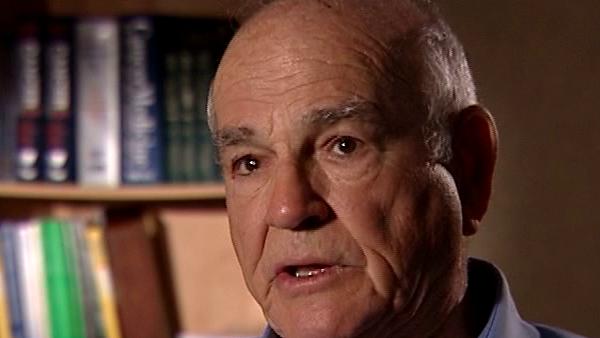 Leaving Lisbon
Sailing to America: riding out a storm
Baruch Blumberg
Physician
1
2
3
4
5
...
8
Now, you tend to exaggerate these things, but the winds, you know, there are ways you can calculate wind speed by the nature of the waves and so forth, and you get blown spume. That means the tops of the waves are blowing free. Well that's… that is a storm, you know, that would be 55 miles an hour or something, that's a lot of wind, and there… and there were huge waves. Now again, you exaggerate, but I think those… they were 30-foot waves, 30, 35-foot waves. Well, the ship wasn't in an awfully good shape, sadly, and… and we were running before it. You know when you get caught in a big storm, you have to make a decision: are you going to heave-to, that is face into the wind and the weather, you know, so you're perpendicular to the waves, throw out, you can throw out a sea anchor, a kind of a canvas that you… that you can… you are sort of held behind that, you can do that, or you can run before it. That is, put on a small amount of sail and then… and then run ahead of it, keep ahead of the waves and the wind. But you have to decide you're going to do one or the other, because it's very hard to change your mind once you've… once you've, well it's hard if you're running before it, it's hard to heave-to if it's really… so we decided to run before it. Well, that was about three, four, five days, I think the storm lasted about a week, and we ran before this for several days. Well that meant you're sitting at the tiller and... you have a very small freeboard, there's only, you know, a couple of feet, two feet, three, maybe three feet, above the waterline and you're really... you're close to the elements there and you look over your shoulder and you see this freaking enormous wall of water, and the question is… is… are you going to… is the rear stern going to rise up above it, you know, or, and then you have to… you have to kind of calculate, so you… you don't get caught between the waves. That was, I mean, but it was a real... I mean I found it exhilarating and strangely… I'm… I'm a fairly fearful guy, but I didn't find that, at the time, I didn't find it so fearful, partly because we were so involved, you know, in keeping the ship afloat. Well, I was... and we… we only had a crew of five or six and you had to have two persons on a watch, so that meant you had, ordinarily on… at sea you do four on, eight off, so you can sleep for eight hours, but we had to do four on and four off. Now you can't maintain that for a very long time, you know, you never really get to sleep. I was down below and I hear a bunch of screaming and yelling on deck and I had been through this before, and I didn't move out of bed until somebody came and called me. They said, 'Come on board, we've got problems, come on deck'. And sure enough, the tiller had broken free from the rudder and we had to jury-rig, one of my crewmates was sitting on it, you know, to try to keep it intact. Well, fortunately by that time the storm had abated a little bit. We had lost two of our sails, we had to take them down and put up another, and we… we didn't come back, we went off on… on broad reach and sailed into Portugal, into Lisbon. It was 200 plus miles away so it took us... and we were going fast, but it took a day plus, that's… that's fast going. You know, going more than 100 miles in a day is… is a lot in a sailing ship. And suddenly we were behind, we'd come behind the breakwater in… at the opening of the… the Tagus River — sunny, calm, no waves — it was like going to heaven, you know. And then of course, this was in 1947, shortly after the war, and Portugal hadn't been in the war so it was still a kind of luxurious place. Well we landed after having not slept for an awful long time, and… and we… we tied up at a kind of resort right near the mouth of the… well, all these ships, you know, these… these women in bathing suits, were coming… swimming out and coming out in boats, and they invited us to shore and so we had like two or three days of parties! Getting off the ship. Oh, I'm digressing badly. But that was a… that was a rich experience. And I did, I used to crew, I suppose you'd call it semi-professionally, you know, people, when I was in medical school, they had these big sailing ships and they very often, had one paid captain and if they wanted to go on a cruise they'd try and get somebody to come and help, because they, you know, wanted to have a crew of four or five people. So I would... I did that a fair amount.
American research physician Baruch Blumberg (1925-2011) was co-recipient of the Nobel Prize in Physiology or Medicine in 1976 along with D Carleton Gajdusek for their work on the origins and spread of infectious viral diseases that led to the discovery of the hepatitis B virus. Blumberg's work covered many areas including clinical research, epidemiology, virology, genetics and anthropology.
Title: Sailing to America: riding out a storm
Listeners: Rebecca Blanchard
Dr Rebecca Blanchard is Director of Clinical Pharmacology at Merck & Co., Inc. in Upper Gwynedd, Pennsylvania. Her education includes a BSc in Pharmacy from Albany College of Pharmacy and a PhD in Pharmaceutical Chemistry from the University of Utah in Salt Lake City. While at Utah, she studied in the laboratories of Dr Raymond Galinsky and Dr Michael Franklin with an emphasis on drug metabolism pathways. After receiving her PhD, Dr Blanchard completed postdoctoral studies with Dr Richard Weinshilboum at the Mayo Clinic with a focus on human pharmacogenetics. While at Mayo, she cloned the human sulfotransferase gene SULT1A1 and identified and functionally characterized common genetic polymorphisms in the SULT1A1 gene. From 1998 to 2004 Dr Blanchard was an Assistant Professor at Fox Chase Cancer Center in Philadelphia. In 2005 she joined the Clinical Pharmacology Department at Merck & Co., Inc. where her work today continues in the early and late development of several novel drugs. At Merck, she has contributed as Clinical Pharmacology Representative on CGRP, Renin, Losartan, Lurasidone and TRPV1 programs and serves as chair of the TRPV1 development team. Dr Blanchard is also Co-chair of the Neurology Pharmacogenomics Working Group at Merck. Nationally, she has served the American Society of Clinical Pharmacology and Therapeutics on the Strategic Task Force and the Board of Directors. Dr Blanchard has also served on NIH study sections, and several Foundation Scientific Advisory Boards.
Tags: Portugal
Duration: 5 minutes, 11 seconds
Date story recorded: September 2007
Date story went live: 28 September 2009